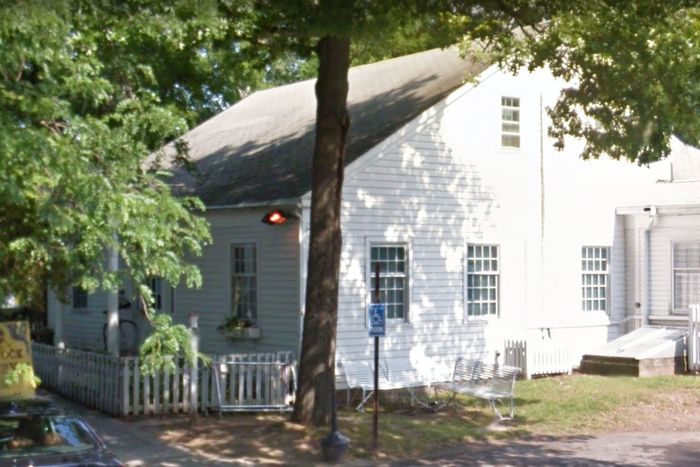 A plan to move the local library is tearing apart the community (and lawns) of Woodstock, New York. As Hudson Valley One reported, Jeff Collins, the president of the library's board of trustees, was arrested on Saturday for stealing a sign from county property that urged the public to vote against moving the library. He regrets it. "On Friday, May 6th, I made a mistake," Collins said in a written statement. "In a moment of bad judgment, I removed a sign that is part of the disinformation campaign being waged by opponents of the library bond." He specified that his mistake was taking sign matters into his own hands, rather than contacting the Town of Woodstock to remove the offending sign. He now says he's planning to offer his resignation after the vote on the new location, which is happening today.
The issue at hand is whether or not voters should borrow $3.95 million to move the Woodstock library from its current building — which library trustees say has structural and mold problems, among others issues — to a new building just a little over a mile away. The sign that Collins stole said "Don't Buy a Toxic Building Site" — as Hudson Valley One explains, some opponents of the move claim that "soil and groundwater pollution from the property's former industrial use" constitutes "an unacceptable risk." But an assessment of the land, backed up by the Woodstock Water and Sewer superintendent and the Woodstock Environmental Commission, has determined that it's safe. "Claims of toxins at the site are false and constitute libel," Collins wrote, noting that he would never remove a sign that simply said "Vote No." (Upstate, there's no such thing as a contentious campaign without lawn signs being involved .)
Collins was charged with stealing one sign, but the police found a total of five signs at his home. He explained that he took the other signs because others had placed them on his property without his permission — an allegation of more sign warfare. This is different than taking signs off of county property, he said. "I do, however, have the right to remove signs placed on property I own without my permission," Collins wrote. "The three additional libelous signs found in my garage were such signs, and without knowing who put them there, I could not return them to their owner." Maybe Collins will find them at the Mescal Hornbeck Community Center, where the vote is happening, between 12 p.m and 9 p.m. today.