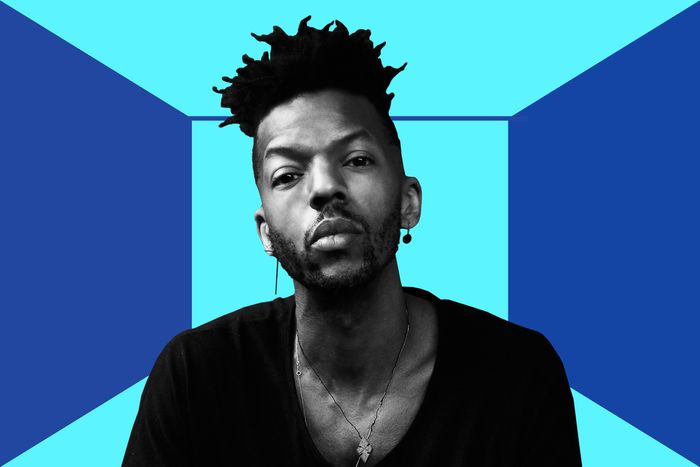 Photo-Illustration: Curbed; Photo: DarioStudio
New York's "21 Questions" is back with an eye on creative New Yorkers. Dario Calmese is the show director for the fashion brand Pyer Moss, a professor at Parsons, and a 2023 Loeb fellow. In 2020, he became the first Black photographer to shoot a Vanity Fair cover. Calmese founded the Institute of Black Imagination, a platform about Black design, which includes a podcast and a library opening in the Oculus this fall.
Name: Dario Calmese
Age: 40
Neighborhood: Manhattanville
Occupation: Artist, urbanist, director, and brand consultant
What's hanging above your couch?
Nothing. I painted a grid on the wall to keep me from overdecorating. I was like, If I make the wall itself decoration, I won't put a bunch of shit on it out of boredom. We, as human beings, get bored really easily, and we try to solve that with small changes in our environment. Or just the accumulation of things. It's really great to work with limits and to set rules.
What's the first job you had in New York? 
I worked at the Starbucks on 98th and Broadway. This was in 2004 when I just moved to the city. It was a hard job to get. I worked there because I didn't get a job at Macy's, and I was like, Are you kidding me?! It was my entrée to how competitive New York is.
What color are you always drawn to?
Wardrobe-wise? Black, out of pure efficiency. I also love gray, maybe because of the neutrality and coolness of it. When I think of the house I would design for myself, concrete is the material I'd use.
What work of art or artifact are you most surprised you own?
I own a sketch by the South African artist Nelson Makamo. I did his portrait out of sheer love and desire, but it wasn't an official exchange. The sketch isn't anything I would have picked up at an art fair — not to say that it's bad or good — but there's an intimate story behind it versus a purely visual aesthetic desire.
Which New Yorker would you want to hang out with?
Fran Lebowitz. She's a consummate New Yorker, super hilarious, extremely frank, and extremely well-read. She really reminds me of why I moved to New York, which is to find individuals and really strong characters. When I was a performer [Editor's note: Calmese is trained in dance, acting, and singing], we would have New Yorkers come to choreograph shows, and they were not easy people to work with. But in the end, you always loved them the most. There was a certain standard and rigor they had about their craft and their life that I feel like New York has lost. When I find myself in spaces that have the old-school New Yorkers, those spaces I love. These are people who are fully themselves. And Fran embodies that.
What's the last thing you made with your hands?
Would taking a photograph count? Then it would be the most recent Alvin Ailey campaign. I'm not really crafty. My fine-art photography is about the body and surrealism and abstraction. The way I photograph felt very sculptural. It felt like the next step was sculpture, actually, to go more into Rodin than deeper into photography. I wanted to bring my eye to another dimension, so I started doing body casting, which I thought of as a three-dimensional negative. Then I went into the actual sculpting. The last thing I made with my hands hands was an alabaster sculpture from a stone-carving class I took in 2018. It's unfinished.
Is there one thing you own multiple versions of?
Books. I keep one copy as the pristine, beautiful version and another that I mark up. And sometimes another one as a studio copy. I have multiple copies of Virgil Abloh's Figures of Speech and Roy DeCarava's The Sound I Saw. 
What New York City museum do you always go back to?
Cooper Hewitt. It's one of the few museums that look at fashion through the lens of design. It offers multiple access points into design and the design conversation: redefining what design is and how it affects our lives. A few years ago, I was in this funk that I could not get out of. Cooper Hewitt had an exhibition on beauty, and when I walked out of the show, my entire mood just lifted. Like André Leon Talley said, "I was starving for beauty."
What do you always have next to your computer? 
A cup of coffee. I drink coffee all day. I could have a cup then go to bed.
Where is the best view of the city?
The best view is from Long Island City, near the Pepsi sign. But the view that gives me the feeling of being in the city is when I'm crossing the Williamsburg Bridge into Manhattan. Every time I'm coming across that bridge there is a feeling of like, Oh bitch, I live in New York City.
What building or object do you want to redesign every time you see it?
Trying to pick one that hurts my spirit each time I see it? Harlem Tavern on 116th and Frederick Douglass. It was one of the first big developments when everything was popping off in Harlem and a new restaurant was opening every week. They really do have a good turkey burger, but it might as well be in a strip mall in the Midwest. It does not fit the neighborhood at all and looks like a ton of bricks were just dropped into the middle of Harlem. It was clear that it was not for the residents. It was not for Harlem. It was for Columbia students to feel like they were having a beer-garden experience. I'm totally cool with people coming into neighborhoods and opening restaurants, but you have to consider the space in which you find yourself.
What's one thing you would change about your field? 
If we're talking about photography, I'd say, "Just slow the fuck down." Digital has created this ridiculous amount of production that's required on a photo shoot. You're doing three times as much in half the time. There's a level of production that's demanded that is never going to be as powerful as you wanted because you're not given time for that.
If you could live anywhere in New York City, where would it be?
I really love Harlem, but if I didn't live here it would be Chinatown or the East Village because I feel like those are the last bastions of authentic New York.
What would you hoard if it stopped being produced?
Copal incense, which smells slightly eucalyptus-y and woody with a bit of musk. It makes me feel tapped into something ancient and sacred. It's actually hard to find now, so I usually buy a lot because I never know if I'll find it again.
What do you do to get out of a creative rut? 
I go to an exhibition or a gallery.
Where was your first NYC apartment and how much was the rent? 
It was in Inwood, on 204th and Cooper Street, and my rent was $600. It was a two-bedroom and a friend of mine owned the apartment. He was never there because he lived in Aspen and would only come twice a year to see his daughter for a weekend. I was very lucky. Then he lost it in a divorce settlement, but that's another story.
Where in the city do you go to be alone?
I'm alone most of the time at home or in my studio. Alone is my default. So I go places to see people. Me being out and social is a rare event. If I want to be out in the city to think, I'll take a stroll down Morningside Avenue.
What's the worst piece of career advice you've ever gotten? 
"You should always look like your headshot." Professionally, this was good advice. For the development of myself as a person, this was bad advice because it kept me trapped in a frame. It kept me trapped in this representation of myself on a specific day. So much of my life and career has been about the removal of these expectations and restraints. My occupation is "becoming Dario."
What have you given away to someone that you wish you could get back? 
I'm gonna let it live, but I had a Jean Paul Gaultier leather corset that I gave to one of my assistants. I kind of wish I had it back because it was really amazing. He's giving it a whole other life, wearing it like it was his own.
What's your favorite NYC restaurant and regular order?
Maison Harlem because it's so close. It's literally around the corner and has such an incredible mix of old and new Harlem. If it's brunch, I'll get French toast, sub home fries with regular fries. For dinner, I'll have the chicken paillard as a sandwich.
What descriptive phrase do you want on your obit headline?
"Dario et disparu," which is French for "Dario has disappeared." It's my goal in life to completely exhaust myself. I want to die like a raisin — like, Bitch, that's all I got.