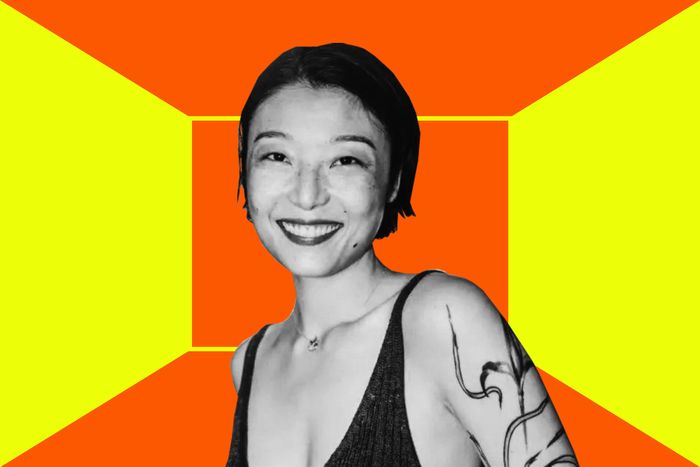 Photo-Illustration: Curbed; Photo: Courtesy of the subject
New York's "21 Questions" is back with an eye on creative New Yorkers. Ruoyi Jiang runs Chop Suey Club, a Lower East Side boutique that sells Chinese fashion, home goods, and art and hosts neighborhood parties and mah-jongg nights.
Name: Ruoyi Jiang
Age: 31
Neighborhood: Lower East Side
Occupation: Founder and director of Chop Suey Club
What's hanging above your couch?
I don't have a couch right now, but there's a piano with a bench in the living area, and hanging above that is a drawing by my friend William Buchina, who is an amazing artist. He traded the drawing for a month's sublet in my old apartment.
What's the first job you had in New York? 
The first paying gig I got in New York was as an on-set photographer for a student film at NYU. At the time, I was hanging out with people in the M.A. film program.
What color are you always drawn to?
Purple, orange, and gray. Purple is a color that I find pleasing to look at. There's something a little mysterious about it. I find it quite sexy. I like the vibrant energy of orange. It really does go with everything. And gray is calming. I'm renovating my store right now, and the entire space is silver and gray.
What art or artifact are you most surprised you own?
I have a few zines by the photographer Ren Hang. I got them from an art bookseller in China soon after Hang died, when there was still some availability of his work, but now it's impossible to find. They're very thin booklets made up of his photographs. Each of them is named after a month, but I think he only made them until November. The format and style for each month is different, and he only made 100 copies of each. I couldn't believe I got my hands on them.
Which New Yorker would you want to hang out with?
The first person who comes to mind is Pete Davidson. He seems kind of aloof, and there's something about his chillness that's quite New York. He doesn't take himself too seriously and is open about his thoughts and vices. He looks like a fun person to smoke a joint with.
What's the last thing you made with your hands?
While I was at a restaurant waiting for my check, I was playing with the napkins and made little animal figures.
Is there one thing you own multiple versions of?
It's quite random, but I have three copies of Kae Tempest's poetry book Brand New Ancients. I bought one when I was in Greece, because I knew of their work and liked the cover, which has decorative figures that are used on pottery. A friend gave one to me. And I found one left behind by a roommate. They're all designed slightly differently, which I find interesting.
What New York City museum do you always go back to?
The Met, since it gives me an excuse to also go to Central Park.
What do you always have next to your computer? 
I have a brass Zippo lighter that my boyfriend gave me. I like flipping it open and closed.
Where is the best view of the city?
Standing in front of 169 Bar on East Broadway looking west, you see these layers of New York architecture: Chinatown tenement buildings, the Manhattan Bridge, the City Hall area with neoclassical buildings, and the steel-and-glass skyscrapers. I find it surreal. For me, it's a snapshot of New York.
What building or object do you want to redesign every time you see it?
Currently, the biggest eyesore to me are those sculptures on Allen Street between Canal and Delancey. Some of them are so atrocious! They showed up overnight a couple months ago. I guess other people here don't like them either, because a lot of them got destroyed immediately. New York could do so much better with its public art. People see public art more than what's in a museum. Wouldn't you want to put something good here? Something that represents the neighborhood?
What's one thing you would change about your field? 
I have a huge problem with fast fashion. Working in retail, something that's always bothered me is how clothing is discounted after a season. It doesn't make sense to me. Just because new things are coming up, are the old clothes not good anymore? They're just as good and just as needed. I understand a store needs cash flow and customers want trendier things and are gravitating toward the new, but it creates a huge burden.
If you could live anywhere in New York City, where would it be?
Where I live now: the Lower East Side. My store's here, and it's right next to Chinatown, where there's such a strong sense of culture and I can get groceries and affordable, delicious food. Historically, the Lower East Side is an immigrant neighborhood, and being from China, I feel an affinity for that. Over the last few years, a lot of people have moved into the area — downtown kids, new stores, new restaurants — and we have so many neighborhood friends, residents, and business owners who stop in and say hi.
What would you hoard if it stopped being produced?
Coffee and cigarettes.
What do you do to get out of a creative rut? 
I talk with friends or people for a little bit to distract my emotions from being so tied up in what I was thinking about.
Where was your first NYC apartment and how much was the rent? 
It was in Greenwich Village around 2010, when I was going to NYU. The rent was $2,100 for a one-bedroom that I shared with my boyfriend at the time. It was expensive, but we got free internet from the law school nearby.
Where in the city do you go to be alone?
It used to be a spot in my store before it was renovated. On the second floor, I had a slight bird's-eye view looking out the window, which faces the corner of Orchard and Hester. When I was sitting at my desk, I could see everything that was happening at the crossroad and no one could see me. I would play music, and it felt like my own little world, where I could do whatever I wanted.
What's the worst piece of career advice you've ever gotten? 
When my mom felt like I was working too hard, she said that I should find a rich guy to help make things easier. Being a mom, she didn't want me to struggle. But that's not for me, and it doesn't work out the way she thinks it does. Maybe he could help me out financially, but ultimately, he's not there to help me better myself.
What have you given away to someone that you wish you could get back? 
I have no regrets about what I've given away.
What's your favorite NYC restaurant and regular order? 
Wayla, a Thai restaurant on Forsyth Street. I find all of its food incredibly delicious. I like to try new things, but I always order crab fried rice too.
What descriptive phrase do you want in your obit headline?
Something about having a good time — "Oh, that was fun."