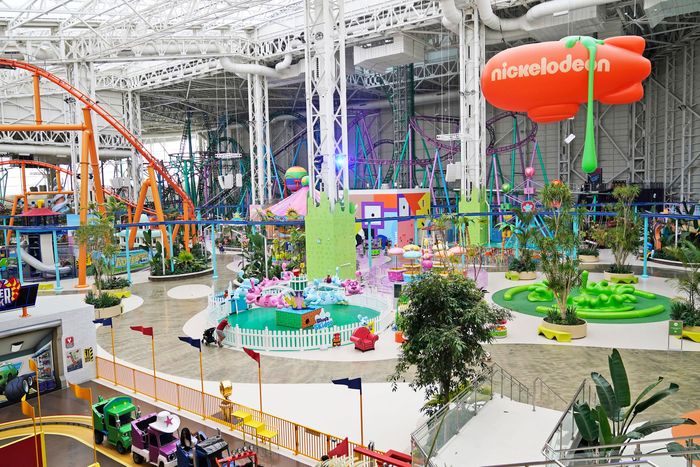 Bad news for the New Jersey megamall.
Photo: Seth Wenig/AP/Shutterstock
The second-largest mall in the country is in trouble after Triple Five, the developer and third owner of East Rutherford, New Jersey's American Dream, failed to make a payment on an $800 million bond for the property this week. As of June 16, the 3 million-square-foot megamall in the parking lot of MetLife Stadium, with its indoor ski slope, water park, and skating rink, will officially be in default, with a hefty bailout needed to save it.
This is the latest in a trail of bad financial decisions as long as the walk from Saks to the Nickelodeon roller coaster. In 2019, the mall made its grand debut over a decade late with a vision similar to Triple Five's crown jewel, the Mall of America in Minneapolis. The idea was to make it just as gloriously over the top. ("A one‐of‐a‐kind property that will reshape the way people think about entertainment, theme parks, and shopping," the press release read at the time. Though it wasn't "tacky enough," Curbed's Justin Davidson wrote in 2021.) But the ribbon had barely been cut on the first phase of its opening when the mall was temporarily shuttered by the pandemic a few months later. Boosters touted the mall's size as ideal for COVID-era shopping — "Because we're three million square feet, everyone is naturally socially distant," CEO Mark Ghermezian told CNBC in November 2020 — but that kind of turnout never materialized, as Bloomberg reported in February. Ghermezian said that American Dream would have a 95 percent occupancy rate by the end of 2021, but photos from early 2022 showed entire corridors of papered-over storefronts. It lost $60 million last year, and making payments on its massive construction debt left it with only $820 — yes, $820 — in a reserve account last year.
But American Dream's demise is more than bad timing. The collapse of the mall as an institution may be part of a bigger post-COVID trend, notes Alexandra Lange, who visits the mall in the opening of her new book Meet Me by the Fountain: An Inside History of the Mall. As she wrote this week in the New York Times, forecasters predict that a quarter of the country's 1,000 malls will close within five years. But the developer's choice to remake one mall into another mall — without adding a better connection to the outdoors, carving out a more permeable perimeter, or redeveloping the acres of parking lots — was misguided in 2019 and downright irresponsible in 2022. "Reminding ourselves of the mall's garden origins offers clues as to how they might be transformed," Lange writes. Inspiration might be found in the name of the original never-completed mall American Dream replaced: Meadowlands Xanadu.