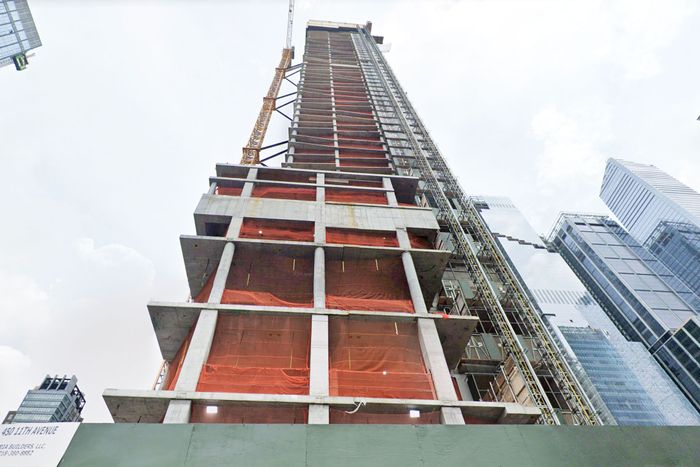 Warren L. Schiffman is a Long Island retiree who, until 2016, served as the principal architect for the Marx Development Group. He's also apparently the architect who approved a 51-story hotel in Hudson Yards for the Marx Development Group in 2018, which presents a problem because he told the New York Times this week that he never reviewed those plans.
In addition to the Hudson Yards project, Schiffman's seal — the stamp that appears on a project to verify that it's been reviewed by a licensed architect — was also used to approve two other Marx Development Group projects that he claims he had no active role in. Usually an architect's seal is needed to verify designs are safe, meet the city's building codes, and get approval to begin construction. (The Department of Buildings, which provides another layer of oversight, reviewed the hotel's plans five times and told the Times that it did not find any structural issues.)
Now here is where things get more confusing: According to the Times, Schiffman signed a post-retirement contract with Marx "detailing how the company's design firm, DSM Design Group, could continue to use his seal of approval even though he no longer worked there." In exchange, Schiffman received $175,000 over a decade — far less than what a developer would have to pay an in-house architect. The agreement required Schiffman to stamp projects "when requested," but Schiffman said he was never asked to review any plans.
Schiffman also denied that he had this contract before later acknowledging to the Times that he did — that in fact he "had the contract in his possession" and "read aloud several lines from it" and then "conceded he still received payments from the developer." ("He owed me money for years," Schiffman said.) This contract also required Schiffman to maintain his professional license "for the foreseeable future."
In May of this year, Schiffman reportedly admitted to "the charge of practicing as an architect while not registered or otherwise authorized," forfeiting his license. But Schiffman told the Times that he had not admitted this, and said he gave up his license because of his age (he's in his 80s). "I stopped practicing five years ago, and if anyone says I was, they are lying through their teeth," Schiffman told the paper. Marx Development Group's CEO, David Marx, did not reply to the Times' request for comment. Inconveniently for all involved, Schiffman was still listed as the principal architect on Marx Development's website as of this posting.