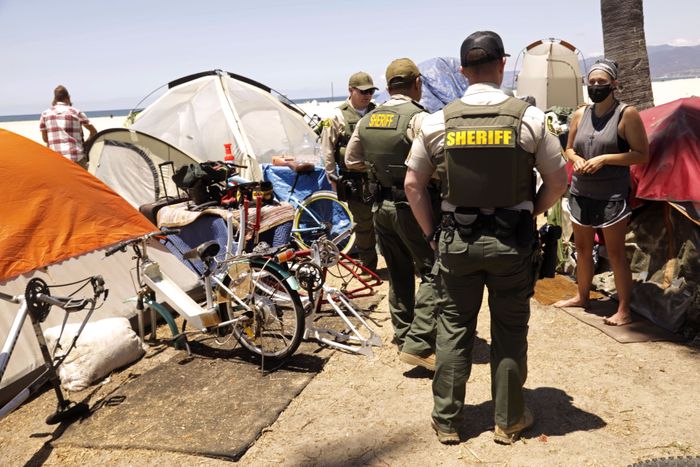 Los Angeles County sheriff deputies talk with Amanda Rivers, 34, who lives in a homeless encampment along Ocean Front Walk in Los Angeles on June 8, 2021.
Photo: Genaro Molina/Los Angeles Times/Shutterstock
Adding to its highly specific and fast-growing list of what residents can't do in public, the Los Angeles City Council seems poised to ban bike repair on city streets. In a preliminary vote that passed Tuesday, the members approved an ordinance that prohibits "the assembly, disassembly, sale, offer of sale, distribution, offer of distribution, or storage of bicycles and bicycle parts on public property." It also bans the possession of "five or more bike parts" while on property "owned or managed" by the city. People are allowed to fix a bike on the street — as long as it's just one, which they can convince a police officer is theirs, and "the sole purpose of the repair" is to "restore the bicycle to its operational form" and "resume riding the bicycle."
To the uninitiated, this ordinance may just seem odd. Its sponsor, City Councilmember and former LAPD officer Joe Buscaino, insists it's an anti-theft measure inspired by a rise in "informal operations where bikes are disassembled and parts are sold and traded on sidewalks" over the past few years. It's also, he said at Tuesday's council meeting, meant to "clean up our streets" and "improve the quality of life," which are the real tells.
As vague and chaotic as its language seems, the law almost surely has an ulterior purpose: It targets people who are storing or repairing bikes on the street because that's where they live. There are tens of thousands of unsheltered individuals living in the city at the moment, many of whom use bikes to get around and have nowhere to fix or tend to them besides sidewalks, alleys, and parks.
If the concern is bike theft, the city could quite easily install publicly accessible bike-storage solutions — like the rentable lockers and bike hubs located at Metro stations — as Councilmember Nithya Raman (who voted against the ordinance) told LAist. Instead, this appears to be cover for a broader push to criminalize houseless people and seize their belongings. Tourists riding cruisers past them on the Venice Beach boardwalk who stop to fix a punctured tire will likely be just fine. The final vote is scheduled for June 21.