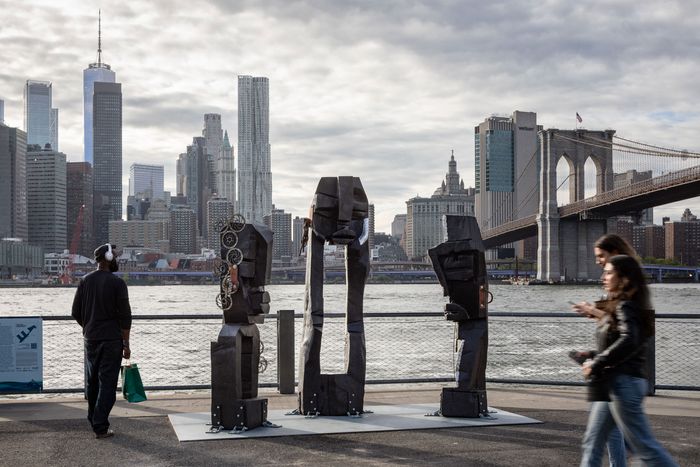 Leilah Babirye's
Agali Awamu (Togetherness)
, 2022.
Photo: Nicholas Knight, Courtesy of Public Art Fund, NY, the artist, Gordon Robichaux, NY, and Stephen Friedman Gallery, London.
There's a small wooden boat that looks like it ran aground in Brooklyn Bridge Park, teetering on a few boulders by the water's edge. As you approach it, you realize this isn't an ordinary vessel: Its frame looks like an enormous skeleton. Hugh Hayden, the artist who made it, named it Gulf Stream, a reference to two very different nautical paintings of the same name; one by Winslow Homer shows a Black man traveling on a boat with a broken mast through choppy waters, and Kerry James Marshall's depicts a group of people recreationally sailing on a clear and sunny day. "You can just take it as a boat," Hayden says. "Or you can look at it through the Gulf Stream narrative. Has this vessel swallowed someone? Has it saved someone? Where is the person? Have they escaped? Are they safe?"
Gulf Stream is part of "Black Atlantic," an exhibition about the African diaspora that Hayden, along with Daniel S. Palmer, curated for the Public Art Fund. It features sculptures by five artists that examine different ways that Black identity and culture has been shaped by the movement of people across the Atlantic. The British sociologist Paul Gilroy first used the term "Black Atlantic" to explain his theory that modern Black identity encompasses a fusion of influences from cultures found around the ocean. Hayden has previously made sculptures that delve into different facets of American identity, from food and athletics to cultural institutions like schools and churches. A solo show at Lisson Gallery, which included basketball hoops woven out of hair and rattan, was based on the cultural references of his upbringing in Texas, and this year he created an installation at Madison Square Park about the tensions and contradictions of the U.S. public education system. He describes his work as being "about the 'American Dream' and the difficulty in inhabiting such a seductive place." This new exhibition expands that inquiry to consider the transnational culture that emerges from Black migration and cultural exchange between the U.S., the Caribbean, and Europe.
The site itself inspired the theme of the exhibit. Public Art Fund and Hayden had been in talks since 2018 to produce a solo show in Brooklyn Bridge Park, but when he visited, he decided to create an installation that would be in dialogue with the water, the views of the Statue of Liberty, and the site's port history. Moreover, he didn't want to be the sole voice in a show about the Black diaspora, and enlisted four other artists who grapple with similar questions. Brooklyn Bridge Park has been the site of many art installations — Anish Kapoor's whirlpool, Claudia Weiser's tile-clad totems, Tom Fruin's prismatic greenhouses — but "Black Atlantic" is the first to engage with the water and the direct and symbolic role that the New York Harbor plays in the Black diaspora.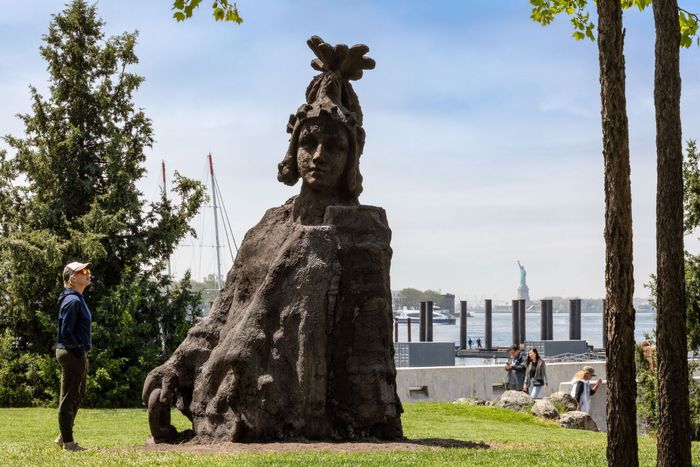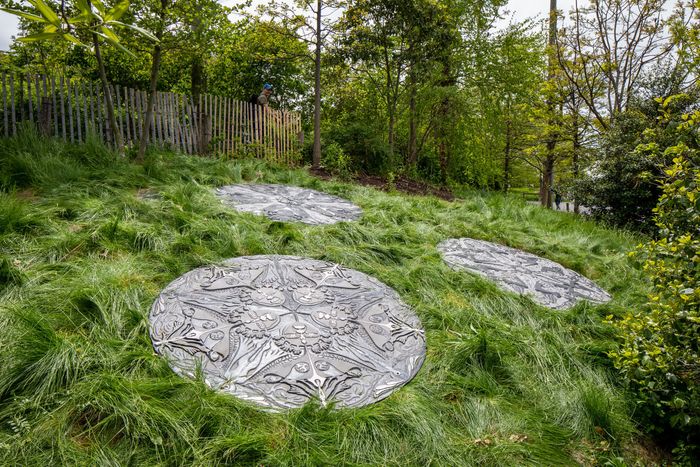 At Brooklyn Bridge Park, the landscape plays a game of hide-and-reveal with the works in the show. Nine-foot-tall charred-wood statues adorned with "jewelry" made from found materials are set against the Manhattan skyline, making the figures look like civic ambassadors. For the artist, Leilah Babirye, a Ugandan refugee who now lives and works in Brooklyn, the jewelry and the pieces' location on the water signify the freedom of expression and the sense of liberation people can find through chosen community — themes that recall her own experience seeking asylum against LGBTQ+ persecution in her home country and the welcome she received in New York. Kiyan Williams, an artist from Newark, New Jersey, meditated on the question of who has access to freedom in their eroded sandstone-clay version of the Statue of Freedom that sits on top of the U.S. Capitol dome. It's inspired by abolitionist movements in the Caribbean that fought against slavery and colonialism there. Williams envisions their piece as a ruin: The cracked and chipped surface is a reminder that institutions aren't permanent, even if they erect statues that suggest they are. Tau Lewis, a Toronto-based artist with roots in Jamaica, looked much farther below, to the ocean floor, to create a quiet, reflective installation that imparted a sense of mourning. Inspired by her long-standing fascination with the sea creatures like starfish and sea urchins that live there, and the knowledge of the enslaved people who didn't survive the journey across the Atlantic and now rest with them, she forged six-foot-wide cast-iron circles with symmetrical Adinkra patterns on them that are set in tall grass, surrounded by white flowers.
The piece I wound up spending the most time with was Dozie Kanu's On Elbows, a surreal cast-concrete fainting couch. It rests on four polished chrome elbow rims — custom metal accessories that usually stick out, like a pyramid, about a foot from the hub of a car tire. The rims are a symbol of Houston, Kanu's hometown, and they recall a bench he made and exhibited at the Lever House five years ago. He used the elbow rims then to make himself feel comfortable in what was then the uncomfortable space of the art world. This time, he used them to invite someone like himself to take a closer look. And that's what seemed to be happening; there was a constant flow of families posing for photos on it, people stopping to investigate the pulsating glowing totem next to the sofa and talking with each other as they explored the piece. In a talk hosted by the Cooper Union about "Black Atlantic," Kanu described how he himself negotiates the uncertainty and pressure of being a first-generation American and artist. His family in Nigeria finds his work odd and confusing, especially since the items that they consider functional, everyday objects are viewed as sculpture in the western world. On Elbows is a symbol of that difference and how Kanu, who now lives in Portugal, has managed to make space for himself wherever he goes — a drive that is shared among the diaspora and embodies the ethos of the show.