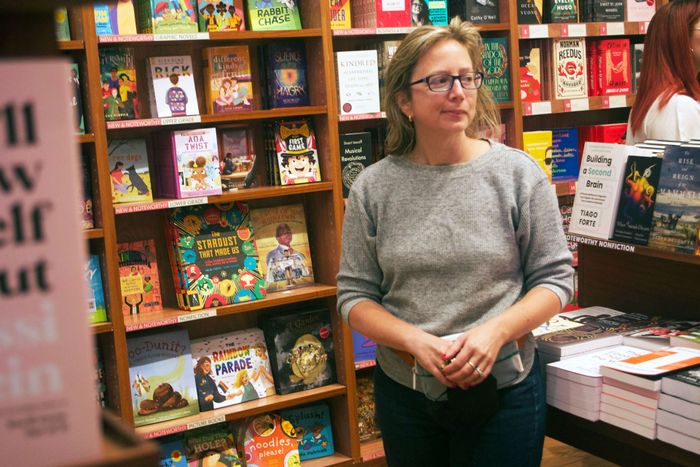 Lange at City Point's McNally Jackson store, sizing up the (excellent) placement of her new book.
Photo: Christopher Bonanos
I'd asked Alexandra Lange if we could get together at the Manhattan Mall, the failing 1980s vertical shopping center at the south end of Herald Square. It would, I suggested, nicely frame a conversation about her book Meet Me by the Fountain: An Inside History of the Mall, which includes a lot about the woes of retail and especially the ways in which malls interact with cities. Her response, though, was well ahead of me: "Have you been to the Manhattan Mall recently?" I had not, and I soon discovered that it had gone from failing to failed without so much as a "Careless Whisper" saxophone solo to mark its passing. It's down to one LensCrafters store inside, open by appointment only, and the entrance to the atrium is Sheetrocked over as it's being converted to office space. "Malls have been dying for the past forty years," Lange writes in her book. "Every decade rewrites the obituary in its own terms." This one was a long slow slide finished off by the pandemic.
So instead we caught up at City Point, in the base of a trio of newish black glass towers in downtown Brooklyn. (Among the next sentences from her book: "And yet, people keep shopping. The urban and suburban landscapes in which people live don't change that rapidly. Neither does human nature.") We did not in fact meet by the fountain, despite her title, because there isn't one — that central atrium feature was more popular among a previous generation's architects — but there's an outdoor seating area with some stony benches where we start to talk. Before City Point was built, there was a mall on the site called Albee Square, "made famous in the Biz Markie song," she reminds me, and still the name of the plaza. We're also just off Fulton Street, itself a pedestrianized shopping strip where a Macy's occupies the store opened by Abraham & Straus in 1885.
"I feel like they've kind of tried to make this into the upstairs food court of the mall," Lange says, gesturing at the little café tables. " It's not a very bounded space. It would actually be nicer if there was more of a focal point, like a sculpture, rather than just these tables." (A fountain would have done the same.) The benches, she remarks, have stainless-steel dividers, making them difficult to sleep on — one of those moves that planners refer to as "hostile architecture" — though there are some unbroken areas where you could theoretically stretch out. "Semi-hostile architecture," she says wryly.
We turn toward the retail complex itself, and the most obvious thing about it is that one big tenant is gone. "What we see here that also has happened in hundreds of malls across America is that the anchor department store, which was a branch of Century 21, closed." Most malls have more traditional department stores in those spaces, but that was probably never going to happen here because Macy's is right around the corner. "And Century 21 is local and well liked and, while being discount, also has kind of an upscale reputation. So I think it was a good pairing with Macy's as having a distinctly different outlook." Unlike traditional department stores, discounters are mostly doing okay, but Century 21 was already in some distress when the pandemic clobbered it, and it is just now digging out of its 2020 bankruptcy with plans to reopen its lower Manhattan flagship. The other anchor store at City Point is a Target, and it's doing comparatively well because, well, it's a Target.
Inside City Point, the vibe is just as uneven. A shop called Kimberly House Ltd. sells expensive bath balms by the scoop as well as some white-paint and seagrass coastal-grandma décor. It looks pretty, but it's in the midst of a going-out-of-business sale. Across the hall, another small-chain outpost called Rumi is pitched at tween girls: It's full of pastel-tone gimcracks, things like sparkly sunglasses and cutie-pie plushies. Lange points out a keychain shaped like a teeny cup of bubble tea: "It goes with my grand unified theory of boba being the driver for a lot of teen and tween shopping." (From the book: "Bubble tea also combines a number of previous mall-food traits: colorful like Orange Julius, sugary like a cookie, portable like a Cinnabon, snack-size like all of the above.") Rumi is a pretty large shop, and though it's the after-school hour, there are only two or three kids in the place. A couple of stores down, a big empty place has done double duty as a vaccination storefront, much as many dead malls are now revamped into things like urgent-care centers and outpatient facilities.
But other stores seem to have more of a future. We pause in front of Camp: "It's a children's toy store but also a play space. And that is another thing I see replacing a lot of anchors in suburban malls — family play environments like trampoline parks, road parks, racing, gymnastics studios. Camp is sort of the New York version of that." (She doesn't mention it, but Lange's previous book, The Design of Childhood, was a study of the aesthetics of toys and playgrounds.)
To be clear, she likes shopping malls; this book is, to a great extent, an appreciation. The reading experience is a little mall-like itself: generally linear with some wandering on side paths and pauses engineered in. The technical term for the fundamental appeal of a mall visit is "the Gruen transfer," named for the architect Victor Gruen: It refers to a point where utile shopping is replaced by the pleasurable experience itself. Sometimes you go to the mall because you want to go to the mall, not because you need socks or pens.
Lange's own mall pleasure centers, she says, may have been most activated by NorthPark Center, the 1960s Dallas complex centering on a Neiman Marcus. There, she explains, the owners' architectural ambition and art collecting augmented the experience from the get-go, setting the tone (if not quite creating a replicable business model) for virtually every high-end suburban shopping mall built since. She also has extremely kind words for the Winter Garden in lower Manhattan and its little grid grove of palm trees. (By coincidence, I'd had lunch there an hour or so before we met up.) Much of Meet Me by the Fountain deals with the continuing collision between online and real-world shopping and what it means for the latter. Shopping centers sometimes feel like an endangered species. Direct-to-consumer companies have skimmed off a lot of dollars, and many of those businesses, when opening their first brick-and-mortar outlets, botch them, with "too little in the store, or too little variety from rack to rack," Lange explains in her book. But a moment after we start talking about that problem, we pass a Casper mattress showroom. "It kind of cracks me up," Lange says. "You know, everyone said that DTC commerce was going to kill all retail, but it turned out people still want to go to the mattress store and lie down on the mattresses." Likewise McNally Jackson, the great New York independent bookstore mini-chain: Bookstores a few years back were on the ropes, having been Amazon-disrupted first and quite thoroughly, but at City Point, it's bustling. (It also happens to have Lange's book conspicuously placed on a front table. We pause for a shareable photo.) And there's a sneaker store, not Foot Locker but Laced Up, a much more appealing local place where customers and staff alike are tuned into the timeline of new-product drops. It's a relative of the Brooklyn businesses that once populated Albee Square and continue to do so at Fulton Mall.
In fact, Fulton Mall became a success almost by a fluke, as Lange's book explains. In the 1970s, after the first big suburban shopping centers had sucked people away from spending money in urban downtowns, planners scrambled to fix those deserted retail cores. The redesigns often screwed them up even worse, demolishing historic blocks to build parking garages and then pedestrianizing the areas near them. Usually they succeeded only in making dreary retail deserts. But among the exceptions is Fulton Mall, which continues to function pretty well as a middle-class shopping district, probably because it's served by lots of subway lines and buses. It worked because it bent to city dwellers' habits and preferences rather than trying to force them into uncomfortable ones. Today it is diverse and mixed-use, upscale and downscale both, and though it perhaps needs a little spiffing up, it is not fundamentally broken and sad, which is more than you can say for the Manhattan Mall in its latter years.
City Point is, certainly, a better place to visit than the Manhattan Mall was. But is it the future of urban retail or its past? Lange offers that it depends on what else we build. "A place like City Point," she says, "is really trying to be more of a vertical retail center, more on the order of some of the things that they build in Asia, where people live in these superdense environments … The sidewalks are really thickly populated, so you can't stroll, and there's a lot of air pollution. You need an intermediate pedestrian space that's a little bit cleaner and you can actually have some space to talk to your friend. And if you're gonna build 20,000 apartments in downtown Brooklyn, where there's already a lot of traffic on the streets, this could be — if it were better designed — an alternative."
But, she adds as we descend into the lower-level food court, the semi-hostile architecture we saw earlier pushes back against that idea. On the main level, there's barely a bench to be seen. "They've really not leaned into the idea of pleasant circulation and interior space that you want to linger in, probably partially because of not wanting people to hang out. And I think that that kind of dooms it as a nice interior environment, even if I and a lot of other people will run in and out and go to the Target." They are also likely to use the Trader Joe's that anchors the downstairs, facing an array of good mostly local food options instead of the usual Panda Express and Auntie Anne's lineup. And that food hall, at least — which, not insignificantly, does have places to sit — is hopping. The crowds seem to hint, as Lange writes, that "going to the mall still provides entertainment, but now the entertainment is food." We wrap up our walk, inevitably, with a boba tea.
* Full disclosure: It was indeed a catch-up. Lange has written extensively for Curbed, where I have occasionally edited her, and she spent several years at New York down the hall from me.