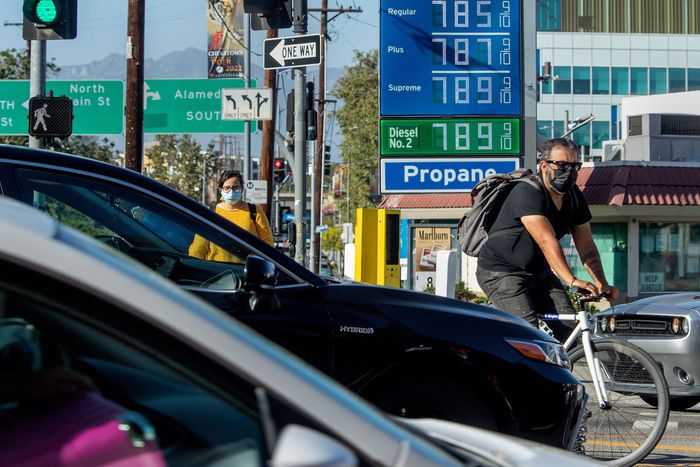 Photo: Mel Melcon/Los Angeles Times via Getty Images
In California, come October, millions of families can expect to receive a $1,050 tax refund and see their neighborhoods begin to roll out improved walking and biking infrastructure thanks to a plan poised for approval in the state legislature this week. The $9.5 billion relief proposal is a good idea salvaged from a bad one: In the spring, as average gas prices in the state surpassed $6 per gallon, Governor Gavin Newsom introduced a relief package that would distribute gas cards to owners of registered vehicles — with households that owned two or more vehicles receiving double the money. Instead, what would have been a subsidy for the fossil-fuel industry is cash in the pockets of residents (drivers and nondrivers alike) to spend as needed: on gas, groceries, rent, or a new e-bike.
This is what it looks like to get gas-price relief right, and the White House should take note. Last week, Joe Biden recommended a federal gas-tax holiday aimed at reducing the price of gas by 18 cents per gallon for the summer. Such a temporary break in taxes does little to fix the greater affordability problem — we've been here before — while hurting funding for road improvement and public transit. (To say nothing of the emissions cost of incentivizing more driving.) New York fell into the same trap on June 1, when Governor Kathy Hochul suspended gas taxes in the state following similar measures in Maryland, Georgia, and Connecticut.
California nearly did the same but, instead, got behind a more holistic proposal for "inflation relief," as lawmakers dubbed it, thanks to a push from policy experts to sync the budget with the state's ambitious climate goals. In addition to the gas-price relief plan, legislators will funnel money into the active transportation program, which awards grants to build pedestrian and cycling infrastructure, so there's an additional $1 billion in the budget for walking paths and bike lanes. (Legislators are still working out the details of a proposal to offer three months of free public-transit services to residents, which was included in Newsom's original plan.)
California's approach isn't perfect. The budget still has billions dedicated to widening highways and arterial roads, which will only increase car dependency. And the money going to households is in the form of tax rebates rather than direct payments, meaning some people who desperately need it won't be eligible. Still, it's a start.
"People need help," says Dave Weiskopf, senior policy advisor at NextGen Policy, who advocated for an even broader relief effort. The current plan is a step in the right direction, he says, "but the best way to defray the expense of gas prices is to help people not need to buy gas to begin with."