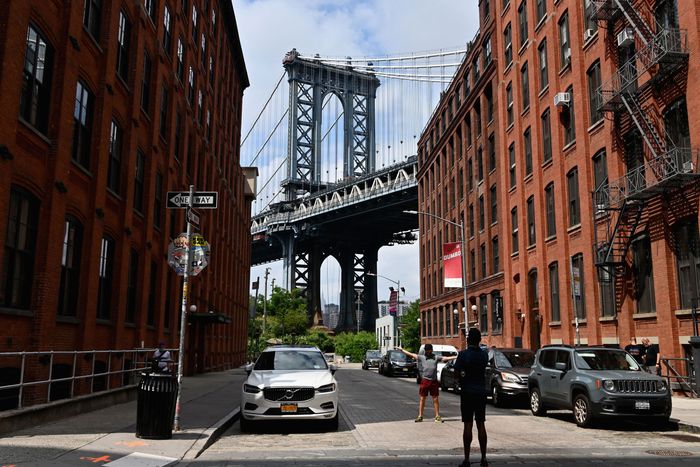 Photo: Angela Weiss/AFP via Getty Images
Dumbo's Washington Street is where one goes to see and be seen (on Instagram). New York City's official guide even calls the intersection of Washington and Water Streets — cobblestones, red-brick buildings, and the Manhattan Bridge's arches framed just so — a "meta-attraction." But what looks orderly on the grid comes with chaotic crowding in the streets, and starting next week cheugy influencers will have to contend with experimental art while trying to perfect their head tilt. For the second year in a row, the Brooklyn Arts Council plans to bring its public arts program, "The Six Foot Platform," back to the block.
"Washington Street is full of photo seekers," Alexandria Sica, the president of the Dumbo Improvement District, said in a release. "Of course, we want to bombard them with thought-provoking, compelling work." That work ranges from the dairy-based (genderqueer dance duo Hannah Lillevoy and m i c c a's installation to spread "radical joy through ice cream") to the more politically somber (Shell Platform, by Margaret Roleke, a sprawling sculpture made of spent shotgun shells).
If you want to see the art and performances, the shows will be up on Saturdays starting June 25 and running through Labor Day. If you want an undisturbed selfie, maybe plan for a Tuesday.