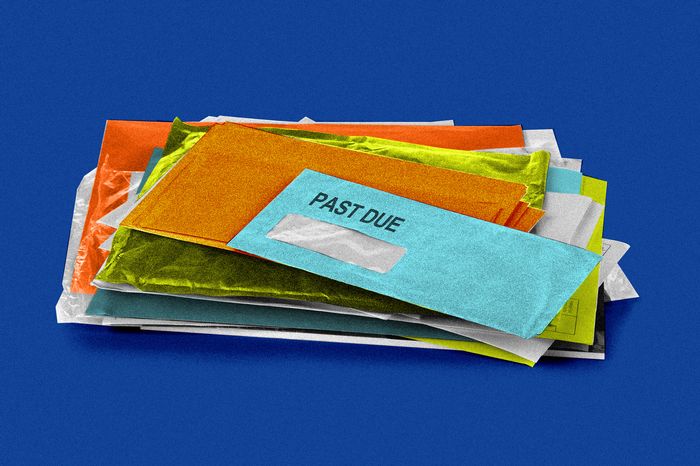 Photo-Illustration: Curbed; Photos: Getty
Torna Browne was working in child care when the pandemic first hit. Things dried up almost immediately — first during the initial lockdown and then as more people kept their children at home long term. Soon she was having trouble covering rent on the apartment in East New York she shares with her college-age son. "I kept saying, I'll figure it out." Her son was more realistic: In the summer of 2021 he said, "Mom, you're not going to figure out $20,000," Browne remembers, and told her about a rent-relief program that had just started taking applications. She applied right away.
By then, nearly 500,000 New Yorkers owed back rent, with total debts amounting to $2.2 billion. In New York, using money allocated through federal-relief packages and some state funds, the Emergency Rental Assistance Program (ERAP) was designed to do a few things at once. It would wipe out some of the rent debt that was burying tenants and stabilize landlords' balance sheets. But it was also structured to create eviction protections while tenants' applications worked their way through the labyrinthine approval system and create a little buffer after the fact: If landlords accepted the money, they were then locked into a temporary rent freeze and some eviction protections for the next year. The rollout and subsequent disbursement was never exactly smooth — both landlords and tenant advocates thought funding fell short of what was needed, money moved slowly at first, and funds ran out entirely for months at a time — but for the 156,415 people whose rent has been covered, with $1.97 billion paid out so far, ERAP has been a lifeline. One year later, the program has been a great relief, though hardly a realignment of New York's housing crisis.
The specifics of Browne's case made it easier, though not exactly easy, to navigate the program. Her landlord is a family friend, so they talked through the application process. "This guy's considerate," Browne said. "I don't think someone else would have been this patient for over a year and half." But many tenants know their landlords primarily as the address of an LLC where they write monthly checks. Suddenly, they were thrust into an uneasy kind of partnership. While many landlords were themselves encouraging their tenants to apply, some took the opposite tack, eager to evict tenants at the earliest opening. One landlord in Binghamton, Douglas Ritter, shut his tenants' water off and refused to sign off on their ERAP application, telling WSKG that his "right" to eviction was being denied. (Ritter was charged with unlawful eviction, but few landlords face consequences apart from a fine.) Ju-Bum Cha, a senior consultant at MinKwon Center for Community Action in Flushing, explained to Law360 in May that language barriers sometimes held up the process. "Some of the landlords are Chinese but the tenants are Korean, so that causes serious communication problems." Other barriers to applying were more mundane — typical administrative frustrations like a glitchy website and an early problem with uploading necessary documents. Because of an error on the agency side — ERAP was administered through the Office of Temporary and Disability Assistance — Browne, with the help of an organization called RiseBoro Community Partnership, had to redo the application months after she had originally submitted it.
It was a long, anxious wait, but in April 2022, ten months after Browne first applied, the money finally came through: 12 months of back rent was covered as well as three future months. "It was a great relief," she said. But not everyone who applied has come out on the other side just yet. Around 45,000 applications are pending review, 38,000 applications are still being processed, and another 28,000 have been approved but not yet disbursed. (Another 45,000 public- and subsidized-housing applicants have been pushed to the back of the line to wait for funds.) These applicants are left in a kind of limbo, still waiting on relief. "It's very hard to get information out of the contractor," Edward Josephson, supervising attorney at Legal Aid's civil law reform unit, said of Guidehouse, the company contracted to manage disbursements. Some people who applied in June are still waiting to hear back. (In January, the Washington Post reported that Guidehouse's CEO had boasted about the margins it had made off the contract.)
Although landlords, housing advocates, and tenants have myriad frustrations with ERAP, the program did, more or less, what it was supposed to: move a lot of dollars to keep people housed. "The big picture is that the program has been very successful," Josephson said. "It's a lot of money to get out of the door that has to be processed and checked." And much of that money went where it was needed — an analysis by Law360 found that in New York counties with a higher proportional low-income population, the higher the application rate was, generally, for ERAP. "This has been, by and large, a very successful program in reaching the communities that were likely to be the hardest hit," Peter Hepburn, associate sociology professor at Rutgers University and a research fellow at Princeton University's Eviction Lab, told Law360.
The problem is that the pandemic is still happening. The way ERAP was structured assumed that the emergency was temporary; many tenants and housing advocates see the housing crisis as a more permanent condition, starting before the pandemic and lingering as its residual effects continue. Josephson told me that housing lawyers expect to see nonpayment cases go forward for any months that ERAP didn't cover, and some landlords refused the money outright, moving ahead with their eviction cases. Legal-service providers are maxed out, meaning that many people may have to move through housing court without counsel. Browne, still in her apartment in East New York, is grateful for the money she received through the program, but she struggles to cover expenses. "I'm trying to get back out and get a job," Browne said. "But then if I get the job, I have to make sure it's going to pay these bills."