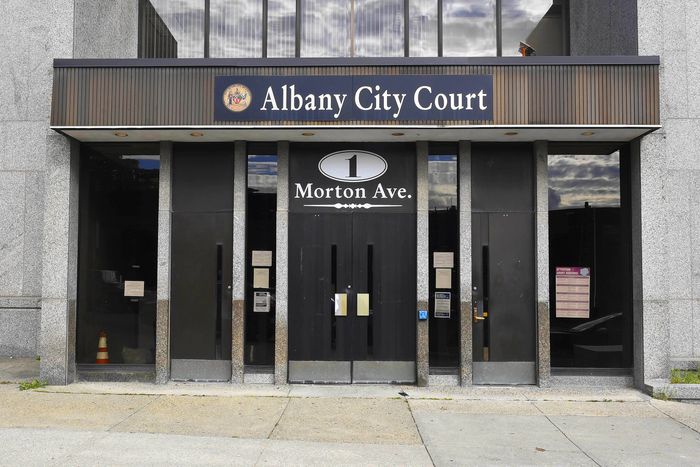 Photo: Hans Pennink/AP/Shutterstock
The Madagascar hissing cockroach is distinct from the American cockroach that more commonly lurks New York City apartments — they're considerably bigger and, as the name suggests, they hiss. And so it might have been noisy (and gross) at the Tuesday arraignment of a group of tenant activists when protesters released what appeared to be hundreds of them into an Albany courtroom. According to reporting from the Times Union, the defendants were in court that day after arrests (some violent) last month during a rally at the state capitol in support of Good Cause.
According to accounts provided in arrest records and court papers, two dozen protesters entered the courtroom and one of them, a State Senate worker named Clyanna Lightbourn, "proceeded to stand and walk among the audience while refusing to show officers her phone while talking and disrupting court proceedings." Lightbourn is then alleged in the police report to have attempted to "distract the court" to create an opportunity for protesters to free the bugs. The cockroaches were apparently being stored in Tupperware containers "surrounded by lettuce." Lightbourn was arrested and fired from her position in the State Senate, according to the Times Union. Exterminators were then called in to fumigate.
It's unclear where the cockroaches came from — civil-rights protesters in the 1960s collected them in jars in service of a similar protest tactic — but nowadays, you can order them in bulk online. (As one cockroach-buying reviewer wrote, "They came live and well. Actually I forgot I ordered them and got a freaky surprise when I opened the box.")
Lightbourn has pleaded not guilty to charges of tampering with physical evidence, criminal contempt, obstruction of governmental administration, and resisting arrest. A court date is set for July 5. It's unclear if the cockroaches will make an appearance.