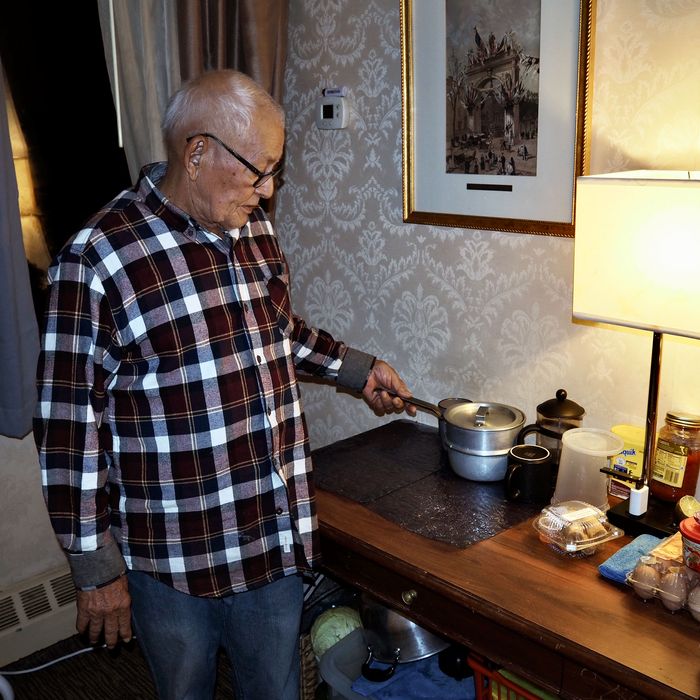 Antonio Rojas looks over his makeshift kitchen at the Airway Inn.
Photo: Amir Khafagy
Less than a mile from La Guardia Airport, on a stretch of Astoria Boulevard dotted with auto-repair shops, gas stations, and fast-food chains such as Popeyes, stale cigarette smoke permeates the hallways of the Airway Inn, and the carpets are blanketed in grime. Inside the motel room where 76-year-old Patricia Rivas and her 87-year-old husband, Antonio Rojas, have spent the past year, Rivas points at mold growing on the ceiling. In one corner, next to the television, the couple has set up a makeshift kitchen with a hot plate. Rivas, who uses a walker, constantly bumps into it as she inches around the bed. As the two talk, they keep scratching their legs and arms. Rojas rolls up his pants to show rows of bedbug bites.
This is not how they pictured they would be spending their retirement years. Since an eight-alarm fire destroyed a section of their six-story building on 89th Street and 34th Avenue in Jackson Heights last April, Rivas and Rojas have been unable to return to the three-bedroom apartment they lived in for 49 years. The fire, sparked by an overheated power strip, injured 21 tenants and left nearly 500 without homes. Rivas and Rojas, along with more than 40 other families, are still waiting to move back.
One floor above Rivas and Rojas, Jose Rodriguez and his girlfriend are also among the ten families from 89th Street who were placed in the motel by the city's Department of Housing Preservation and Development. In their small room, a pair of gregarious sun parakeets flutters freely around the room, while a more timid parakeet couple stays close to the cage. As a child, Rodriguez would often drop by Rivas and Rojas's apartment to play with their son. For a time in the 1990s, he was even the superintendent of the building. Now the 50-year-old just wants to go back to the home he had fought for after his mother passed away during the pandemic (the rent is a very affordable $157 a month). Although the tenants who live at the Airway have tried to check in on each other, Rodriguez said they can't replicate what they once had. "That's the way the building was — everybody knew everybody," he said.
Away from home, Rivas longs for the landmarks of her daily routine: the Colombian bakery where she got her café con leche, the local Trade Fair Supermarket two blocks from her apartment. The closest subway stop to the Airway is a half-hour walk away. "We don't have any money anymore," said Rojas; both are retired and live on their Social Security payments and modest pensions. "I'm spending money every day for food outside, and it's hard."
Since the fire hadn't burned their side of the complex, Rivas and Rojas thought they would be away from home for only a few days. But the Department of Buildings found structural damage, along with lead and asbestos, and issued a vacate order for the entire building. A mold problem soon developed. The building's been covered in scaffolding since, but Rivas and Rojas aren't sure what the landlord, Kedex Properties, has actually repaired. Two months after the fire, the city's housing agency issued 131 housing-code violations to Kedex for unrepaired damage. They constitute nearly half of the 309 open violations the landlord has accrued at its 17 properties. But issuing the violations didn't seem to spur much improvement — which is not uncommon. In July, HPD filed a lawsuit against Kedex for failing to correct the building violations. The next month, 60 tenants sued the landlord and HPD.
Kedex Properties owner Jorge Bolanos didn't answer questions about why he had amassed so many violations and insisted he was in communication with the tenants. "The only thing I want to tell you right now is that we want to fix the building and for them to come back as soon as possible," he said in February. "But, unfortunately, they are being misled and misinformed." When asked who was misleading the tenants, he refused to answer and abruptly hung up the phone.
In November, the judge presiding over HPD's lawsuit ordered the landlord to pay HPD a $34,000 fine and gave Kedex a detailed timeline of demolition and renovation deadlines. He also issued a date by which residents should be able to move back in: January 2023, nearly two years after the fire.
Andrew Sokolof Diaz, the president of the building's tenant association, believes Kedex is intentionally stalling on the repairs. "They are going to drag this out and wait until we are tired," he said. He fears that the longer the repairs take, the more likely it is his neighbors will give up. Diaz himself is willing to fight for another year if he has to, but he knows the rest of the tenants might not be able to. "If it takes three years to rebuild, nobody is going to come back," he said. Some of the residents have already moved on. Many found new apartments, and some even left the state. The tenants holding out hope for a return to 89th Street have renewed their leases and are continuing to pay a dollar a month in rent to the landlord. But it's unclear whether the landlord will guarantee that the holdouts will have a place to return to.
The relationship between the tenants and the landlord has been contentious for years. Diaz said that when residents protested Kedex's attempted rent hike in 2017, the landlord threatened the undocumented tenants with deportation and eviction. "My neighbors were telling me that the landlord was pressuring them by using their immigration status against them," he said. "They were scared." In response, residents formed the 89th Street Tenants Unidos, launched a petition, held protests, and were able to stop the rent hikes.
The move-in deadline imposed on Kedex is still seven months away. The long wait demonstrates how ill prepared the city is to hold landlords accountable after a fire, say some housing lawyers. "There's mechanisms in place to get people housed in an emergency situation," said Justin La Mort, an attorney with Mobilization for Justice, an organization that provides legal services to low-income New Yorkers. "There's less mechanisms in place to make sure that buildings are fixed in a timely manner."
By now, the initial wave of public support and media attention for the displaced tenants, including a GoFundMe that raised hundreds of thousands of dollars for them, has faded. Like the residents who survived the catastrophic January fire at Twin Parks Tower Northeast in the Bronx, most of the Jackson Heights residents are working-class immigrants for whom market-rate housing is largely out of reach. They are also the most vulnerable to fires — most of the city's roughly 2,200 fire calls each month come from neighborhoods such as Jackson Heights and the Bronx, according to a Documented NY report. The city has just passed a slate of bills to improve fire safety, but they offer little for tenants like Rivas and Rodriguez.
For now, the Jackson Heights tenants plan to wait it out at the Airway. But it's unclear how long HPD will continue to cover the Airway Inn fees, which are estimated to be $125 a night. Rivas said she has been getting calls from HPD representative Jessica Ortega for months pressuring her to find an apartment and move out. When reached for comment, Ortega refused to speak, and HPD press secretary Jeremy House denied the agency had pressured the families to leave. Usually, the city provides only a few days of emergency housing for fire victims, the agency rep said. "They can stay in HPD's family shelter until they can return home or find new alternative housing," he said. "There's a long-term housing plan in place for everyone registered for HPD support."
But the couple does not want to go to an HPD family shelter. For one, there are no such shelters in Queens, and they don't want to live temporarily in another borough. For long-term housing, HPD has offered all the tenants Section 8 vouchers, but since many landlords discriminate against voucher holders and the enforcement against those who do so is lax, they haven't helped everyone. Even if Rivas and Rojas could find an affordable apartment on their own, they are afraid that if they sign a lease for a new apartment, they will lose the right to return to 89th Street. Besides, their old apartment was $780 a month, a rent that would be nearly impossible to find now. "They will try to charge us $2,500, and we can't afford that," said Rivas. Their fixed income, along with her need for an elevator and an accessible entrance, seriously limit where they can move.
"We have an affordable-housing crisis, and we don't have vacant public-housing units," said La Mort, the housing attorney. "So when you have a crisis like a fire, when you have a large number of people suddenly facing homelessness who have never been in that situation before, it challenges both the social safety welfare net and our courts."
When asked more recently about his plans for the tenants who want to return, Bolanos said, "It's nobody's business, first of all." He added that the lawsuit prevented him from talking further.
The limbo the Jackson Heights tenants find themselves in is now shared by the Twin Parks fire survivors, who have also been placed in decrepit motels and see no clear path to stable affordable housing via city agencies. When the spotlight inevitably fades, it seems the city's fire victims are all too often left to fend for themselves and have only a patchy network of nonprofits to rely on. At the Airway Inn, Rivas and Rojas are growing weary. Although Rivas is grateful to have a place to live, the months of making do at the motel have been exhausting and isolating. "We feel like animals locked up in a cage," she said.