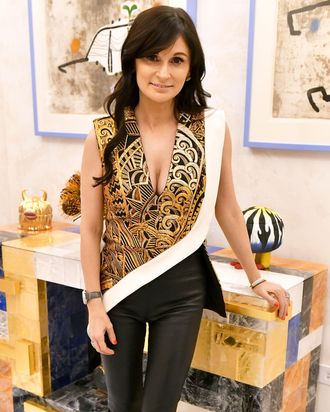 Photo: Craig Barritt/Getty Images for The Elephant Family and Elite World Group
The only thing worse than going through a messy public divorce is finding out that you'll go through a messy public divorce as a tenant in your ex-husband's apartment. According to "Page Six," Julia Haart, star of the Netflix reality show My Unorthodox Life, has been battling with her ex, Silvio Scaglia, over whether she should be allowed to throw a fundraiser for Beto O'Rourke on the terrace of their multimillion-dollar penthouse. Scaglia had said she can't because she didn't ask him, her landlord (and ex).
The Tribeca apartment is owned by Scaglia's Freedom Holdings. When Scaglia bought the 70 Vestry Street penthouse, it was expected to be the "priciest sale in downtown Manhattan," but he ended up getting it at a discount — $55 million. (It's now on the market at $65 million.) To stop the party, according to "Page Six," Scaglia told the management company not to let anyone in who doesn't live there. Haart, however, has claimed she owns 50 percent of Freedom Holdings and the apartment, but a Delaware court vice-chancellor found she did not. (The division of the couple's assets will be decided in the divorce case.) Scaglia's lawyers told "Page Six," "You have to ask the owner, the landlord," and said, "Ms. Haart could have asked 'Can I use the terrace? … And by the way I was wrong about claiming 50 percent.' That could have been a discussion."
Mere hours before the event was set to begin, the judge ordered Scaglia to allow the fundraiser to happen, which was great news for the party. Less great news for the party was that the judge also ordered Haart to put up signs that read, "Freedom Holdings, Inc., controlled by Silvio Scaglia, is politically neutral and does not endorse any political position or views. It does, however, welcome guests to tonight's event." The welcomed guests whose political views Freedom Holdings did not endorse included Attorney General Tish James, Planned Parenthood's Cecile Richards, Dolores Huerta, and Real Housewives of New York's Jill Zarin. Ahead of the event, Haart's attorney told "Page Six" that Haart was excited to welcome these "feminist leaders" to her apartment and that "trying to shut down an event that supports and celebrates women's rights was a new low even for someone as desperate as Silvio."
For future events, the judge ordered Haart to ask for Scaglia's permission ten days in advance for parties that contain more than 30 people. It's unclear what signs may be present at those.