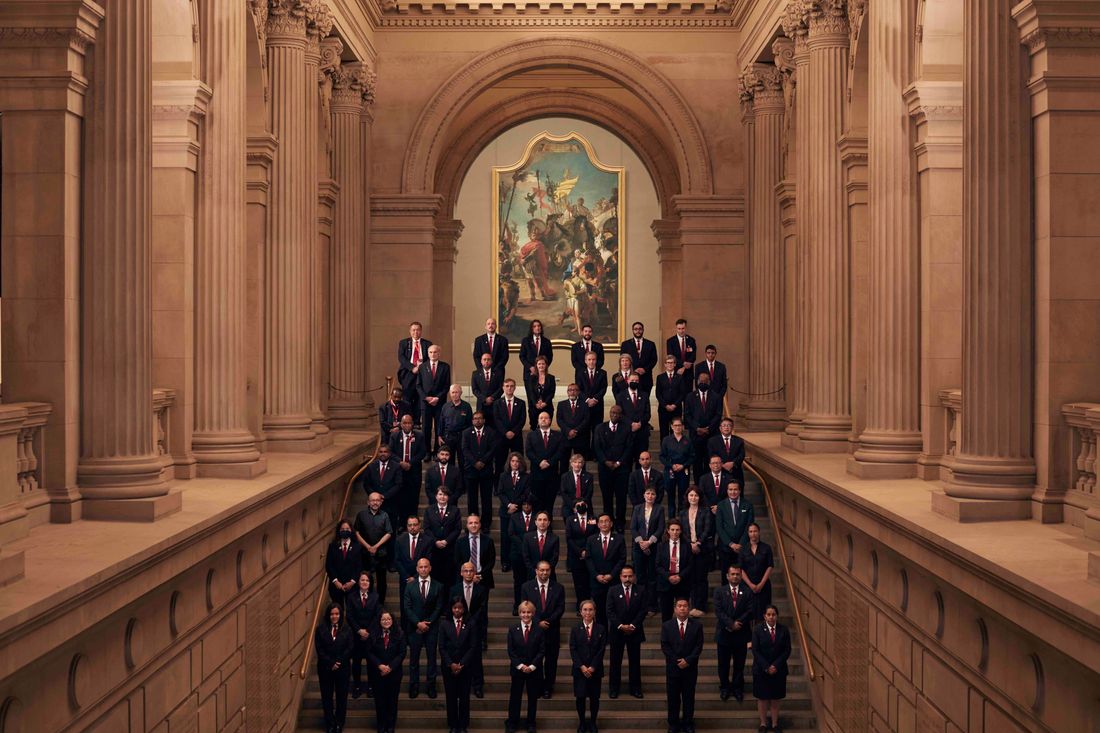 Top row (from left):
Mark Andrews, Theodore Yarns, Thomas Turner, Joseph McDermott, David Aprea, and Peter Zapryluk.
Second row:
Oscar Zauzich, Gary Diezdeandino, Rachel Cowart, John Windbiel, Emilie Lemakis, Julie DiMurro, and Rahul Ramkisoon.
Third row:
Sunday Agbonlahor, Alexander Pogorelyy, Gustavo Braga, Mohammad Mizanur Rahman, Andrew Smith, and Edward Moore.
Fourth row:
Michael Clark, Gary John, Kris Kroll, Wilhelm Simmon, Mila Luna, and Roy Navarro.
Fifth row:
Adrian John, Adam Abdelrahman, Maura Falfan, Anna Wheatley, Mina Roman, and Ambrocio Salazar.
Sixth row:
Michael Villarosa, Maureen Shanahan, Cheryl Calloway, Maraya Lopez, Vera Qehaja, Kristina Zefi, and Leslye Saenz.
Seventh row:
Jessi Atwood, Jerickson Vinas Fabian, Mario Piccolino, Enver Ergun, Noel Millares, Bardha Neziraj, and Ana Tolentino.
Eighth row:
Ornela Asllani, Steven Hellman, Fateh Lohani, Cenon Inocent, Habibur Rahman, and Abul Sayem.
Ninth row:
Angelica Perez Ulerio, Katherine Barcia, Elizabeth Valdez, Alin Varela, Hisayo Dordick, Felimon Goboy, and Cindy Williams.
Photo: Frankie Alduino
If you touch, say, a sculpture at the Metropolitan Museum of Art, maybe because you want to know what ancient Greek marble feels like, you'll set off a quiet chain of events. A security guard has to tell a supervisor, who will write up an incident report, and anywhere from five to ten people will be notified, including the museum's top curator. "I wish people realized the magnitude of this one touch," says Regina Lombardo, head of security, bemoaning TikTok art-touching videos. "It creates a lot of heartburn."
Without the guards, there is no Met. They not only protect the art but also help lost tourists, work special events, make sure no one brings in a knife, and, now, enforce a mask mandate. The pandemic has been a rocky time for the museum and its frontline workers. In 2020, the Met had to close its doors for five months, then cut or furloughed about 20 percent of its staff, including 120 guards. It reopened in August, and Artnet later reported that fewer guards were working longer hours to cover more space for relatively low pay, leading to widespread disgruntlement. One guard, Louisa Lam, said in an email that morale was at an "all-time low."
The Met is now nearly in full swing. Attendance has hit 70 percent of its pre-pandemic levels, with 20,000 visitors in one day over Memorial Day weekend. The museum says the guards who were laid off have been offered their old jobs, but not all have returned, partly because of a tight employment market. The challenge now is to hire back up. In January, the security-guards union negotiated a new starting pay of $16.50 per hour, up from $15.51. "I'm super-happy if I get the report 'No galleries closed due to manpower,' " Lombardo says.
This month, I toured one exhibition that was still being set up. Unbeknownst to most people outside the museum, a staff-run employee art show is hosted every other year; many of the guards are artists and have work in it. This summer, the show will be open to the public for the first time. Emilie Lemakis, who has worked as a guard for 27 years, sat on the floor as she unrolled a large piece depicting a Met guard made of recycled uniforms. "It's from my own collection from over the years," Lemakis says.