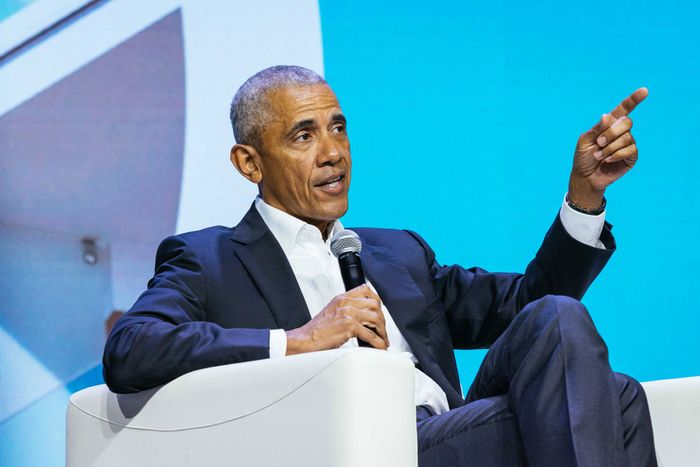 Photo: Courtesy AIA / Taylor Glascock Photography
Former president Barack Obama used his keynote talk at this year's American Institute of Architects Conference, an industry convention that's trying to stay fresh with famous speakers like Venus Williams and Ryan Coogler, to call out liberal NIMBYs — the kind of people who believe in affordable housing until it's in their neighborhood. "The most liberal communities in the country aren't that liberal when it comes to affordable housing," he said last week to a crowd of 6,000 architects in Chicago, in conversation with AIA president Dan Hart. A big reason for the country's housing ills, according to Obama? "Bipartisan resistance to affordable, energy-sustainable mixed-use and mixed-income communities."
It's a familiar critique — AOC this year launched a PAC to support candidates who pledged to create permanent, affordable housing, including by changing policies to allow multifamily housing in affluent neighborhoods. This week's New Yorker cover of two neighboring townhouses also inspired a similar debate. While on its surface, the two — one "liberal" with a Black Lives Matter sign on the lawn, one "conservative" with a thin blue line flag — seemed to illustrate the apparent chasm between Americans, many saw the houses as more alike than not. "This is in Chicago and both of these homeowners called their alderman to voice 'concern' over a new multifamily going up on their block because they're worried about parking," commented Chicago architecture critic Anjulie Rao. "Both homeowners oppose the new apartment building going up down the block," tweeted Ben Furnas, executive director of Cornell's 2030 Project on climate change. As the president himself elaborated, "Well-intentioned laws and regulations at the local level, often generated from the left and my own party, sometimes are inhibiting the creation of affordable housing and empowering NIMBY attitudes that make it very difficult to integrate communities."
During his keynote, he pointed to his presidential library in Chicago's South Side, which broke ground in 2021, as an example of a project that would do this, describing it as a "major tourist attraction and hub of activity" that represented an "opportunity to stitch together the city." Obama visited the site the same day he gave the AIA keynote, where he thanked the construction workers, talked about how he hoped the project would make a positive contribution to the neighborhood and city, and posed for a few photos. But the project has also precipitated a housing-affordability debate in the areas around Jackson Park, where the center is located. Property values in Woodlawn, a neighborhood adjacent to Jackson Park, increased 23 percent after the center was announced. Rents have gone up, too.
Local residents, worried about losing affordable housing, have called for an anti-displacement policy to accompany the development, and tenant activists are demanding better renter protections. They highlighted the paradox of simply building more such safeguards, since adding more housing and businesses to accommodate the library would, in the end, only push them out. Activists demanded policy changes that would protect the current residents and were met with dismissal from Obama's foundation and city government. But in 2019, to address the housing crisis his project worsened, the Obama Center finally supported a Community Benefits Agreement authored by a coalition of local organizations and activists. The CBA proposed guidelines like funding community land trusts and a requirement that 30 percent of all new units be affordable. Chicago eventually passed an affordable-housing ordinance in 2020 for Woodlawn, but it wasn't as robust as the CBA. Nonprofit developers are also desperately buying up apartment buildings to secure low-income housing in the area while residents continue to fight for stronger protections.
Ultimately, the response to the threat of displacement caused by Obama's South Side center shows us that creating more affordable housing and mixed-income communities isn't just about building more, but must also include policies that will keep low-income and working-class communities in their homes. Squashing NIMBYism in wealthier neighborhoods is a big part of the equation. Obama is right to pinpoint that contradiction in supposedly liberal communities; however, a YIMBY approach on its own won't ever be enough.