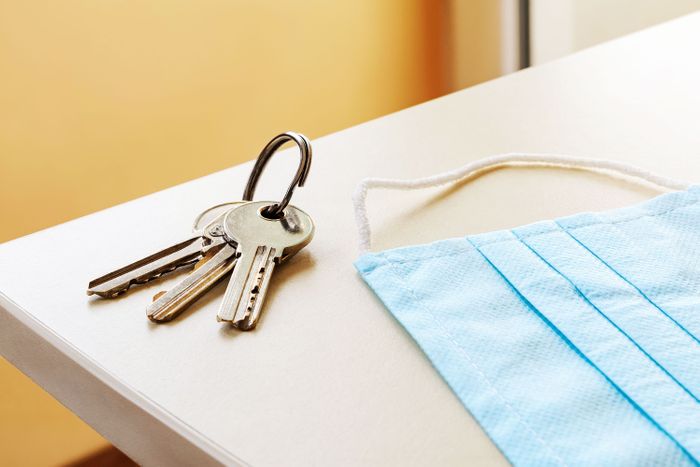 Photo: Veni vidi…shoot/Getty Images/iStockphoto
The New York City rental market right now is complete chaos. With one in four Brooklyn apartments ending up in a bidding war and rents hitting record highs, brokers and landlords are operating in a virtually unregulated market. Which means they're all acting nuts. For Lily, who works in public health and was looking at a Prospect Heights two-bedroom listed for $4,200 recently, that meant some familiar indignities: a no-show broker, a unit that didn't match the listing description or photos. But there was something she hadn't encountered before: The broker had neglected to mention that the tenant who was showing the apartment had COVID.
I reached out to talk to her about being casually exposed to a highly contagious virus on her apartment hunt.
This interview has been edited and condensed for clarity.
What was the listing and what made you want to check it out? 
It looked really bright and big. It was listed on Streeteasy as a two-bedroom, one-bath, and it was a little more expensive than I had been looking at but had one of those promos, like a 13-month lease with one month free. They had an open house listed so I emailed the broker. Once I confirmed with her, my mom and I walked over.
What happened next? 
I buzzed and no one answered so I called the broker a few times. She wrote back, "Just buzz," and finally someone buzzed me up. I got to the second floor and there were probably three to six people waiting outside this apartment. I was like, "We should probably just knock on the apartment door."
I knocked and this guy answered. He was alone and wearing three masks. I thought to myself, Wow, you don't see that very often anymore. He was also standing very far back. I stepped into the entryway and asked him if the Realtor was in and he was like, "No, she's somewhere else in the building." I was wearing a mask but the people behind me were not and they asked, "Do you want us to put on a mask?"
And he was like, "'Well, you should because I have COVID." I started laughing when he said it, like, There's no way, you've got to be kidding. But he was not.
He wasn't.
No, he said, "I told the Realtor a bunch of times and I'm surprised she didn't cancel this open house. But yeah, I currently have COVID."
How did everyone react?
The people behind me were so freaked out and they all went downstairs. Also, the apartment that was listed was a two-bedroom, but the one I saw was a studio with maybe one window and 500 square feet. It wasn't even in the same realm.
And where was the broker in all of this?
I texted her and she said she was downstairs. I found her and was like, "Hey, the tenant upstairs has COVID." I asked her if she knew. She said, "Oh yeah, I'm trying to let people know. You should have gotten a text." I did not get a text — no one was getting a text, and she was just hiding in the basement of this building. Lots of listings say you have to wear a mask; this one didn't say anything, and the man had COVID! I asked if she had called her brokerage to cancel the viewings and she said she was going to show another apartment — the non-COVID apartment she was in — instead.
I also told her that the COVID apartment was not the same as the photos shown in the listing. She said, "Yeah, I know. We posted the wrong ones." So take it down and post the right ones? How are we even having this conversation? I told her I'm going to report it to 311 and Streeteasy. You can't do this to people, we're still in a pandemic, this is so egregious!
Did you leave after that?
As I was walking out I heard ten other people coming in looking for the COVID apartment. But they rerouted and went to find the broker in the basement apartment.
So as someone who works in public health, was there maybe a better way for the Realtor to handle this than having a COVID-positive tenant wear three masks in order to show an apartment that was also falsely advertised as a two-bedroom? 
The tenant was trying his best to mitigate risk given the Realtor still decided to host a whole open house. I appreciate he's out here trying! But the broker should reschedule the open house! Wait five days, someone will still take it, every apartment is being rented right away anyways. People know no bounds now with these listings, they feel like they can get away with anything because it's such a crazy market right now.