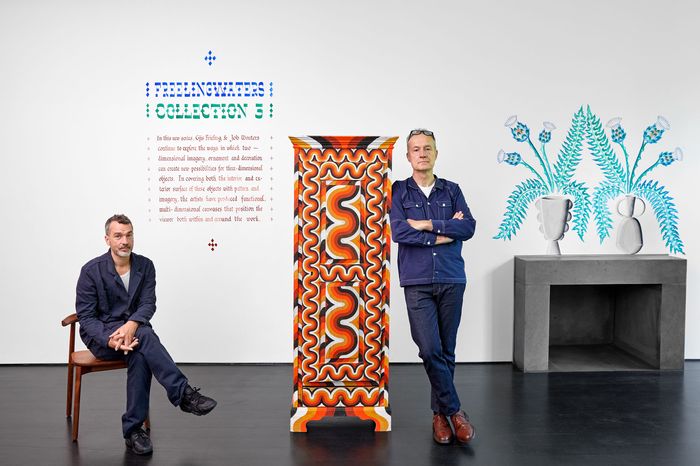 Photo: Alexandra Rowley, courtesy of the artists and The Future Perfect
Artists Gijs Frieling and Job Wouters, known collectively as FreelingWaters, say they are not big practitioners of psychedelics, but it's a question that often comes up when people see the exuberant patterns that the Dutch designers apply to their murals and furniture. "All the time, people say, 'You must use a lot of drugs,'" Frieling says as he tours me around their newest collection of hand-painted antique cabinets, "Collection III," which opened last week at the Future Perfect's West Village townhouse-gallery. Gesturing at the snaking curves and grid illusions, vividly rendered in oxide yellow, ultramarine blue, English red, and emerald green, Wouters explains, "It looks wild and playful, but our process is very strict." For example, each collection is limited to a set number of unmixed pigments and the designs are applied freehand with meticulous attention paid to the angle of the brush. Wouters compares the dichotomy between the process and the results to techno music: "At the party everyone is going all out, but in his studio the DJ is very precise."
Frieling, known for his folk-art-inspired murals, and Wouters, a specialist in illustrative calligraphy, have been working together for over a decade, beginning with the 2010 monograph Gijs Frieling: Vernacular Painting, for which Wouters hand-rendered fonts to complement Frieling's artwork. The book then spurred a collaboration with Dries van Noten in 2012. Their foray into furniture began only two years ago, as the COVID lockdown gave them more time to develop their concept, which was inspired by books they'd collected on 18th-century painted furniture. "We thought we would do one little test, but it got out of hand and became a collection," says Wouters.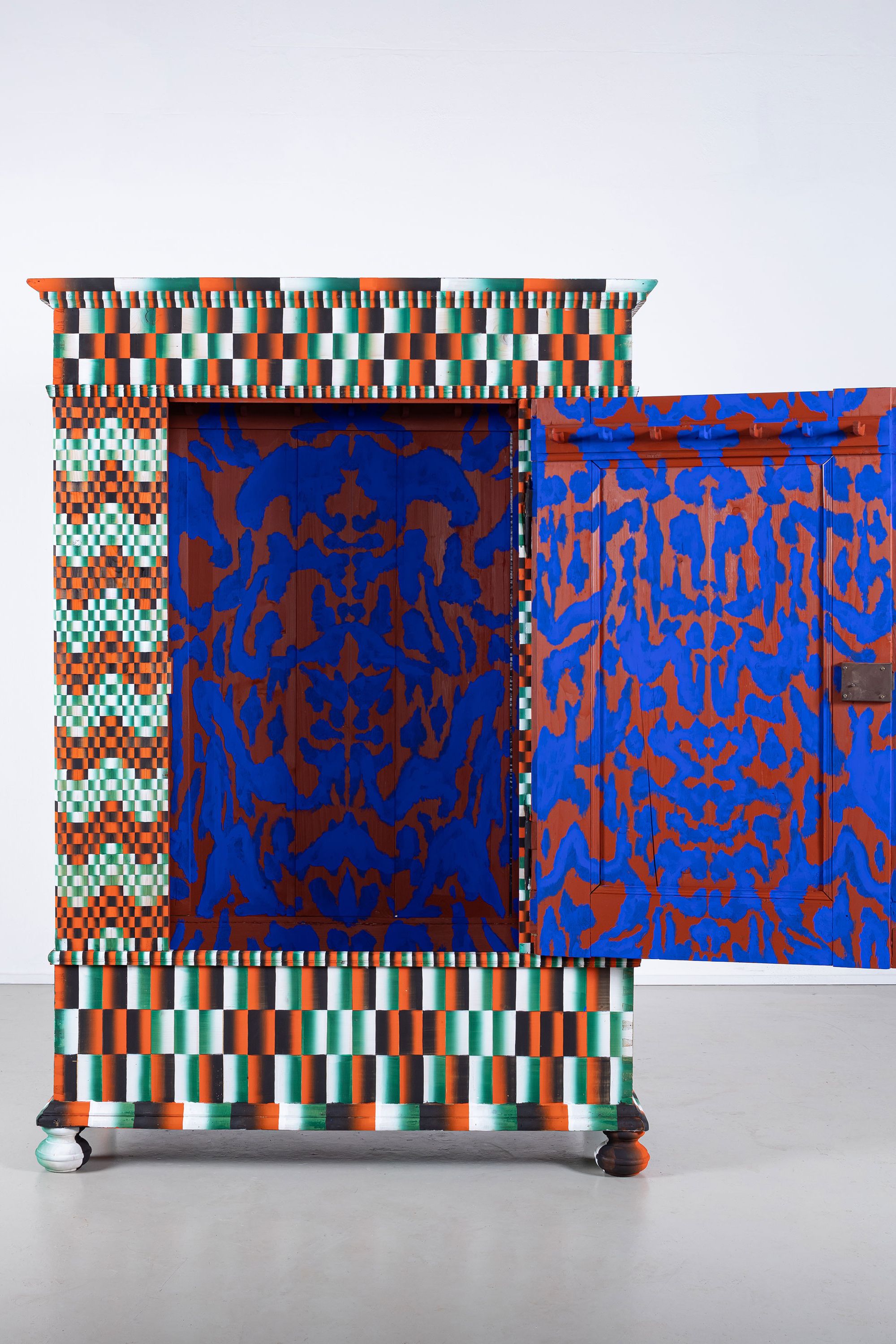 Their third collection of upcycled 17th-, 18th-, and 19th-century Czech and German cabinets is arriving within a resurgence of psychedelia-inspired work. Acne just announced a collaboration with artist Angelo Plessas based around his ritual talismans. Poltrona Frau is releasing a special anniversary edition of its Archibald Armchair emblazoned with Felipe Pantone's Op Art. And we've seen recent retrospectives of the work of the late Verner Panton at R&Company in New York and Trapholt Museum in Kolding, Denmark, introducing a new generation to the Danish design legend's mission of consciousness expansion. At a moment when micro-dosing, magical thinking, and the metaverse are becoming more ubiquitous and mainstream, it seems that the way psychedelic aesthetics challenge consensus reality, or, at the least, provide an escape from it, is deeply appealing.
The artists themselves are most absorbed by where their process takes them. One of FreelingWaters' cabinets, Octavia, named after science-fiction writer Octavia Butler, references a Verner Panton wave pattern (which also ended up in a Dries Van Noten collection in 2018, six years after the pair's own collection with the fashion house). The cabinet's retro hues in black, white, gold, orange, and rust are "very '70s," says Frieling, but he gets even more worked up explaining how the 90-degree angle of the brush determined the contour of the lines. "It's a stroke exercise," adds Wouters. While the Panton reference was deliberate, the pair say that they typically focus on exploring different combinations of shapes, colors, and gradients, and any connections to vernacular references, like vintage western lettering and Kente weaving patterns, emerge from that experimentation.
The densely patterned cabinets seem to function as a kind of Rorschach test for viewers (and two cabinets in this new collection explicitly reference the inkblot patterns). Felix Burrichter, founder and creative director of PIN–UP magazine, appreciates the allusions to "Flemish Renaissance art, '60s Op Art, and '90s techno psychedelia" that he sees in their work. Some of the gridlike patterns in this collection have the effect of an optical illusion, where the depth of the three-dimensional objects disappears into a flat, two-dimensional impression at certain angles. But while this might remind the viewer of Op Art, Frieling and Wouters would rather emphasize how a super-matte finish makes this effect possible. It's evident that the Dutch designers are more excited to talk about their process and techniques than the cultural influences behind their work. "We're not so concerned with what reaction the work should evoke," explains Wouters. "We're more curious to see how it's received."