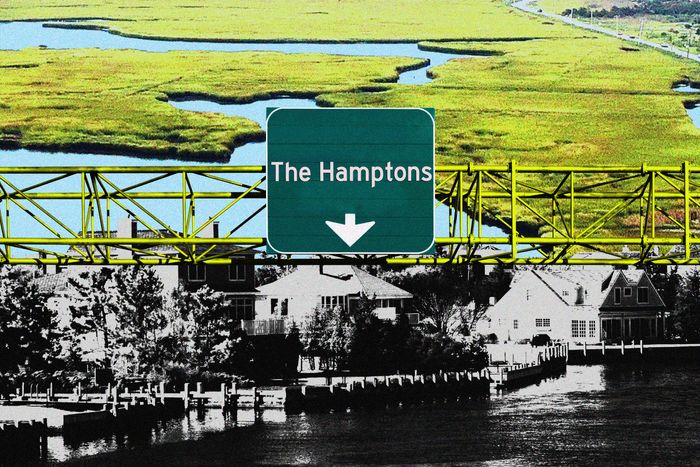 Photo-Illustration: Curbed; Photos: Alamy, Getty Images
In this biweekly series, "Realtor Diaries," we hear from the people at the center of a wilder-than-ever market. Today, an hour-by-hour glimpse into the working world of Kieran Brew, 58, a broker in the Hamptons.
5:30 a.m. I do the Spelling Bee and the crossword puzzle. I'm addicted to both.
I respond to some texts. This morning, I'm talking to someone I'm planning on showing rentals to later today. He can spend $60,000 for August through Labor Day, and I have a few things lined up, but I warn him his price point is low for the area he is set on, which is Amagansett Lanes. Everyone wants Amagansett Lanes because they are the only five lanes that exist from Montauk Highway to the beach, which means walking distance from the beach to town. There's not much else like that in the Hamptons.
7:15 a.m. I take my kid to camp. Then I go surfing in Ditch Plains, where I own a trailer on the ocean. It's a 1972 Princess model that I completely redid after I bought it a few years ago. It's also where I stay if I've rented out my Amagansett house. My place is a modern Bates Masi house in the Dunes.
My dad owned a third-generation restaurant in NYC, but he was also a smart investor and always owned real estate. He had this tenant who lived in one of his city apartments for more than 40 years. She paid $52.50 a month until 1989 because of rent control. After she died, we removed 300 bags of garbage from her little apartment. She had hundreds of Playbills and magazines. Anyway, I was in the restaurant business too but burned out on it; it wasn't for me. The margins aren't great. It's very stressful. So when I had my first kid, years ago, I moved out east. I bought a house with rental units in Amagansett. The rest is history.
9 a.m. I get a call from a renter I worked with last summer. He's read all the articles saying Hamptons owners are being forced to slash their prices because the demand isn't there this summer and wants to know if it's true. In my opinion, it's both true and it's not true. It's definitely not like it has been the past two summers.
A lot of people bought out east in COVID times with the presumption that they could rent for tons and tons of money — that's how they justified their investment. During peak COVID time, you could easily rent your (big, nice) house for $400,000 a month. Two years later, prices have settled back to where they were before COVID. Now you can find something near the water for $55,000 for August and September.
What's happening now — owners dropping their prices to get renters — is totally normal and part of the cycle. But the new owners just aren't accustomed to it. They've only done business in a COVID environment.
Still, a lot of homeowners here are keeping their rental prices sky-high because it's just not worth their trouble otherwise. They simply don't need the money. So if they can't get what they're asking for, they just skip it. I've had very wealthy clients who will find something wrong with every potential tenant I bring them — saying it's the wrong dates or they don't want a dog — and it all comes down to the fact that they don't want to drop their prices and they don't have to.
But I also have local people who have always rented and are concerned about money, and are counting on it. So they're wisely lowering their prices. They need renters for their livelihoods. So they'll drop down to $55,000 a month.
10:30 a.m. I go to the first showing with the Amagansett Lanes renter. It's basically an original "Lanes ranch" from the '60s. Problem is, so is the decor, and not in a good way.
The next one is another original ranch, but this one has been updated and improved and is a really sweet little rental. But no pool. Deal breaker.
It's slim pickings. Amagansett Lanes is mostly all rented by this time in the season. If you plan early enough, in the prime summer months, you can find small, original Amagansett cottage houses that were built around the 1950s for $70,000 to $100,000 a month.
Then there are the newer, bigger, more contemporary ones. Those rent for $250,000 to $350,000 per month. I've heard the more elitist people use this somewhat pejorative term to describe these houses: "Farrell Houses" or "McFarrells" — named after the builder, Joe Farrell, who did a lot of these houses at the same time.
I think they're terrific. They're big, well appointed, 5,000 square feet or so with finished basements, pools, pool houses, and big open kitchens. They're basically what everyone wants — they're beautiful, and there's absolutely nothing undesirable about them, but people throw them into the McMansion category, which feels a bit snobbish to me. The big guys sell for $8 million or $9 million.
11:45 a.m. My client didn't find anything right for him. A colleague has this funny line that I thought was fitting here: "This is the Hamptons, honey. We can disappoint you at any price point."
One rule of thumb out here is that in the first round of showings, show them what little they'll get with their money. Then they always come back with more money. I didn't necessarily do that here, but it's one strategy for sure.
I wish I could help him more, but there's not anything in the area he wants at the price he can pay.
Noon I go to a closing with a client, J. Most brokers don't go to closings anymore, especially since COVID. But I've known this client and his family for a really long time, so I don't want to blow it off. And it's good I didn't, because it's a lot more complicated than I thought it would be. I think he might've walked if I hadn't been there. Basically, J had a huge budget. He knew what he wanted (oceanfront), and he was pretty easygoing to work with. Again, he's honest, straightforward, easy to deal with, and loaded. However … do not fuck with him.
And that's what the seller was doing. He wasn't covering a few things he promised to cover — like fixing the garage door, for instance. So mid-closing, J got up and said, "I'll just buy another house." Then everyone turned and looked at me, like, "How are you going to save this?"
I said, "Okay, J, let's buy another house then."
The seller caved.
It's so crazy that no matter how big the deal is, it always comes down to nickels and dimes. J didn't care about the money; he just didn't want to have five things not get done on his $15 million beach house.
2 p.m. I'm heading back to Ditch Plains. Besides Amagansett Lanes, this is the other area everyone wants. It's barefoot-surfer paradise. You can skateboard to the beach. It's where a lot of young families want to be. There are basically no properties on the market right now. I have at least five buyers who can spend millions and want Ditch, and there's nothing to show them.
I'm working with a family now from out west who want to spend August in Ditch. I've been working really hard to rent them something, but it's where everyone wants to be, and the prices have not come back down (unlike almost everywhere else). It's still $60,000 to $75,000 for August for a four-bedroom, nicely decorated place. (This is still cheaper than Amagansett, of course.)
3 p.m. I call the renters and say I found them a four-bedroom house for $60,000 for the month. It was a word-of-mouth situation — a deal fell through and someone let me know. The backstory here is that the buyers bought it for $1.8 million about a year ago. It's now worth about $2.8. If they can rent it for $60,000 in August, that'll cover their loan and pay their mortgage.
My renters sound thrilled. We schedule a virtual showing for first thing tomorrow.
4 p.m. I follow up with some renters from past summers. It seems like half my prior clients are going to Paris in August. People have other choices now. You couldn't go to Europe over the past two years, so now everyone is flocking there.
5 p.m. I talk to a tenant I've been casually working with. She says, "I'm still looking around … I might go to Greece." There's just not nearly the same urgency as in years past. But I'm not the type to pressure anybody. Doing rentals is about relationship building. In other words, owners tend to list their houses for sale with people who have rented from them in the past. And renters will eventually buy with us.
If you rent a house for the season for $400,000, that's a $30,000 deal for a broker. Not bad, but you need a lot more than that to survive out here.
7 p.m. I'm at a dinner party with friends and my partner. She gets a call from tenants we worked with who are checking into a Montauk rental. There's a problem.
The owner is still there and says she didn't know they were coming.
I excuse myself to make a quick call to the owner, and, yeah, she thought they were coming next week.
She's not one to deal well with adverse situations and is in a complete panic. "How soon can you be out?" I ask her, calmly.
"In a week," she says. Okay, that's not going to work. "I'm not even packed," she adds.
8 p.m. My partner and I abruptly leave the dinner party and go straight there to help her pack.
8:30 p.m. The owner is a complete mess, and I think she has been drinking. It's a rough scene. The tenants are superstars, though. We made a few calls and ended up finding them a place for a couple of days, which we paid for, as we got to work on getting the homeowner out of there.
10:30 p.m. As I'm driving back home, the tenants call me and say, "It's no problem. We're from Israel; we don't get upset by little things like this."
11 p.m. Back home at Ditch, answering any remaining texts and emails and staring at my bed longingly. This day is done.