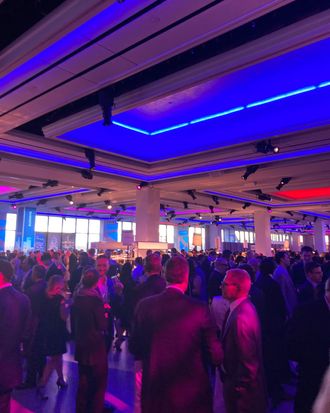 The longest line at the Real Estate Board of New York's annual gala was for little barbecue sandwiches. The crowd of hoverers consisted mostly of men in sport jackets organized in small clusters. Something Mumford and Sons–lite soundtracked the small talk: "They're making them," a man told his friend in line after checking whether they were, indeed, making the sandwiches. When a tray was put down, everyone rushed the table. Some quickly went back for seconds when they saw there were still a few left.
After a brief detour to Zoom in 2021, REBNY's annual gala — a schmooze-fest that draws the most powerful people in the New York real-estate industry and the state's highest-ranking politicians — was back. But not in any recognizable sense. For years, the party was a dead-of-winter affair held at the New York Hilton with a black-tie dress code and formal, sit-down dinner for which no one sat down. Bland rolls and rubbery steak were placed before, and largely ignored by, guests who included Bill Rudin and Larry Silverstein. Much like other famously hidebound, hierarchical organizations — ahem, the Westminster Kennel Club — REBNY decided to take advantage of the pandemic pause to freshen up its event. The gala was moved to June, the formal meal was abandoned in favor of canapé stations (prepared by chefs like Daniel Boulud), and the drab dated interiors of the Hilton were traded for the purple chandeliers and sleek couches of the Glasshouse at 12th Avenue and 48th Street. REBNY, always powerful, now also wanted to be cool.
The schmoozing was all that remained of previous years. Why else go to REBNY? There was Bob Knakal, a staple of REBNY galas, chatting someone up in front of a tower of Boulud bonbons. Councilmember Julie Menin stood with a claque of aides as high-placed officials from the Department of Buildings and Housing and Department of Housing Preservation and Development caught up over cocktails with alums of the de Blasio administration. "There's the DOB commissioner," said one guest. "It's funny how top city commissioners come to these and all the real-estate people ignore them." An inexplicably slow cover of a man singing Robyn's "Dancing on My Own" (Happy Pride!) carried over the crowd noise while a photo booth sat mostly ignored — the props (a poop-shaped hat, signs that said things like "Party Rockers") untouched. The booth attendant seemed to perk up when approached. "Not many people are doing it," he said.
Even the networking felt somehow deflated. By the time the general-admission mingling started, the potentates had come and gone. The real action had already taken place at a VIP event held just before. In years gone by, the cocktail hour was when you'd reliably see all the big operators — Chuck Schumer, the governor, and the mayor all hobnobbing with Dan Tishman or MaryAnne Gilmartin, paying their respects before the dreary dinner and speeches. Kathy Hochul, who spoke at this year's reception and pumped up the city's gilded elite as the "smartest risk-takers," was not spotted mingling at the main event as the fish tacos and crab cakes made the rounds. Eric Adams didn't attend at all. (He would have been poorly served by the catering — no vegan options in sight.) In their place, lesser developers, elected officials, city commissioners, and journalists chatted amicably or awkwardly while sipping cocktails. (A flower-garnished, blood-red Dorothy Parker New York Gin concoction — distilled in Brooklyn — was one of the evening's signatures.) "I don't know how much more of this I can take," a man in a blue blazer said as he breezed past the terrace bar.
In years past, you might eavesdrop on Andrew Cuomo and Rob Speyer while nursing a grudge against the man who cut you in line for the bar. This year, instead, we were left watching city commissioners queue up for snack stations. Ahead of the gala, REBNY chair Douglas Durst had said, "There's no party in New York like REBNY's brand-new annual event." Durst, however, was seen leaving his own party at 7:30 p.m.