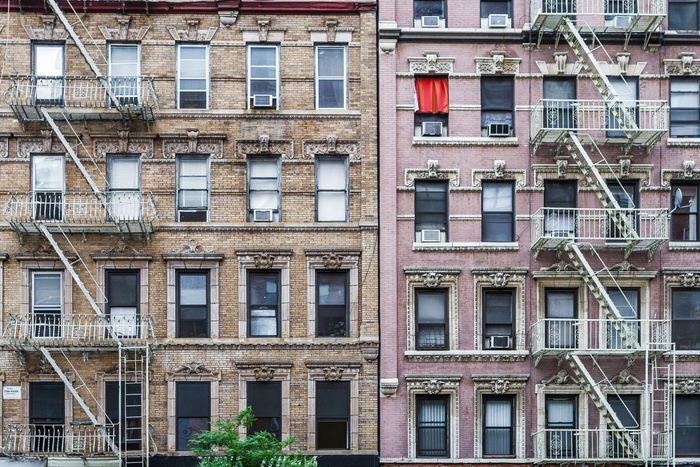 Photo: Philippe Marion/Getty Images
The Rent Guidelines Board voted on Tuesday night to pass the largest hike on rent-stabilized housing in almost a decade. The nine-member board voted five to four in favor of a 3.25 percent increase on one-year leases and 5 percent increase on two-year leases, affecting more than 2 million tenants. As the vote concluded, the crowd gathered at Cooper Union erupted into boos and chants of "Shame."
It was the dramatic culmination of a months-long process. During preliminary votes and public hearings, landlords claimed that their operating expenses reached a breaking point during the pandemic, citing mortgages and rising costs that Robert Ehrlich, a board member representing landlords, said could easily justify an increase of 6 to 8 percent on one-year leases alone. (For a recent board meeting, Ehrlich Zoomed in from a golf cart.) "We are risking the decay of rent-stabilized housing," Christina Smyth, an owner member appointed by Eric Adams, said to boos. She called the increase a means to "find balance" between a tenant's burden and a landlord's burden.
"What type of people ask if tenants are really struggling that badly? People who are out of touch," Adán Soltren, a tenant member, said, pointing to the rising costs of gas, groceries, and utilities that tenants already face. In 2021, more than half of the city's renter households were rent-burdened, or paying more than 30 percent of their gross income toward rent. A third were paying 50 percent or more.
Before last night's vote, the board had been in a period of relative quiet. Under the de Blasio administration, it passed minimal increases — the highest was 1.5 percent on one-year leases and 2.75 percent on two-year leases. Adams, however, had long signaled that he would support hiking rents, often invoking the stresses on mom-and-pop landlords as justification. Adams called the increases "a burden to tenants" but said they were necessary because "small landlords are at risk of bankruptcy." (A recent analysis by JustFix.nyc estimated that landlords with fewer than ten units own only one percent of rent-stabilized housing.)
"Whatever we do, nobody wins," Smyth said to more booing. The rent increases will apply to leases beginning between October 1, 2022, and September 1, 2023.