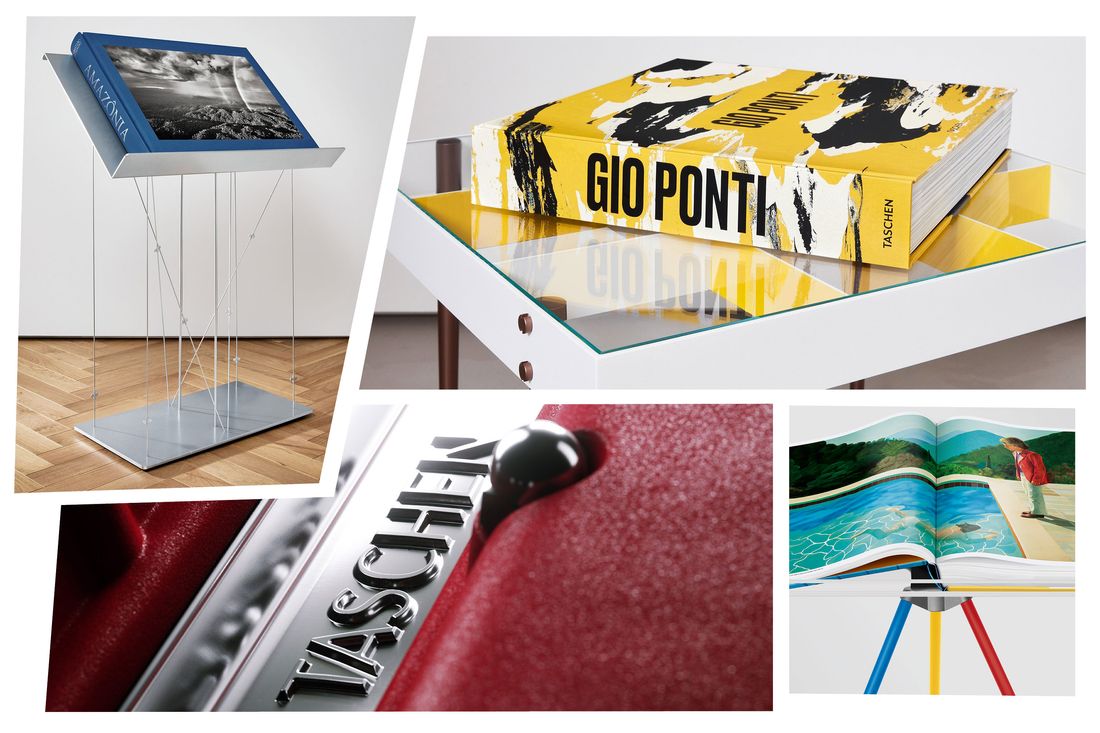 Photo-Illustration: Courtesy of Taschen
In 1999, Frank Goerhardt, a book-printing engineer at a small fine-art press in Verona, Italy, got a call from Benedikt Taschen. The German publisher, known for experimental art books, wanted to make a two-foot-tall, 50-pound volume of Helmut Newton's photographs — a scale that would make reading it feel like attending a private gallery exhibition. And he wanted to print 10,000 of them. "There was no machine on the market that could do this!" Goerhardt recalls. An art book that large would have to be sewn by hand. If Goerhardt's press were working at full capacity — it could bind a maximum of 40 books a week — it would have taken nearly five years to finish the order. So he asked around at other European presses and kept hearing that it was impossible. On the verge of giving up, he found a binder in Northern Italy who would build a custom machine if Taschen paid up front. With that, the publisher's SUMO series of extremely large and very heavy books — which can even surpass the Newton edition — got its start.
Taschen presents books as fetish objects — items to worship and covet. And a ravenous group of collectors is eager to oblige, ready to drop $25,000 on that Helmut Newton book (if a copy ever does come up for sale) or $40,000 for a collection of Ai Weiwei Papercuts corralled into a bright-red clamshell. Goerhardt, who is now Taschen's head of production, a role he has held for nearly 20 years, knows the industry so well that he can tell a book's provenance just by the smell of the ink on the page. That fine-tuned sensibility helps him figure out how to make a $6,000 book look like a Ferrari engine, print Neil Leifer's boxing photographs on ready-to-hang aluminum panels, and reproduce the carrying cases that Renzo Piano uses for his architectural models. "We're extremely open-minded to try new things," Goerhardt says.
Perhaps even more so than the books, the best examples of Taschen's obsessive approach are its custom stands, which are meticulously designed for each edition they accompany. However, these didn't come out of the company's maximalist tendencies. "The original idea came from Benedikt, who was absolutely right about it," Goerhardt explains. "You must add a lectern or a stand together with the book because no one knows where to store them."
The stands are essentially miniature works of architecture created by designers and architects like Philippe Starck, Shigeru Ban, and Marc Newson. The first one, for the Newton book, was designed by Starck, who at the time was the architect for Taschen's stores. He created a metal stand with four legs supported by cross braces that folded flat and could be shipped with the book. Collectors were critical of how it toppled over as the book's weight transferred from the right side to the left while they read it, but Taschen praised its lightness, an attribute that informed subsequent lecterns.
Most recently, Renzo Piano designed the stand for a new SUMO book on the photographer Sebastião Salgado's images of the Amazon. "When we met Renzo, he said, 'When you have this book open, it must fly like an albatross, this heavy bird there in the middle of nothing,'" Goerhardt says. Piano wanted the structure to be as subtle as possible, and Goerhardt wanted to make sure it could survive a trip to Singapore or Australia in mint condition. The architect designed one that was supported by tensile forces, a structural building technique Piano has used throughout his career, most notably in his design for the Pompidou Center and the Columbus Exposition in Genoa. Taschen, Piano, and the fabricator developed a dozen prototypes and tested how they withstood shipping. They discovered that vibrations loosened the structure, so they tweaked the design — using larger steel rods, adding adjustable screws to level the stand, and squeezing a bit of stabilizing fluid into it — to prevent it from opening up in transit.
In rare instances, rather than commission an original design, the subject material itself provided the concept. For a XXL-sized Gio Ponti book — which is smaller than a SUMO — published in 2021, Taschen worked with Ponti's grandson Salvatore Licitra, who has also designed stores for the publisher. Licitra, who manages the Ponti archive, found the designer's drawings for a square version of the Arlecchino tables that he had created for a private commission. Only two prototypes were ever produced, and Taschen drafted Molteni&C, a high-end Italian furniture manufacturer, to create the accompanying editions. "We thought it was a beautiful artistic vision for us to realize — and we wanted the real thing," Goerhardt says.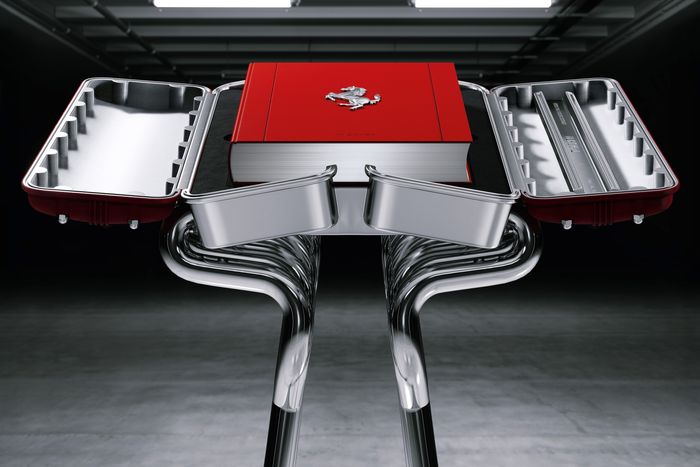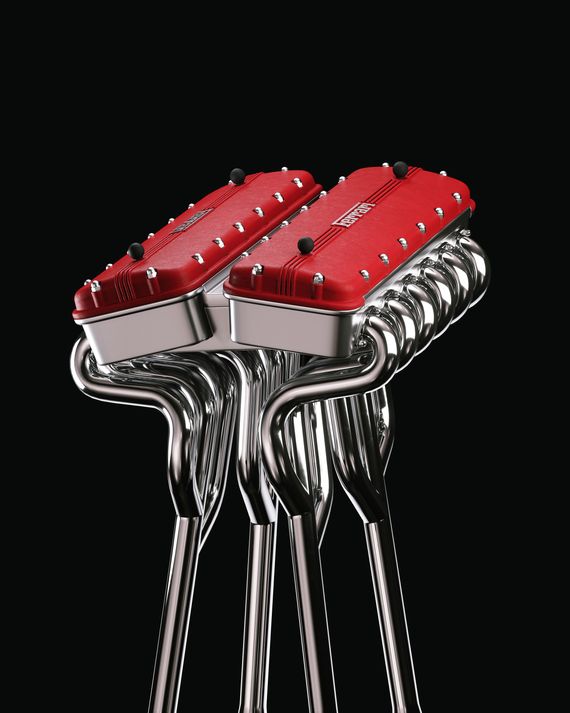 The most complicated stand so far accompanied a collector's-edition book about Ferrari. With its red case, industrial bolts, and aluminum pipes, it mimics the look of a Ferrari engine and wound up being almost as complicated as making one. Newson — the industrial designer behind the Apple Watch, Leica's Red camera, and the Lockheed lounge chair, the most expensive design object ever sold — designed both the book and the stand. For the aluminum case, Taschen worked with a Spanish fabricator in the automotive industry, another supplier contributed the decorative rubber knobs that you lift to open the case, and yet another team color-matched and painted the case to the exact shade of red that Ferrari uses on its engines. An Italian producer that makes exhaust pipes for motorcycles contributed the stand's polished, pipelike legs. Taschen also convinced the manufacturer of the horse emblems that are mounted on Ferrari hoods to produce a special one for the book's cover, which is fashioned from the same leather used to upholster the cars' seats. The project took two years to complete.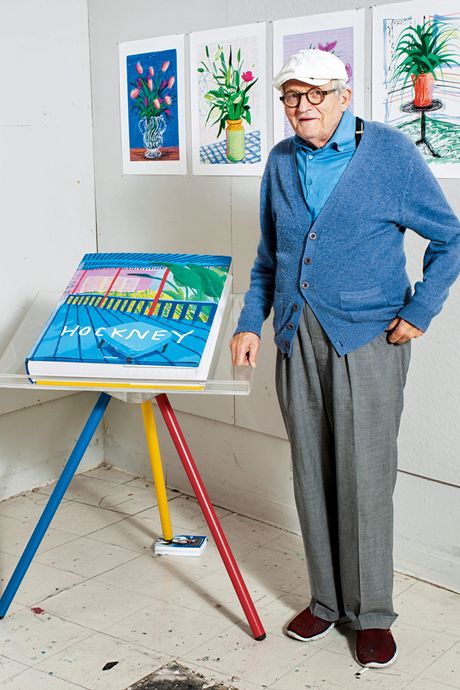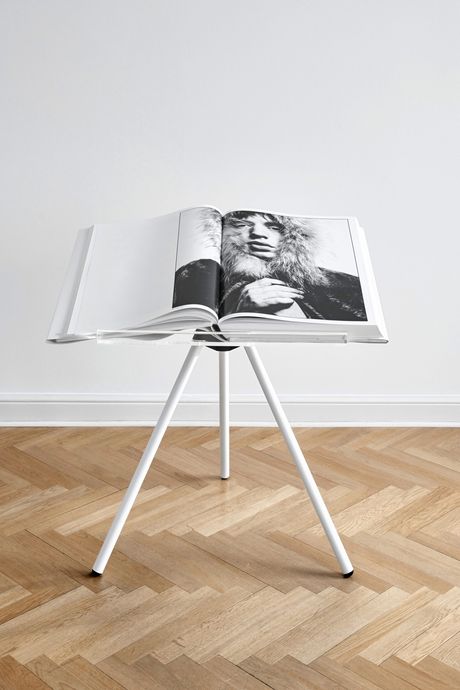 Not every lectern involves a dozen suppliers or extreme testing, though. For multiple projects, Taschen has adapted its simplest stand: an acrylic-topped tripod by Newson that accompanies SUMO-edition books on the works of Annie Leibowitz, David Bailey, and David Hockney. The design is slightly modified for each title — black legs for Leibowitz so it looks more like a photographer's tripod, primary colors for Hockney that reference his vibrant palette — but in concept, it remains the same. "It's the most convincing table from a practical and technical side," Goerhardt says.
The lecterns might have originated from that pragmatic need, but over the past 20 years, they have become art objects in their own right.