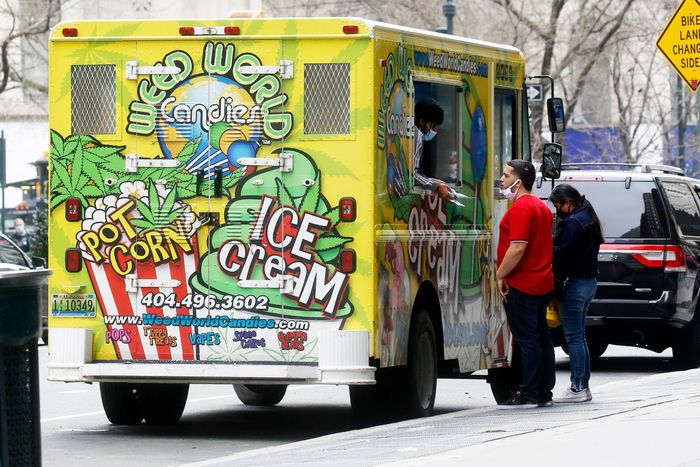 Photo: Emaz/VIEW press/Corbis via Getty Images
Weed World trucks are disappearing from the streets of midtown! According to the New York Post, a dozen of the trucks were seized and impounded by police on Tuesday. The towing spree, police say, is related to over $500,000 in outstanding fines and illegal parking, not a coordinated campaign to target trucks that feature images of large green women or unreasonably big lollipops.
Bilal Muhammad, the owner of Weed World, told the Post that all of the seized trucks were out of service and "he did not believe any products were onboard." He blamed the unpaid tickets on contractors who had previously been fired. Muhammad had been trying to reach a settlement with the city for the fines.
The Weed World trucks, which predate legalization in New York, are one of the many gray-zone vendors operating in the city right now. Not all of them sell cannabis products — one reviewer accused them of selling "fake ass vape juice" — but some seemingly do. Eric Adams had previously said he doesn't intend to be "heavy-handed" when it comes to these kinds of retailers selling unlicensed cannabis but told NY1 after the trucks were impounded that "clearly" the city would not allow "illegal sales."
Beyond the detractors who think they sell fake-ass vape juice, some city residents just find the gray-zone vendors and their ilk annoying. In April, the president of the Times Square alliance told residents at a public meeting that they were pushing the city to tow the Weed World trucks. ("Let's not clap until they're on a tow truck heading to the East River!") And the president of the Upper West Side Coalition of Block Associations and Community Groups told the West Side Rag last week that "weed is on the UWS and we see no significant enforcement on retailing; it's obvious and clear. We've said to ourselves, 'What's next?'" Well, it turns out what was next for the Weed World trucks, at least, was the impound lot.