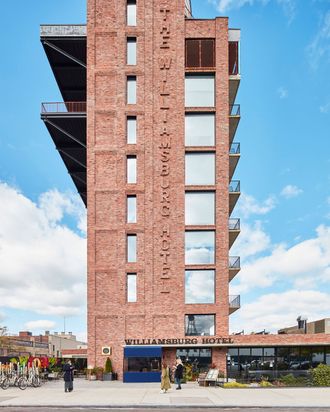 Photo: Ed Reeve/View Pictures/Universal Images Group via Getty Images
The Williamsburg Hotel, on Wythe and North 10th, is just a couple of blocks from the brunch lines at Cafe Mogador and the pedestrian anarchy of the Smorgasburg crowds. When it first opened in 2017, one of its developers, Toby Moskovits, said she set out to create a hotel "that embodies Williamsburg." She did. It's the kind of place with its own influencer-stay request form; there's a pool on the roof, open-concept bathrooms for people who are into that kind of thing, and specialized pet services you can add to your stay. And so it may be appropriate that, for the past year, it has been going through a relatively flashy bankruptcy process.
In court last week, bankruptcy judge Robert Drain stripped Moskovits and her co-owner, Michael Lichtenstein, of their control of the hotel, appointing an independent trustee in their place. It seems, as The Real Deal reported, Drain thought they couldn't be trusted in the bankruptcy process and might be dabbling in fraud. As if to put a finer point on his feelings, Drain went on to say that Lichtenstein in particular "comes across as a very volatile person" who does things that "don't make a lot of sense."
The surprising thing here is that Drain's White Plains courtroom has a reputation for being friendly to real-estate debtors. (He oversaw the Sackler family's Purdue bankruptcy case last year, approving the company's reorganization plan and up to $7 million in bonuses for five executives.) David Goldwasser, the bankruptcy specialist whom Moskovits and Lichtenstein tapped, has steered at least 33 property LLCs through Drain, including notorious landlord Raphael Toledano's case, in which the lender ultimately acquired Toledano's East Village properties. Apparently even Drain has his limits.
The basics of the case are this: Moskovits, who founded Heritage Equity Partners in 2008, and Lichtenstein, the firm's president, began planning the hotel in 2012 as they expanded their Williamsburg footprint. And while a number of hotels went into bankruptcy during the pandemic, the developers' troubles started before COVID. In 2019, Heritage defaulted on the hotel's mortgage, and Benefit Street Partners, the hotel's lender, successfully requested that the New York County Supreme Court put the hotel into temporary receivership, essentially giving another person the power to manage it. But the receiver, who had been nominated by Moskovits, allowed Moskovits to continue to control the hotel's revenue, according to Benefit Street Partners. In February, a report released by a court-appointed examiner during the bankruptcy process found that Moskovits and Lichtenstein had engaged in a "complex scheme to divert and siphon substantial amounts of money" from the hotel. The report also found that the hotel didn't file taxes from 2017 to 2019 and that $68.2 million deposited into a hotel manager's account wasn't reported to tax authorities. The examiner added that Moskovits and Lichtenstein failed to answer questions over the course of the investigation and interfered in third-party subpoenas. In a comment to The Real Deal, Lichtenstein said, "Ownership looks forward to restructuring and paying off all creditors and wrapping up this bankruptcy process in the near future."
The owners disputed the examiner's report in court papers, as reported by The Wall Street Journal, stating it was "full of mischaracterizations, false statements, and outright defamatory and baseless conclusions." In a deposition, Lichtenstein also stated, "I guess Fortress and Benefit Street are in a competition on who is the biggest asshole lender in New York City, so I think Benefit Street … might win that one, but we'll see." (Fortress is another of the developers' lenders that is trying to foreclose.)
None of this was lost on Drain, who noted in a hearing that "some of those actions" taken by the developers "also appear to me to rise to the level of fraud," thus the trustee. The bankruptcy case is ongoing, but things don't look good for the developers, with Drain focusing on Lichtenstein when he said bluntly, "I do have some concern that he'll do something really stupid here."