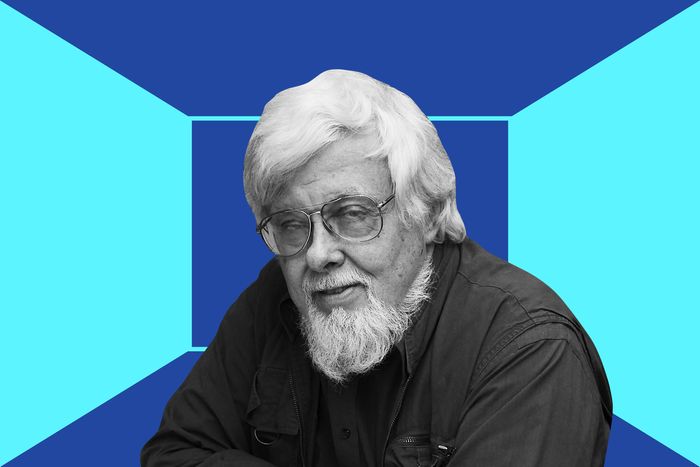 Photo-Illustration: Curbed. Photo: Courtesy James Wines
New York's "21 Questions" is back with an eye on creative New Yorkers. James Wines is the founder of SITE, an architecture-and-environmental-arts firm known for BEST Products' postmodern retail stores, Shake Shack's Madison Square Park outpost, OFF-WHITE boutiques in Tokyo and Gwanggyo, and 1980s fashion designer Willi Smith's showrooms. In 2013, Wines won a National Design Award from Cooper Hewitt, and his works are part of MoMA's permanent collection.
Name: James Wines
Age: 90
Neighborhood: Battery Park
Occupation: Architect
What's hanging above your couch?
Posters, mainly, because the room gets flooded with light. Some are about SITE's early work and promotions for lectures. I probably have a couple hundred posters from different places I've lectured. My drawings are very delicate, so they're hung in darker parts of the apartment.
What's the first job you had in New York? 
I actually had a very successful early career as a sculptor. I was doing public art. I called it "plop art," for art in a plaza, and that was the beginning. Pretty much as soon as I got out of school, I had gallery representation, then I became part of Marlborough Gallery. Then Frederick Kiesler, a famous architect from Austria, told me, "James, you have an architectural spirit. You should be doing that. Why do you want to do that old-fashioned abstract-art stuff?!" So one thing led to another and I started SITE. I had enough in my bank account from the public-art commissions to self-fund the studio for a year. At first, we were doing performances and publishing, by hand really, things about the environment and ecology. It was a period when everyone in SoHo, where I had the studio, was an environmental artist who wanted to escape from the confinement of the art gallery.
What color are you always drawn to?
A very dark, rich green. It's nature's color.
What work of art or artifact are you most surprised you own?
I'm not really a collector. I would love to be one, if I could afford it. I have an early Claes Oldenburg drawing, but that's about it.
Which New Yorker would you want to hang out with?
Robert Rauschenberg, whom I admired tremendously for his inventiveness — I would say he's the artist I admire most. I had relatively few interactions with him when SITE designed an interior renovation for his studio at 381 Lafayette St. The design wasn't that innovative because he wasn't that into architecture. He hired us mainly because Leo Castelli, his art dealer, thought we were a really hot number at that time. But we shared an amusing dialogue: I had this idea for him to create an outdoor artwork on the very visible fire escape going down the back of his building. His response was "Why would I want to do that?," which embarrassingly reminded me to never assume what an artist might want to do.
What's the last thing you made with your hands?
I draw every day. Like Picasso said, "I draw like other people bite their nails." The last thing I sketched was for a greenhouse project in California I'm working on.
Is there one thing you own multiple versions of?
I own a lot of prints: multiples of my own graphic work and posters by artists I admire. One that's precious to me is a Rauchenberg poster of a portrait he made of [Frederick] Kiesler. Both of them helped me liberate my mind from formalist design and art.
What New York City museum do you always go back to?
The Museum of Modern Art. I very often go on Sundays with Alice Aycock, the environmental artist, who's been a friend since the 1960s. We meet there, and we always see the Picassos and Matisses and Cezannes. I said jokingly to her one day, "Why do we always keep doing the same thing? Why do we keep coming here?" She said, "Well, I guess because we look around here and really know it's worth it." If you have a career in the arts, this is the place that proves it's all worth it.
What do you always have next to your computer? 
A cup of coffee. It reminds me of my days in Italy, where I lived and worked for ten years before coming to New York. But I always have a pile of stuff because I can't walk anymore and need to have everything in arm's reach: my cell phone, drawings and sketches of projects I'm working on, research pictures. It's all stuff that's related to what I'm doing.
Where is the best view of the city?
Right now, I'd say from my apartment. I'm on the 21st floor and look out onto the harbor and the river, the boats and the people. It's spectacular. My fondness for it is really not looking at buildings; it's for the human condition or human activity. I'm most passionate about observing what people do, how they walk, what they're thinking about, maybe. I like to design public space, so I am always looking for what I call "trigger" things — what people tend to be drawn to.
What building or object do you want to redesign every time you see it?
I just think that any building that leaves the human reaction out of the picture is done for the ego of the architect. It feels like ego for ego's sake. You don't have any other meaning than Oh, gee whiz, I loved that shape. The 9/11 tragedy wiped out the buildings I hated the most: the World Trade Center towers. The public spaces were like a fascist wasteland. The towers were absolutely absurd, with Gothic décor and this meaningless height. When asked why he did two half-mile-high buildings, Minoru Yamasaki said, "Well, I couldn't do a mile-high building," or something like that. I guess developers' erections are inadequate so they build these huge towers to prove they're real men.
What's one thing you would change about your field? 
Just humanizing it — really making it into a true art experience. Rauschenberg said that if you see a painting for the first time and it doesn't change your mind about something, then there's something wrong with the painting or with you. I feel very much that way about architecture. If you don't react at all, if you look at it and have no opinions, then it's not doing its job. In general, most architects don't have a clue to what I would call a real art sensibility. They know Design, with a capital D. In the Renaissance, when you were an artist, you painted, wrote sonnets, and designed buildings and public spaces. Everything was integrated. Go to Piazza Navona and see the masterful way Borromini used light and shadow, pediments and columns — they come together in this way that talks to you. You don't get that anymore.
If you could live anywhere in New York City, where would it be?
I'm quite happy where I am now. I've never lived above the second floor until now, and suddenly I'm having a real New York experience with my view.
What would you hoard if it stopped being produced?
I love drawing pens and my favorite one is a classic Mont Blanc fountain pen. It's funny because it's not a drawing pen at all. Every time I go to Mont Blanc and ask to try one out, I always draw using the back of the pen since I can get a very fine line. The salespeople always tell me I'm not supposed to draw with the back of the pen, and I say, "Well, I've been drawing with the back of the pen for my entire life. It works! That's why I buy your pens! If you had a good sense of public relations, you'd make a point of that."
What do you do to get out of a creative rut? 
A kind of painful process of rejection. It's really a level of self-criticism or instinct. When you're doing something that doesn't click, it's like a sixth sense: It's not edgy enough, it's too easy, it's too nice. Sometimes, an idea comes to you like a miracle or a flash. I've had some very good ideas that have come that way and others that I labored on for a month. I can look back on sketches and say, "Oh my God, what was I thinking that day? I'm so embarrassed." Other times, I say, "That was a good idea. How did I miss that?!"
Where was your first NYC apartment and how much was the rent? 
It was in Washington Square Village, and I moved in around 1960. I don't remember the rent. But at the time, I had that apartment, a big loft studio on Broome Street, a beautiful apartment in Rome with a big terrace overlooking the entire city, and a studio in Trastevere. All of the rent was less than $1,000 a month. It was inconceivable! I thought, Gee, this is the way it's always going to be. I lived for nearly ten years like that.
Where in the city do you go to be alone?
The waterfront here in Battery Park in the evening is wonderful, and you can be alone there. I never went down here once until I moved here. It's a total discovery. My daughter kept telling me, "It's nice, they have trees, there's water." And I said, "I'll never go down there. Only tourists do that!" Typical New Yorker.
Worst piece of career advice you've ever gotten? 
To stop drawing. Every computer geek made fun of me for making hand drawings. And to this day, they'll ask, "Why do you persist with those silly hand drawings?" Thank God I did the hand drawings. They're all going to museum collections. Every single BEST Products drawing has been purchased by a museum. Every single Highrise of Homes drawing has been purchased. Had I done them on a computer, I doubt they would have that value.
What have you given away to someone that you wish you could get back? 
Drawings I made for significant projects that I gave away to friends — some of the early BEST buildings, the Floating McDonald's, all of the things museums are asking for now. At the time I made them, I was always thinking about the next thing I was going to do. The last thing was over. Now that I'm 90, I've begun to realize I wish I had them again.
What's your favorite NYC restaurant and regular order? 
In the immediate neighborhood, we go to Miramar, an Italian restaurant right on the water. It's very pleasant. I usually get the branzino.
What descriptive phrase do you want on your obit headline?
There's an Oscar Wilde quote I really like a lot: "An idea that isn't dangerous isn't worthy of being called an idea."