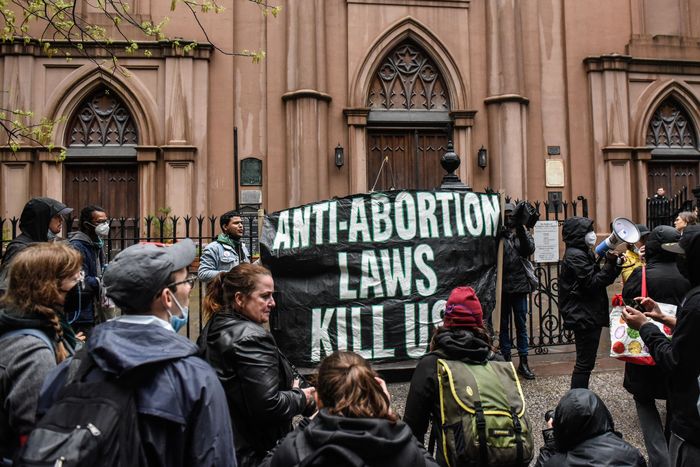 Abortion-rights activists NYC for Abortion Rights gather outside of the Basilica of St. Patrick's Old Cathedral in downtown Manhattan, where a small number of anti-abortion activists worship.
Photo: Stephanie Keith/Getty Images
Early one Saturday morning in July, a crowd begins to gather on the corner of Mott and Prince. Nearby stands the Basilica of St. Patrick's Old Cathedral, a neighborhood landmark that has recently become a local flashpoint in the battle for abortion rights. Inside the church, more than 100 members of the Archdiocese of New York's Witness for Life program are preparing to march to a nearby Planned Parenthood. The crowd is here to counter-protest them — and, if they can, to prevent Witness for Life from reaching the clinic. An organizer lays out the rules via megaphone. They are not to block the clinic. If someone needs a street medic, people nearby should make an X with their arms and point to the person who needs help. And with that, they form a moving picket line in front of the church, chanting, hoping they can be heard inside. "Pro-life, that's a lie, you don't care if people die," they shout. "Not the church, not the state, people will decide our fate."
The counter-protest was organized by NYC for Abortion Rights, which was formed in 2017 to directly and forcefully respond to anti-abortion actions. Their tactics are peaceful but confrontational, always with the same goal: to protect the city's abortion clinics from those who seek to intimidate the people inside them. That mission has renewed importance in the weeks after the Supreme Court overturned Roe v. Wade. Though the court's decision in Dobbs handed the anti-abortion movement a victory decades in the making, on Saturday, abortion-rights protesters are defiant.
Defiance can be effective. Last year, after activists with NYC for Abortion Rights organized a pressure campaign, a church in the Cobble Hill neighborhood of Brooklyn stopped hosting Witness for Life and its leader, Fr. Fidelis Moscinski of the Franciscan Friars of the Renewal. (Witness for Life still prays in front of a nearby Brooklyn clinic.) To abortion-rights advocates, Moscinski has long been a nemesis. He is affiliated with the radical anti-abortion group Red Rose Rescue, whose members invade abortion clinics and refuse to leave, and he has been arrested multiple times for entering clinics in different states. In March, a jury convicted Moscinski and two other members of Red Rose Rescue of trespassing at a White Plains abortion clinic.
Fr. Brian Graebe, pastor of the Basilica of St. Patrick's Old Cathedral, said that Witness for Life has been holding Mass at the church for 150 to 200 people for about 11 years. He doesn't know anything about Red Rose Rescue. "I only know what goes on at this parish, in this neighborhood," he said. "And we make sure that everything that happens is peaceful and prayerful."
In the streets on Saturday, the energy is vibrant. There's no sign of the right-wing activists who appeared, in May, ostensibly to protect the church from counter-protesters; a man in an "America First" hat shouted that "your body is mine" and "you're having my baby." Today Moscinski and other members of his procession are outnumbered by around 200 to 300 counter-protesters who manage to delay them for about an hour-and-a-half. In front of the church, they've written out slogans in chalk, such as "Her body, her choice." Soon, the anti-abortion activists split into two groups, and the main procession departs through the back of the church property, where they're greeted by more counter-protesters. Here, though, Moscinski and his procession have allies: The NYPD has arrived to escort them through the crowd to the clinic. With the help of the cops, the procession begins to make its way, slowly, down the street, with the anti-abortion protesters carrying a large wooden crucifix and a portrait of the Virgin Mary as they pray the rosary. "Shame, shame, shame," counter-protesters yell. "Thank God for abortion," some sing.
Counter-protesters follow the group across the intersection of East Houston and Mulberry streets, moving closer to the clinic. Soon it becomes clear to organizers that the crowd is simply too large to responsibly follow the anti-abortion group to the clinic. In normal circumstances, members of NYC for Abortion Rights would move backward, in tight formation, until they reached the clinic. There, they would form a line in front of the anti-abortion procession and try to block them out with umbrellas, some of which have been painted with various slogans. Then they'd sing: "You Don't Own Me" is a favorite. But on this Saturday, organizers fear that their numbers would disrupt the very clinic they are trying to protect. They turn around and gather back at the church, where someone has washed the chalk drawings away. As they wait for the procession to return, activists decorate the street again and chant.
A short time later, the procession returns to the church, where they're greeted with cries of "shame" again. Within minutes, the heavy church doors shut behind them. Though counter-protesters were unable to prevent them from reaching the clinic, the organizers are pleased so many had attended the defense and were able to delay the anti-abortion procession. "Having that amount of people was super-heartening," said Niharika Rao, an organizer. "We also have to think about the fact that they also had an insane number of people come out from that side."
Reproductive-rights advocates are now preparing themselves for future battles. "You know, the anti-abortion movement calls New York the abortion capital of the world," said Emily Janakiram, another organizer. "They're aware that their mobilization has gotten clinics closed in red states and now has had abortion effectively banned in half the country. So they've had their eye on New York for a very long time."