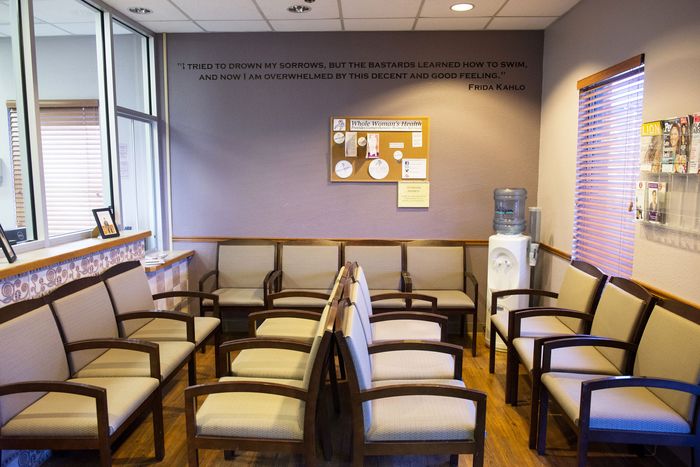 Photo: Matthew Busch/Bloomberg via Getty Images
"We knew it was coming," says Lori Brown, an architect who has worked with reproductive-justice organizations and abortion clinics for two decades, about the Supreme Court overturning Roe v. Wade. In recent years, Brown, who wrote the book Contested Spaces: Abortion Clinics, Women's Shelters, and Hospitals, saw clinics struggle to meet an increase in patients as conservative states made it progressively harder to provide and receive abortions. But when the draft SCOTUS opinion leaked and the Court eventually ruled, she was still shocked: "We're all still grappling with what the implications will be." But there's one thing she is certain of: Abortion services will expand in states where abortion is legal, and providers will need help building their clinics. So six weeks ago, Brown and her colleague Jordan Kravitz, an architect in Arizona, began to compile a list of architects and designers who are willing to help.
"This became a way to start taking action rather than sitting there being incredibly angry and feeling lost," Brown says. Clinics have already asked her for assistance with building new locations. In addition, architects can aid in permitting, design services, liaising with contractors, and navigating code and zoning requirements for clinic expansions and renovations.
Some clinics have already started to build for a post-Roe landscape. For example, Diane Derzis, the owner of Jackson Women's Health Organization, Mississippi's only abortion clinic, had to close after Roe was overturned. She is now planning to build a new clinic in Las Cruces, New Mexico, that will be equipped to perform surgical abortions.
In states where abortion is legal, a clinic's capacity to effectively and comfortably provide the service depends on a number of spatial factors: a city's land-use policies that either restrict or permit clinics, policies that define where anti-abortion protesters are able to gather in relation to the clinics, and the physical design of a clinic itself. Before Roe was overturned, architecture became an effective tool to limit abortion access, as states used regulatory codes — like zoning and building codes — to make it extremely difficult to operate. Known as Targeted Regulation of Abortion Providers, TRAP laws included Texas's HB 2, a 2013 law that required abortion clinics to meet the same requirements as ambulatory-surgery centers, which included a lower staff-to-patient ratio; larger exam rooms, hallways, and doorways; having a room dedicated to operations; and complex HVAC systems. In just three years after HB 2 was passed, Texas went from 40 to 16 clinics. Abortions doubled in neighboring states. "We saw with Texas's HB 2 that clinics in adjacent states couldn't meet demand," Brown says. "This will become a more radical issue when we have only 16 states and D.C., where abortion is legally protected."
There are over 70 architects from 16 states currently on the growing list of those willing to help expand or build new clinics. The list will not be publicly published, and will be shared only with clinics that are looking for architectural services, as a way to protect the architects' and clinics' privacy and help guard against retaliation. Brown is surprised by the breadth of experience in the people who asked to be added. Some of the architects work for large firms whose "work receives design awards on a regular basis," Brown says. Others work for smaller boutique practices. A number have experience designing for health care, while others don't. The list also includes architects in academia. Brown welcomes them all. "Most often, abortion clinics fall under the general medical-facility codes, so an architect with a general working knowledge would have the ability to design them," she says.
Brown has already matched one clinic with architects from her list (who currently wish to remain anonymous), and she expects that more providers will be seeking architectural services in the near future. When they do, she'll have recommendations ready for them.