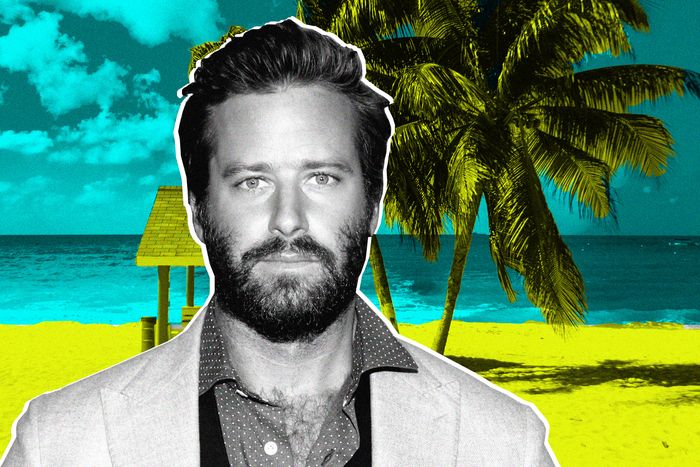 Photo-Illustration: Curbed/Getty Images
You're on some tropical beach, kicking back with a selection from Reese Witherspoon's book club. You're so engrossed in Where the Crawdads Sing (in this scenario, you have bad taste) that you don't notice your foot's meeting up with a beached jellyfish. You hop over to the front desk to see if there's an ointment for that when a flyer catches your eye. The resort is offering discount vouchers for excursions, including something called "Turtle Farm," all for attending a time-share presentation … and it starts in ten minutes! You've always wanted to swim with dolphins, so you hop over to that desk and meet your time-share salesman. The salesman is Armie Hammer.
At this point, you probably already know that Hammer, the Death on the Nile actor and overall piece of work, has been spotted working in the time-share office and as a concierge at Morritt's Grand Resort on Grand Cayman (and is on vacation from his vacation community this week). It's a plot twist that almost feels like a prank, but according to a source in Variety, it is very much a real way that Hammer has been earning a living after getting fired from upcoming acting roles for allegedly subjecting non-consenting women to his — even bigger plot twist — cannibal fantasies. Hammer's lawyer told Entertainment Weekly that he "can't confirm or deny" that Hammer has been working at the three-star beachfront hotel. According to an insider for People, Hammer took the gig because "his dad won't help him anymore and he's been cut off, so he got to work." Now that he no longer has access to that sweet, sweet oil-tycoon money, he is bribing people to check out time-shares with discounted tours of the very oceanic wildlife that oil is threatening. Hammer's career shift raises so many questions, the most important one being …
… Could Armie Hammer sell you on these time-shares? It's a tough gig. It's an industry known for scams, and the business feels vestigial, relevant to an older style of traveling; these deals may soon go the way of the dodo and Hale and Hearty. Then there are the interiors of these particular time-shares. Morritt's resort on Grand Cayman is run by this guy and made up of three properties: the Londoner, Grand Resort, and Tortuga Club. The website offers virtual tours of its one-to-three-bedroom model suites as well as lots of listing photos, which we captured to provide you with a time-share tour of our own, no passports required. Presumably, these are the best apartments Morritt's has to offer; they're the pitch. This makes Hammer's job even more difficult than I thought. Yes, the waterfront location can't be beat, but these vacation homes cast a threatening aura. Would you want to be in one of these rooms with Armie Hammer? Peruse the pics and tell us.
"Enough of this view!" I shout from my zebra-striped chair. "I wish to stare at my gold draperies!"
What sells me on this bedroom isn't the see-through shower but the brown chaise longue pushed up right against it. Imagine the condensation on that microfiber velour.
The thing about time-shares is the sharing aspect. Someone else made the choices you see here, and you just sort of have to deal with them. It's strange how the resort would arrange the fuzzy peach-colored sectional to face the 32-inch TV instead of the, you know, entire panoramic view of the ocean.
There was a sale on brown chaises.
The cow print and the floral should be friends.
"Hey, baby, does the very prominent fire extinguisher match the walls?" —popular Morritt's Grand Resort pickup line
Okay, so maybe the décor didn't sell you, but you're not going to the Cayman Islands to spend your time inside! What are some other benefits to ownership? Well, the website (and Hammer) will tell you about how buying at Morritt's enrolls you in the Golden Turtle Club, which has benefits including but not limited to discounts on high-speed internet! But why waste time online when you can be …
… Playing musical chairs?
… Beating Cathy at bingo?
… Getting mummified at the Wednesday-night White Party?
… Naming plantains?
… Seeing God?
… Him!
… Or, of course, taking in the view!
If you think I'm being snobby about any of this, I assure you, from the bottom of my basement apartment, that I'm punching up. If you're going to fly to Grand Cayman every year, at least go to a place with nicer flooring! These places will never quote you a straight answer if you call about the price, but Morritt's time-shares are currently priced from $700 to over $40,000 on the resale market. Buying direct, of course, would rob Armie Hammer of a commission.