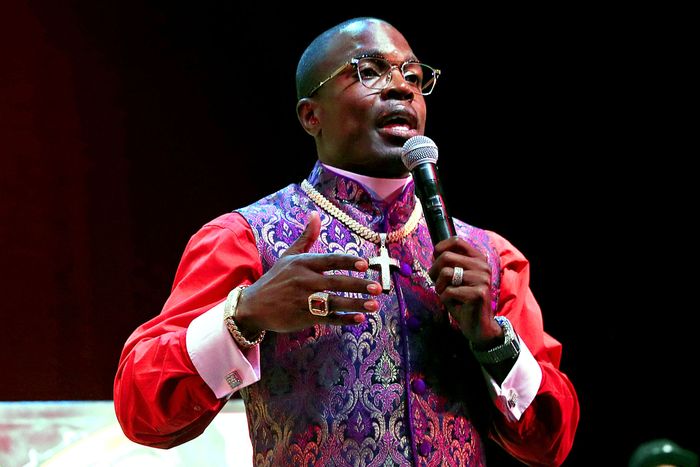 Photo: Johnny Nunez/Getty Images
Bishop Lamor Whitehead, the flashy Canarsie pastor best known for his friendship with Mayor Eric Adams and his bizarre role in the Q train shooter's surrender, claims he was robbed of $1 million in jewelry during a sermon last week. "When I saw them come into the sanctuary with their guns, I told everybody, 'Get down,'" Whitehead said in an Instagram video describing the alleged theft. "I didn't know if they wanted to shoot the church up." As he tells it, the thieves demanded that Whitehead and his wife turn over all their jewelry, which included a $75,000 Rolex watch, a $75,000 Cavalier watch, a $25,000 Episcopal ruby-and-diamond ring, and a $25,000 Episcopal diamond ring, among other gem-encrusted baubles, according to the New York Post.
The jewelry and his role at the Leaders of Tomorrow International Church (and the occasional fugitive negotiation) aside, Whitehead also dabbles in real estate. On Instagram, he boasts about "buying blocks," posing (in, yes, a Fendi sweater) in front of a half-block-long, 48-unit apartment complex in Hartford, Connecticut, that his LLC, Whitehead Estates, bought in 2021. In January, he was back in front of the same apartment complex, advertising real-estate classes, But Whitehead Estates doesn't appear to have a website, and the sign-up for the classes was a church email address.
That's not the only question about his holdings. When The City recently visited Whitehead's home in Paramus, New Jersey, it found a notice taped to the door that he was in default for a $4.5 million loan he'd taken out on the Hartford property, which is located at 150–180 Earle Street, in the rundown North East neighborhood. The address listed on that loan is an apartment in a rent-stabilized complex in Prospect–Lefferts Gardens that was purchased by a seemingly unaffiliated LLC in 2012. At the time, Whitehead was in Sing Sing, serving a five-year sentence for his involvement in a $2 million identity-theft scam.
Last week, The City reported that a parishioner was suing Whitehead for stealing her life savings of $90,000, which she'd entrusted to him to help her buy a house. She'd had trouble getting a home loan because of bad credit; Whitehead had helped her son find a place to live, and he encouraged her to seek Whitehead's help. But the pastor, after taking her money, allegedly told her he was treating it as a donation to his campaign for Brooklyn borough president. Last summer, he accidentally emailed her son a contract to purchase a $4.4 million mansion in Saddle River, New Jersey, although the sale never went through.
What does he own, then? A more modest (by comparison) home in Paramus, New Jersey — a six-bedroom McMansion that he purchased for $1.64 million in 2019. It has a double-height living room, lots of cherry-stained wood, and a main bathroom with a Jacuzzi tub overlooking the yard.
After the robbery, the pastor posted a lengthy Instagram video defending his shopping habits: "It's not about me being flashy," he said. "It's about me purchasing what I want to purchase. It's my prerogative to purchase what I want to purchase." He also blamed the media for publicizing his lifestyle last year, when he tried to leverage his relationship with Adams to negotiate the surrender of alleged subway shooter Andrew Abdullah.