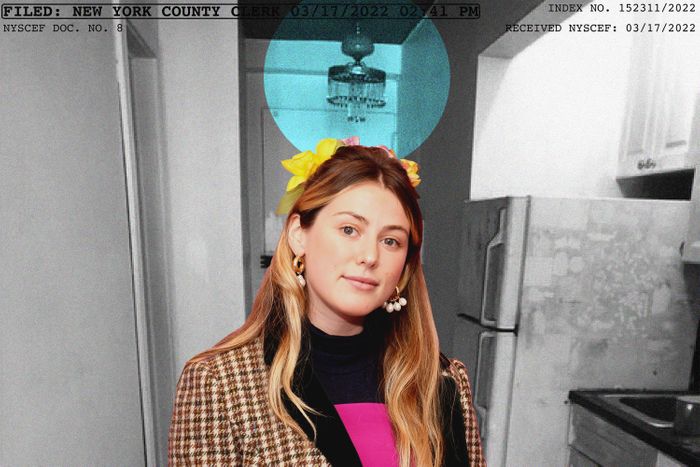 Photo-Illustration: Curbed/New York Supreme Court, Getty Images
As New York readers know by now, the sometime Instagram lifecaster, not-quite memoirist, and full-time fame monster Caroline Calloway has packed up and left town, leaving behind a filthy, half-painted apartment and a ticked-off landlord. That landlord has (a) done a Home Depot–grade renovation and perhaps saged the premises, (b) listed the place for $2,750 a month, and (c) sued Calloway for back rent. In her lawyer's response, which sounds a whole lot like Calloway herself, she is claiming improvements she made to the apartment that she believes ought to defray the back rent, including "a real Murano-glass Venetian chandelier" in the entryway that is "worth more than $3,000."
Well. We at Curbed spend a lot of time looking at design and furnishings, and we were intrigued by this claim. The photos of the wrecked apartment filed with the court do indeed show a nonstandard fixture with a little bit of filigree by the front door. (The post-renovation photos of the apartment show a standard-issue boob light in the same spot.)
A 2016 post, screengrabbed by a fan account, shows what appears to be the same fixture in more detail, hanging in Calloway's former London apartment.
So does the photo accompanying our story about her departure from New York. The fixture has a blue glass globe and clear pendant crystals. The latter are suspended from a bit of metalwork, often made of brass or tinplate, of the type known as tole. And listings for tole-light fixtures are pretty easy to come by. They're all over eBay and Etsy, and a very similar chandelier, with a simpler blue glass globe, can be yours for $329.
Or, if you prefer red or white or pink or clear glass, here you go. It's a pretty form, if your taste runs toward rococo, and this Etsy dealer seems to specialize in these fixtures, cleaned up and rewired. There are matching sconces out there, too. If that's your thing, search "tole glass chandelier" and go nuts. None of these pendant fixtures, even from the most ambitious sellers, are listed for more than a few hundred dollars.
A couple of dealers indicate that the glass portions of these chandeliers are from Fenton Art Glass, an American company founded in 1905 and still in business today, producing beads for jewelry. It's possible — possible — that the blue bubble was indeed made on made on that one Venetian island. But it seems likelier that "Murano" here describes nothing more than a vibe, which seems like a Callowayian approach to the world. The rest of this chandelier, to our eye at least, is about as Italian as the Olive Garden.
Which is not to say it's not worth $3,000, at least in a certain sense. Anything is worth anything, if the right person wants it enough and the seller holds out. Which gets us to thinking this: Maybe these fixtures do indeed cost three grand when a sucker, one who is highly impulsive and spends without much forethought, is willing to pay that much? Some mystery antiques dealer just may have scammed the scammer.