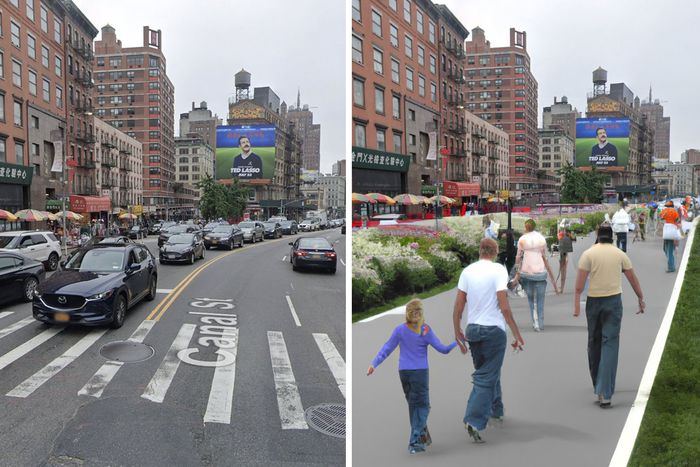 Canal Street is converted from a driving street to a walking street using AI.
Photo: Google; Better Streets AI
Using DALL-E for urban planning is a mixed bag. Architecture prompts sometimes feel like a Thomas Heatherwick bot throwing trees onto everything (which makes me wonder if this is how he designs all his projects). But it's proved remarkably good at transforming congested streets into strangely alluring plazas, bike paths, and the occasional, accidental, golf-course-like greenway.
The account, @betterstreetsAI, has remade a strip of asphalt on Avenue B into a wildflower-planted path. Bleecker Street's sharrows were replaced by a dedicated bikeway fringed with grass. Sunset Boulevard in Los Angeles got a center-running bikeway lined with blooming shrubs and street vendors (and plenty of room left over for cars). Even decently walkable or bikeable streets come out improved: Thompson Street in Greenwich Village goes car-free in favor of a paved promenade that takes advantage of all that gorgeous tree cover for shaded seating and walking. In every before-and-after there are more tree wells, more plants, and more water features — cities built to better withstand the heat waves of the past few weeks. (And the flooding New York saw before its own heat wave and will likely see again this week.)
Although DALL-E does allow specific streets as prompts — Barcelona's are a popular choice — the right words also do the trick. "Right now, the best results are coming from more descriptive prompts like 'a verdant pedestrian promenade with wide bike paths, lots of flowers, people walking,'" says @betterstreetsAI's creator Zach Katz, an artist based in Brooklyn, who has also done safe-streets advocacy work in Portland, Oregon. The account offers lush, slightly uncanny propaganda for reimagining streets as multimodal public spaces. Showing a version of what's possible is "the most powerful way to get people on board," says Katz, who uses DALL-E 2, a more sophisticated invite-only version of the tool that just entered public beta.
He also takes requests, so I sent him a few spots that have been on my mind lately.
The new 6th Street Bridge in downtown Los Angeles, essentially designed for a car crash, finally gets its much-needed protected bike lane.
A transformed BQE looks a little like a golf-course fairway, but we can work from there since it's a vast improvement over the quickly deteriorating roadway in desperate need of a climate-proof intervention.
Hear me out: Replace city engineers with bots.