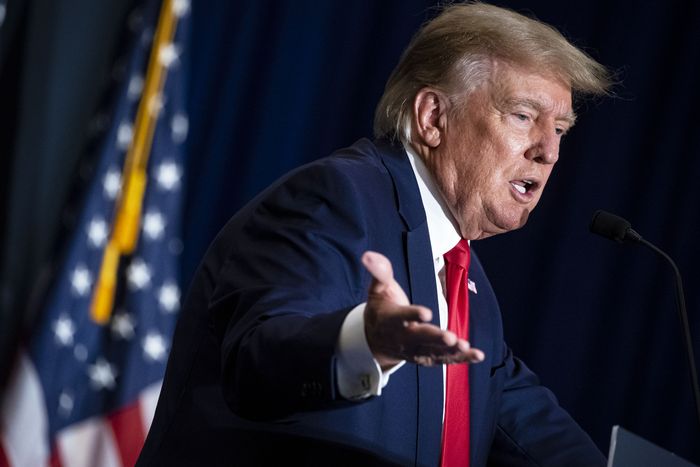 Photo: Al Drago/Bloomberg via Getty Images
"The only way you're going to remove the hundreds of thousands of people, and maybe, throughout our nation, millions of people … and help make our cities clean, safe and beautiful again," Donald Trump said this week at a quasi-homecoming rally in D.C., "is to open up large parcels of inexpensive land in the outer reaches of the cities … and create thousands and thousands of high-quality tents." It's not exactly surprising that he's proposed street sweeps and detention camps as a solution to homelessness (he thinks detention camps are the solution to a lot of things). But he might find it surprising that there are plenty of Democrats who agree with him.
Compare Trump's vision of massive tent cities to the plan to "end street homelessness" that Rick Caruso, a Los Angeles Democrat, has proposed in his mayoral campaign. "You have to do temporary housing, which my plan has 30,000 beds within a year," he said earlier this year. "I've talked to the manufacturers. There's surplus land in the city to do it. The minute we have a good clean, warm bed and food, then people need to move off the streets." Caruso even referenced the facilities at Fort Bliss, the camp built to house migrant children that the Trump administration separated from their parents — later cited for human-rights violations — as a model for his L.A. shelter beds. "You're going to offer the bed once," Caruso has said of his strategy for clearing encampments. "You're going to offer the bed, maybe twice. The third time, you're going to say, 'I'm sorry, you've now broken the law.'"
L.A. doesn't need to elect Caruso to see the ineffective cruelty of such a policy. Over the last two years, as its leaders have struggled to create more permanent housing, L.A. has erected a dozen tiny-home villages — is a plastic shed all that different than a FEMA-style tent? — while expanding the city's anti-homeless "enforcement zones," where police are dispatched to shuffle people and their belongings from one sidewalk to another.
Trump also claimed during the rally that he took a personal interest in clearing encampments while in the White House, saying he would send Secret Service agents to do it. "I would see a cluster of tents. I'd see it happening. I'd send people out immediately," he said. "Secret Service, by the way, did a phenomenal job." Eric Adams shares this interest. Last month, the mayor told the New York Post that he personally tracks encampments on a Google Docs list that he shares with law enforcement officers who are meant to clear them. If he sees police aren't using it, he gets in touch directly. "I go on my phone, look at the document — this encampment is not on here," Adams said. The city claims it has enough Safe Haven beds — single-occupancy emergency beds — to temporarily shelter the people whose living arrangements are often destroyed in the sweeps, but as local reporting has consistently shown, the city is struggling to provide adequate shelter to people seeking it. This hasn't slowed the sweeps.
The practice of getting unhoused people out of shared public space by forcing them to accept shelter under threat of incarceration isn't new. Robert Marbut, a pioneer in so-called warehousing policies (and a Trump housing-policy appointee) has spent decades advising cities — for thousands of dollars an hour — to adopt his "velvet hammer" approach to homelessness: Criminalize it, erect massive shelters, and control access via drug testing, work requirements, and curfews. (Failure to adhere to any of these restrictions means sleeping in an outdoor courtyard for the night.) This approach goes counter to federal "housing-first" guidance, and also flies in the face of mounting research demonstrating that the cost and availability of permanent housing causes homelessness, not mental illness and drug use. Marbut, who has said he believes in "housing fourth," refutes the idea that a bed, services, or even food should be given to anyone who cannot agree to his terms for shelter, saying on his website that "services of any kind are magnets on the street" and "these services are enabling in nature."
Drawing on Marbut's legacy is a new surge in anti-camping laws, many of which have been introduced or re-introduced across the country over the last two years at an astonishing rate, mainly in Republican strongholds: Missouri lawmakers voted last month to outlaw camping on state land and a Tennessee law put into place on July 1 makes camping on public land a felony. In fact, nine bills introduced in six states since 2020 feature strikingly similar language to a model bill — the "Reducing Street Homelessness Act" — pushed by a Palantir-backed, Texas-based think tank called the Cicero Institute. One of the Cicero Institute's efforts even managed to overturn policy in a city which had already opted for a more progressive approach: In 2021, a Texas law was passed that made street camping illegal in Austin's public spaces, despite the ongoing efforts by its Democratic leaders to decriminalize homelessness. (A GOP-backed city ballot measure also passed the same year, making it illegal to camp anywhere in Austin's downtown.)
This is the kind of thing one might expect from Republicans, except Democratic leaders from Seattle to D.C. continue to deploy many of the same tactics: pushing unhoused people from public view and relying on police to do it. And like Trump, many of these officials use the language of crime and lawlessness as a justification for targeting unhoused people. "We're a war zone," Trump said in his speech on Tuesday. "There is no longer respect for the law, and there certainly is no order. Our country is now a cesspool of crime." Months earlier, Adams said many of the same things about New York City. He's even used the same wartime metaphors: "There are wartime and peacetime generals," he said. "I'm a wartime general."