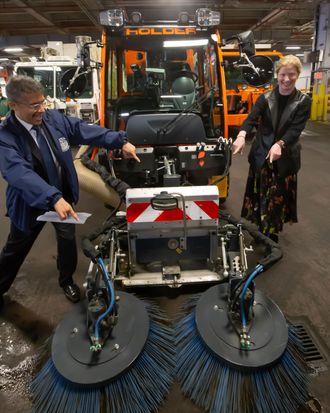 Photo: NYC Department of Sanitation
The newest addition to the New York City Department of Sanitation's fleet is a tiny mechanical broom that will sweep the bike lanes to keep them clear of trash, and it is, frankly, so freaking cute. As amNY reported, six of these broombinos were let out on the roads on Monday, and soon there will be ten total that are expected to clean up all of the city's protected bike lanes every week.
Bike advocate Jon Orcutt told amNY that the smaller sweepers will allow the Department of Transportation to build narrower protected bike paths. The broombinos are actually refitted from the fleet of small-scale snowplows that helped clear the lanes from snow last winter. What can't our new tiny friends do?!