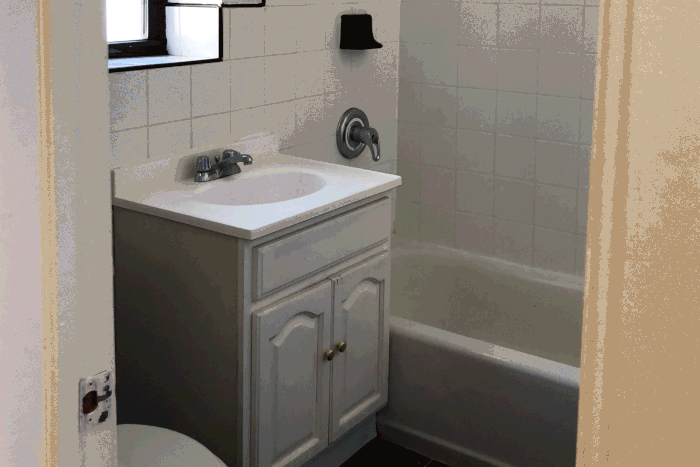 In this series, Looking to Settle, Emily Gould will chronicle her search to find a two-bedroom apartment.
On the Thursday before the Fourth of July long weekend, I got an intriguing Instagram DM. "Hi Emily, you don't know me (longtime listener, first time caller situation)" it began. The longtime listener went on to describe what I can only call a dream apartment — a three-bedroom duplex with two bathrooms and washer-dryer in Bed-Stuy, a mere 1.1 miles east of the apartment I've spent the past six months plotting my family's escape from. The current tenant was moving out at the end of July, she said, and had been paying $3,750. The catch? Her landlady was planning to list the apartment on Saturday. Could I come by and see it before it went on the market?
Reader, I could. Keith and the kids were headed to my in-laws' for the weekend on the morning that I went to see the apartment, but I had his blessing to retake the reins of our search. If I liked the apartment, I planned to immediately get on the horn with the landlady and do whatever I could to keep that listing from ever hitting StreetEasy.
The apartment was somehow even better than I had imagined. With exposures on three sides, it not only had amazing light but also commanding views of the neighborhood from the enormous living room. The kitchen was separated out by a counter with cupboards to the ceiling and a pass-through window, giving the space a remarkable advantage over literally every other apartment I'd seen. Those other kitchens were either skinny galleys that wouldn't be out of place on an actual boat or "open plan" in the sense that they occupied one wall of the living space. And I hadn't even seen the second floor yet! There I found several remarkable features: a window-topped nook in one of the bedrooms perfect for a home office, an additional bathroom, two finished storage rooms under the eaves big enough to fit bikes and strollers and all the rest of our assorted dross, and, get this, a washer and dryer in their own little laundry room, just for themselves.
I called the landlady, and then I called Keith. To the landlady, I mentioned that our absolute ceiling, rent-wise, was $5,000. She hedged. I thought. She'd been out of town and hadn't had time to look at comparable listings. I reiterated my deep and abiding love of the apartment and how much my innocent, adorable children loved their neighborhood then got off the phone and tried my husband.
Keith, because of his youth in the Soviet Union and his Capricorn sun, isn't an impulsive decision-maker. He likes to kick the tires. I know this about him. I have been knowing this about him for the duration of our 15-year relationship. Still, I was surprised that he didn't want to immediately transfer the entire contents of our bank account into our new landlady's possession. "It's kind of far from school," he said. I hung up on him.
Half an hour later, the landlady called me back. She had looked at comparable listings, she said, but she also didn't want to deal with the hassle of listing the apartment. How, she asked, did $4,500 sound? In that moment, I decided that if Keith didn't want this apartment, I would have no choice but to divorce him and move to the apartment by myself. Fortunately it didn't come to that. We signed the lease. Deleting the StreetEasy and Zillow apps from my phone was easily the most pleasurable experience I've had in recent memory.
So what's the takeaway here, big picture-wise? I guess, maybe, that it's still possible to find a below-market perfect apartment in Brooklyn! Possible if, of course, you are willing to sacrifice every remaining shred of your sanity during the search as well as the frayed, tattered remains of your and your family's privacy by writing about the ordeal. And if you have a wide network of friends and friends of friends working on your behalf to lock down a spot — basically the only (and yes, entirely unfair) way to navigate this hellish market. True, my marriage is in a little bit of a shambles, and I have been smoking a pack a day for the past month, including when I had COVID. But somehow, at the end of all of this, my new apartment is better than the one we got kicked out of. We move August 1.