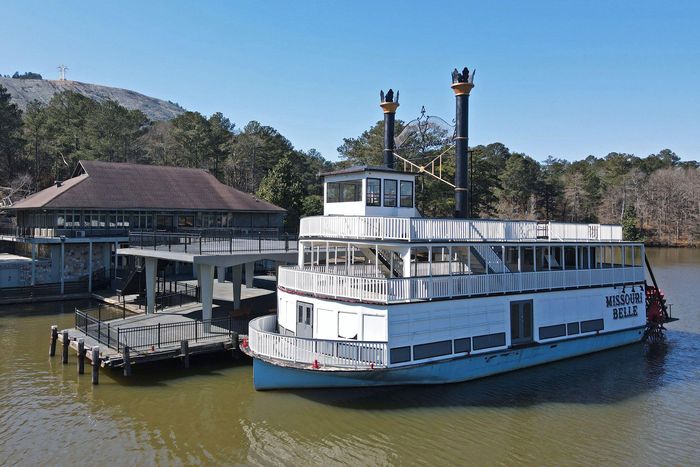 Ozark's Missouri Belle Casino in Stone Mountain, Georgia.
Photo: Derek Storm/Everett Collection/Alamy
For people seeking abortion care in Mississippi, Alabama, Louisiana, and Texas — four Gulf Coast states staring down the country's "most restrictive" post-Roe policies — the options are bleak: a daylong drive with astronomical gas prices or flights in and out of small airports requiring two connections or more. "Even if you are providing funding for people to get places, they cannot get to those places in a day, let alone get child care or take time away from work," says Meg Autry, a San Francisco–based obstetrician and gynecologist. Autry, who is also a professor at the University of California, San Francisco, is proposing a different solution: a 45-minute helicopter ride to a floating abortion clinic in federal waters a few nautical miles off the coast. What she calls PRROWESS — protecting reproductive rights of women endangered by state statutes — has been an idea in the making for several years as Autry worked with local reproductive-health-care organizations, lawyers, and even boat consultants to give the project shape. Things took on a new urgency after the leaked Supreme Court ruling in Dobbs v. Jackson Women's Health Organization. Then, Autry says, "we really started laying out our plans. Once we have the funding, we can go."
There is a long history of providing emergency health care aboard boats, on which vessels are quickly deployed for military actions or disaster-relief efforts. In the early days of the pandemic, hospital ships like the Navy's 1,000-bed Mercy docked in the harbors of U.S. cities in which emergency rooms were overwhelmed with patients. But Autry's inspiration actually came from quite a different source: the Missouri gambling empire featured in the Netflix series Ozark. "I began thinking of how it could be legal because of those casino ships on the Mississippi," she says. After talking through the idea with maritime lawyers on her team, Autry realized a riverboat would be convenient but too jurisdictionally complicated — casinos take advantage of a loophole that doesn't allow gambling on land, but the waters are still controlled by states — however, their research pointed them toward the greater possibilities of the open sea. Federal waters begin anywhere between three and nine nautical miles from land, depending on the state, and extend out to 200 nautical miles. There, the ocean is controlled by the federal government and even has its own form of protection in the U.S. Coast Guard.
The media attention Autry has received in the past week led to an outpouring of suggestions, from the helpful (leads on decommissioned naval ships) to the fanciful (tips for how to commandeer the seized yacht of a Russian oligarch). But she also knows that the spectacle around the project carries risks. Before practicing in San Francisco, Autry was an abortion provider in Wisconsin, where she was the subject of attacks. "My house was picketed. My family was accosted at the zoo," she says. "I know what that's like." Up until now, she has done much of the groundwork below the radar, talking with local organizations to determine need and connecting with researchers studying abortion access.
Autry's vision echoes recent calls from congressional leaders such as Elizabeth Warren and Alexandria Ocasio-Cortez to use federal lands for abortion care, taking advantage of legal gray areas with proposals that match the audacious actions of the anti-abortion movement, which has utilized land-use and zoning laws to successfully block or limit access to reproductive-health care for decades. Expanding the concept to federal waters may offer even more opportunities. In her preparations, Autry connected with Dutch physician Rebecca Gomperts, who launched a floating abortion clinic with a similar mission two decades ago. Providing offshore abortions turned out to be quite complicated in what became a high-profile project — Gomperts was the subject of a 2014 documentary and significant media coverage — but the work was still crucial. Women on Waves also led to Gomperts's creation of Aid Access, a stateless pharmacy for abortion pills where four doctors and ten assistants fulfill about 4,000 requests from the U.S. daily.
Abortion-access groups on the Gulf Coast have long been discussing the possibility of floating clinics, says Morgan N. Moone, strategic-data and advocacy manager for ReJAC in New Orleans. But the strategy is also a reflection of how bad things have gotten and the stakes of the fight ahead, she says: "We shouldn't need to flee to the middle of the sea for health care."