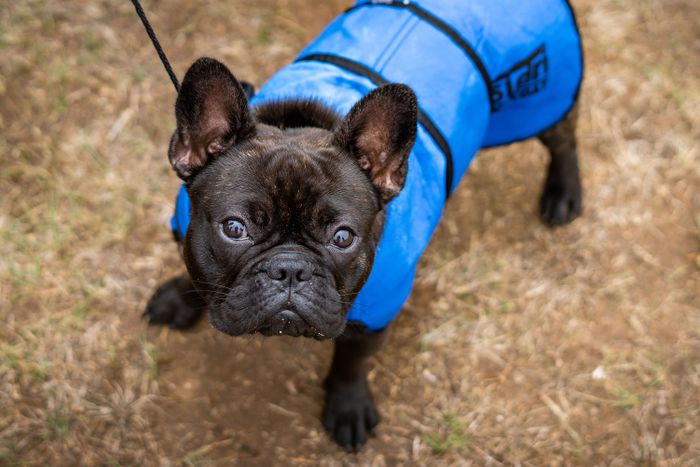 Mommy's little menace.
Photo: Henrique Casinhas/SOPA Images/LightRocket via Getty Images
This has been a hard month for New York City's French-bulldog community. On Tuesday, a Tweet thread went viral: It told the story of an Instagram account that was created to try and stop a weekly French-bulldog meetup happening at an Upper East Side dog run. This "Stop the Meetups" account complained about how the small-dog run was now being "subjected to 30+ frenchies (plus owners) during high traffic times," and that "the dogs are all over the 25lb limit for the run, and other breeds are not able to use it, which is against NYC Parks rules!" It then accused the meetup organizer of being "rude," noted that dogs were coming from "all over the city," and pushed for the meetup to be moved to the large-dog run instead. (The posted photos show what looks like a pretty normal amount of dogs whose main issues seem to be potential poor early health outcomes.)
Like all dramas involving designer-breed dogs and the French, the situation seems to have spiraled over the past 24 hours. The Frenchies of UES Instagram posted that "I am disheartened by the bullying I see online towards this page and our Frenchie Fam" and that "I do, however, feel it has become important to address concerns about our community." Meanwhile, the owner of the Stop the Meetups Instagram announced today that they were deleting their account because of all the "hateful and hurtful messages" they've been receiving.
In more productive news for all, they also said they were meeting privately with the owner of the Frenchies account to talk things through. This dog-run infighting is unbecoming in the presence of a dog that was once painted by Edgar Degas.
Anyways, the Frenchies have bigger problems: Just last week someone in New York tried to steal a French bulldog from their owner out of a revolving door. (The incident is part of a larger trend of French bulldogs being targeted because of their high sale price.) Maybe someone should host a meetup to address the situation.