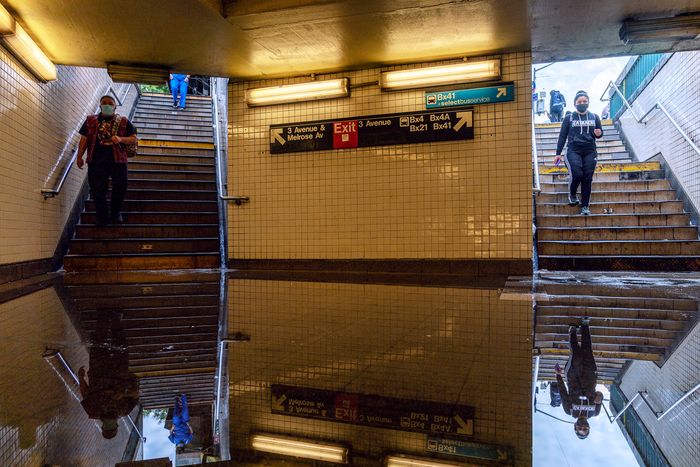 The 149th Street station after Hurricane Ida.
Photo: David Dee Delgado/Getty Images
The rain was heavy on Monday, and the scene at Dyckman Street was familiar: a rush of water pouring into a subway station from the ceiling and flooding the tracks. Inwood saw some of the worst of it, and A-train service north of 181st Street was suspended overnight. (A woman captured the view on her nearby block: The rain swallowed her stoop as cars slowly rolled by, their tires submerged.) In Washington Heights, the cascading stream down the steps at 157th Street and Broadway looked almost beautiful, like a subterranean waterfall. The spectacle used to feel shocking; now it's more of a genre. New York seems to have decided that the floods won.
Last summer's Hurricane Ida killed 11 people in basement apartments and shut down every subway line, requiring rider evacuations. Officials at the time made somber speeches about urgency and a need to make the city more climate-resilient. "Mother Nature is not going to wait for us to build out a 20-year plan," Eric Adams, then–Democrat mayoral nominee, said at the time. Those speeches and recommendations sounded a lot like what happened after Superstorm Sandy, which shut down the trains for several days in 2012. These were different "weather events" — Sandy caused a huge coastal surge, whereas Ida brought torrential flash floods — but they both overwhelmed the city and especially its transit system.
Experts warned that we would only continue to see storms with more extreme rainfall; absent radical intervention, the drama of a city transformed by water would dull into something more routine. One told Gizmodo that fixing subway flooding would require addressing built infrastructure as a whole, and that solutions would amount to a systemic transformation of the landscape: "reducing paved surfaces, planting trees, daylighting underground streams, creating more parks and green roofs." It's the kind of thing that requires cooperation from federal, state, and city governments and a staggering amount of funding.
The changes we've seen have been more modest. As Gizmodo noted, in the years since Sandy, the MTA has installed flex gates and drainage systems. The city spent $5 billion on Sandy-related recovery and resilience projects. The Adams administration just announced the completion of a sewage project begun by the de Blasio administration to alleviate flooding in Queens. "Climate change is accelerating, not slowing down, but our ability to retrofit a city that's built out like New York takes a long time," Timon McPhearson, director of the Urban Systems Lab at the New School, told PopSci last fall. A Regional Plan Association analysis from last July found that 20 percent of subway-station entrances could be swamped during extreme rains. Many more drainage systems need to be upgraded; the same goes for the ventilation.
Meanwhile, deluged subways are beginning to feel more like the norm. Witnessing the flooded transit system last year, even before Ida hit, felt like an out-of-body experience; videos went viral of people hopping through stations in garbage bags used like potato sacks. The novelty is fading for commuters, who have to plan their travel accordingly.
Earlier this month, Eric Adams introduced a flood plan that includes handing out inflatable dams for people to set up around their houses. The administration's approach to climate disaster is two-pronged: There's what the city is willing to do, and then there's what it's saying you should do for yourself. ("We all have a role to play," the administration informs us.) When it comes to getting around, that role also now includes wading through hip-deep water on your way to work. And maybe filming it.