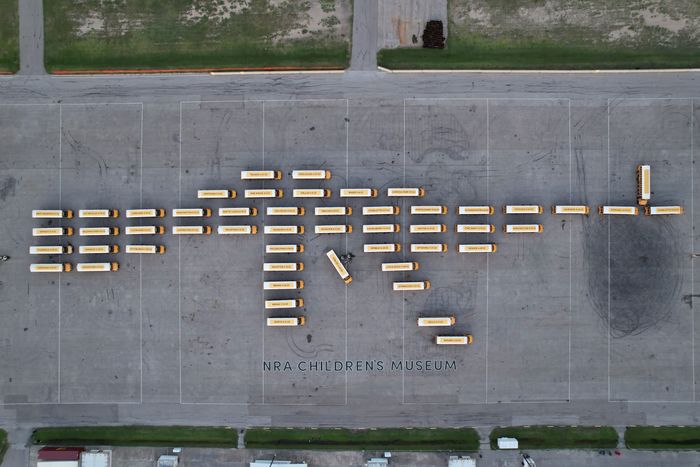 Fifty-two empty school buses make up the NRA Children's Museum.
Photo: Change the Ref
The yellow school buses winding through the streets of Houston just kept coming — empty, draped in purple-and-black bunting, and emblazoned with bold black letters reading, "GUN VIOLENCE IN AMERICA." The message of the NRA Children's Museum — 52 school buses with 4,368 vacant seats for all of the U.S. children killed by gun violence since 2020 — is not subtle. The latest work of artist Manuel Oliver, whose son, Joaquin, was one of 18 people killed in the Marjory Stoneman Douglas High School mass shooting in Parkland, Florida, in 2018, hit the road yesterday. The one-mile-long caravan paid its first visit to the home and then the office of Ted Cruz, one of the NRA's top-funded politicians. Oliver's intention for the project is clear: "We're going after the money."
Using a convoy of empty buses to represent the children killed by gun violence over the past two years is particularly notable since, during that period, guns surpassed cars as the No. 1 killer of kids in the U.S. But the buses aren't simply a symbolic memorial. The NRA Children's Museum is actually a museum: Alternating with the unoccupied seats are school desks filled with books and backpacks owned by young victims of gun violence. One brightly illustrated "Young Author Certificate" issued to Chase Kowalski, who was murdered in the Sandy Hook Elementary School mass shooting, is strikingly similar to the certificates held by Uvalde, Texas, fourth-graders at an awards ceremony in May just hours before they were murdered.
The bus caravan visited Cruz first not only because he's the Texas legislator who has received the most money from the NRA — over $749,000 — but also because of his staunch pro-gun commentary after the Uvalde massacre, in which he parroted NRA talking points by suggesting the school might have avoided the shooting by having fewer doors. During the stop at Cruz's home, Oliver presented the senator (via a staffer) with a special gift: a framed letter by Joaquin arguing for universal background checks, written five years before he was murdered. Oliver's wife, Patricia, found the letter, in which Joaquin calls guns "death machines," one month after the Parkland mass shooting, she told BuzzFeed News. "We've been keeping it, our little letter to remind us about what we're fighting for," she said yesterday. "My son knew, at 12 years old, what to do better than Ted Cruz."
The school-bus funeral procession — which evokes both the car-caravan protests of the early days of the pandemic and the recent vigils held outside Supreme Court justices' homes — is a confrontational strategy that transforms a symbol of childhood into a megaphone. Since Parkland, Oliver's advocacy group, Change the Ref, has spearheaded other subversive and disruptive public actions. Last year, the organization tricked former NRA president David Keene to speak at a fake graduation ceremony where empty seats signified high-school seniors killed by gun violence; earlier this week at a White House event meant to celebrate the passage of the first major gun legislation in decades, Oliver shouted down Joe Biden from the audience — "You have to do more!" — before being escorted out of the crowd. The museum hasn't chosen its next destination, but Mitt Romney, who has received over $13 million from the NRA, should probably plan for a visit to his Utah home. Yesterday, Oliver stood outside Cruz's office issuing a warning to other legislators: "If you're a senator and you believe the things that are happening are okay, look out for a yellow school bus that will be outside your office."