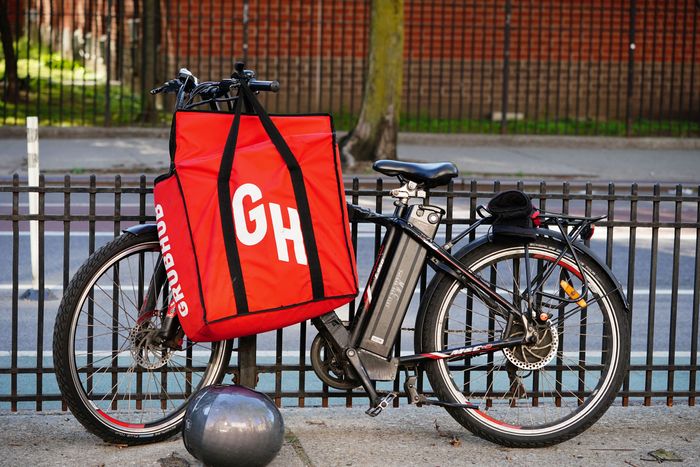 Photo: John Nacion/NurPhoto/Shutterstock
Last December, a blaze erupted at the NYCHA-run Jacob Riis Houses, killing a man who firefighters say was running a business charging e-bike batteries inside his unit. Two teenagers were forced to escape the inferno by climbing a pipe down an outer wall. It was a vivid example of what the city's fire department has identified as a growing trend in e-bike fires around the city. Since January, the FDNY has investigated 99 fires related to the vehicles' lithium ion batteries, which have caused two deaths and 37 injuries.
The density of the apartments in public housing complexes makes the prospect of a fire even more concerning. And last week, NYCHA, in an apparent effort to "prevent fires and preserve the health and safety of residents," announced a proposed ban on electric and gas bikes, mopeds, and scooters in its properties. The ban would not only apply to common areas of NYCHA buildings, but also to its residences. It added that residents would be prohibited from running "home-based businesses for repairing, charging, or storing e-bikes, e-bike batteries, or gas-powered vehicles." The notice gave residents until August 15 to comply with the rule changes or find themselves in violation of their lease agreements, and just one week to submit comments on the proposal.
But tenants say the notice appeared without warning, and leaves those who rely on e-bikes for work or transportation in a real bind. "You are forcing them to choose between their work and their home," said Hildalyn Colón Hernández, the policy director of Los Deliveristas Unidos, a labor group representing New York delivery workers.
A NYCHA spokesperson said the housing authority initiated the proposal because "there have been approximately 10 fires at NYCHA that have received an official or probable cause related to lithium-ion batteries" since 2019. The spokesperson did not say whether NYCHA had consulted delivery workers or tenants in drafting the proposal, but said the ban would not prohibit delivery workers from delivering to NYCHA buildings. Ramona Ferreyra, a longtime NYCHA tenant in the Bronx who leads a campaign called Save Section 9, said that the announcement reflected how the housing authority communicates with tenants. "It's why so many of our neighbors have created impromptu bike racks where whole families park their bikes and lock them on the gates outside of the door of their building, because there isn't a formal structure to do this," she said.
Shortly after the news broke on Thursday about the proposed ban, the housing authority appeared to acknowledge the concerns, extending the comment period until September 6, and delaying its implementation until October 15.
On Friday, city councilmember Alexa Avilés, who heads the committee on public housing, hastily convened a closed-door meeting with the housing authority, worker advocates, and transportation advocates to discuss the proposal. According to Avilés spokesperson James Neimeister, the housing authority seemed open to changing the policy. One attendee suggested postponing the ban until the housing authority could build the infrastructure for e-bikes and other micro-mobility vehicles to be safely stored and charged on NYCHA premises. One such initiative is already in the works, although not for NYCHA buildings; Los Deliveristas is aiming to build e-bike charging hubs throughout the city, a project that has the support of officials like Senator Chuck Schumer. The first hub has been approved and will break ground in Williamsburg later this summer, Colón Hernández said.
Neimeister said that so far, policymaking around the issue has been "totally reactive" and "driven by fears of liability." "Maybe this is a turning point where we can start having a proactive conversation around the safe sale, storage, and manufacturing (of small electric vehicles)," he said. "We would like to see safe charging infrastructure exist, and that's a bigger conversation than just NYCHA."