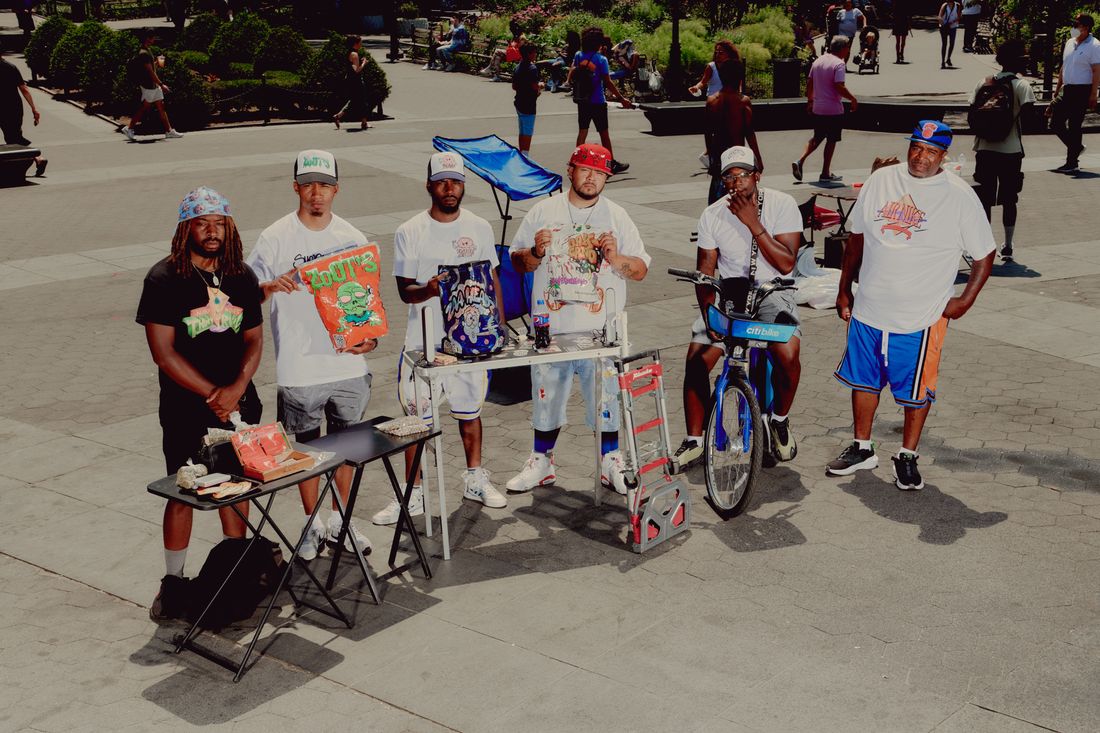 From left:
Namiii, Zoots, Wavy, Gotti, Duse, and Chef Cream.
Photo: Victor Llorente/Victor Llorent
On a recent morning in Washington Square Park, vendors in the indie weed trade were busy opening shop. They set up card tables to display their offerings, which included pre-rolled joints and candy-colored edibles, and unfolded camp chairs and rainbow beach umbrellas in preparation for the long day ahead. Some mumbled, "Pre-rolls, pre-rolls," to parkgoers who paused nearby, while others sat back and let their wares speak for themselves.
"I was working at Amazon, and, you know, I just had a baby," said Namiii, 27, who started selling his wares at the park several months ago. "So my friend was just like, 'Maybe you could try coming out here.' I made more than I did in two checks at Amazon." Namiii lost his job the next day; he didn't mind.
His presence is part of a dramatic shift in the area's pot trade. The park has long been host to a robust marijuana business, but the past year has seen a growing number of proprietors present their products like vendors at a street bazaar. Some days, more than a dozen offer everything from buds to blunts to brownies right out in the open, forming an outer ring around the park's famous fountain.
If you didn't know any better, this overtness would make the marketplace seem legal. Since March 2021, recreational (formally referred to as "adult use") weed has been permitted in New York State. Adults can carry three ounces of pot and can light up in public wherever tobacco smoking is allowed. However, it's illegal to sell cannabis without a license. And at this point, no businesses are licensed to sell adult-use weed in the state. In other words, selling pot in a park is illegal, though in practice it is increasingly tolerated.
Indeed, on the day Namiii spoke with New York, police officers started making their rounds about noon, and some vendors packed up their tables. They described a sort of détente with police. If dealers don't do anything stupid, cops generally let them be — another dramatic shift given the sheer quantity of weed sometimes on display. "We try to keep this very professional, seven days a week, as a business," said Gotti, another merchant. "Because we all are trying to do something with this."