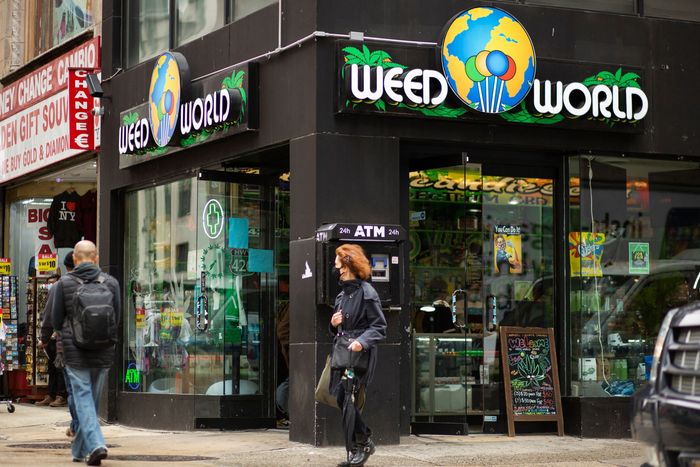 Photo: Kena Betancur/AFP via Getty Images
There still isn't a single shop in New York licensed to sell recreational weed, but it's an open secret that plenty of vendors are selling anyway. Across the city, you can get anything from edibles to pre-rolls at your corner bodega or many of the shops that opened in the year-plus since Albany legalized recreational cannabis. But the party may be ending: On Thursday, following a quieter effort in February, the Office of Cannabis Management publicly posted the letters they had previously sent to 66 storefronts they believed were selling weed illegally. This included 15 vendors in New York City, like Weed World and Empire Cannabis Club. The letters were posted after pressure from Gothamist, which had filed a Freedom of Information Request. (At one point, OCM refused to "confirm nor deny" that the letters existed, according to Gothamist.)
The letters mostly serve as a warning — for now. "Unlicensed sales undermine the legal market that is being built by introducing products that are not lab-tested and potentially threaten public health and safety," they read, noting that OCM is "currently establishing regulations to ensure an inclusive marketplace." Last month, Law360 reported that Tremaine Wright, chair of the Cannabis Control Board, said that they were trying to avoid criminal prosecution of unlicensed vendors for the time being, but that the period of asking them nicely to cut it out wouldn't last forever.
Weed World's owner told Gothamist that they never received the cease-and-desist letter, and that they don't actually sell weed despite their name being Weed World. (It's been a rough summer for Weed World, which saw a number of its trucks towed for parking violations last month.)
Other vendors brushed off the letter entirely. Steve Zissou, an attorney representing Empire Cannabis Club, insisted to Gothamist that its membership model — where customers pay for a membership and then get a "gift" of weed, rather than paying for the weed itself — is legal. They're also prepared to make that case in court if necessary. As Zissou put it: "There's an old saying: If you want peace, prepare for war." Empire wants peace, he said, but is "prepared for war." Intense.