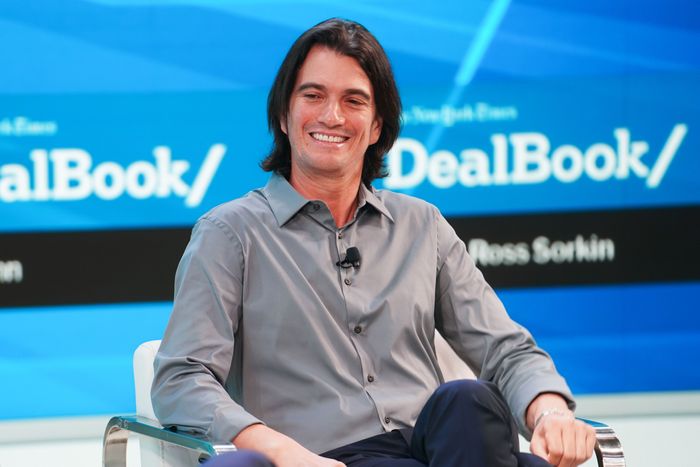 Photo: Ryan Muir for The New York Times/Getty Images
Adam Neumann's new venture into landlordism has a name (Flow), a subtly menacing homepage ("Join Us"), and the blessing of Marc Andreessen (via a $350 million investment). The news of his backing — "the largest individual check Andreessen Horowitz has ever written in a round of funding to a company," according to the New York Times — sparked a flurry of coverage about the start-up's ambition to "transform the residential rental real estate market," though details of what Neumann is actually up to with Flow remain scarce.
Andreessen, in a post on Monday on his firm's website, writes that Flow will combine "community-driven, experience-centric service with the latest technology in a way that has never been done before to create a system where renters receive the benefits of owners." Then there are phrases like "rethinking the entire value chain" and "do more and build things." (Andreessen is big into building things as long as it's not multifamily housing near his home in Atherton, California.) Neumann, writes the New York Times, aims to "rethink the housing rental market by creating a branded product with consistent service and community features. Flow will operate the properties Neumann has bought and also offer its services to new developments and other third parties." We discover, in a wonderful bit of passive voice, that "exact details of the business plan could not be learned."
In terms of concrete moves, the Times notes that Flow has purchased 3,000 units in Miami, Fort Lauderdale, Atlanta, and Nashville, which tracks with what The Wall Street Journal reported in January when it wrote that Neumann was becoming an "apartment mogul." As my colleague Kim Velsey observed at the time, the apartments in question are largely your standard perk-laden luxury complexes with features like saltwater pools and, of course, co-working spaces.
Flow seems to be all about, to use a phrase that is quickly becoming pat, vibes. Although it's hard to say based on such scanty information, the start-up is likely to be yet another middleman ameliorating some of the harshest aspects of the market for those who can afford it — perhaps at a millennial-friendly discount enabled by Neumann's venture-capital backing — not unlike WeWork. Kevin T. Dugan at Intelligencer guesses that Neumann might be attempting to rebrand the rent-to-own model, which has its own predatory history. Andreessen, for his part, has dressed the project up with some pretty lofty goals that have a progressive veneer: Flow, he claims, will "create a system where renters receive the benefits of owners."
In the couple years of postmortems since WeWork imploded and Neumann was ousted in 2019, critics have excoriated the venture-capital speculation that made the WeWork bubble possible as well as the lack of real value of the start-up itself, which was essentially an overextended subleasing company when Neumann was forced out. As New York's Reeves Wiedeman (who wrote the book Billion Dollar Loser about Neumann and WeWork) reported in 2020, SoftBank's Masayoshi Son invested $4 billion in WeWork after a meeting that lasted less than half an hour. Within a year, WeWork had lost $2 billion of that cash. Could stylish offices really be worth that much? Could stylish apartments? It seems ripe for a blowup, but with Flow, the incredibly moneyed among us might be ready for round two.
It should go without saying that there are already lots of systems and instruments that "empower" renters to receive the benefits of home ownership: They include community land grants, HDFCs and other limited-equity co-ops, and efforts at something like social housing. The people behind these movements are constantly fighting for legitimacy, and they lack the kind of massive funding that would make these programs easier to implement at a scale warranted by the current crisis of affordability. By contrast, Flow will be worth $1 billion to investors before a single tenant can even say what it is.