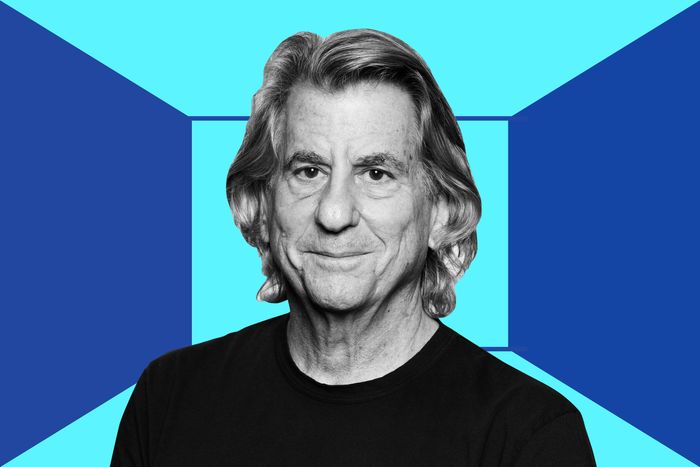 Photo-Illustration: Curbed. Photo: Emily Andrews
New York's "21 Questions" is back with an eye on creative New Yorkers. David Rockwell is a six-time Tony Award nominee and one-time winner for set design (the sets for Into the Woods, now on Broadway), and the founder of Rockwell Group, the architecture firm behind Nobu and Union Square Cafe; the collaborating architect of The Shed, with the lead architecture firm Diller Scofidio + Renfro; the waiting room at Moynihan Station; and pandemic-relief projects bringing outdoor dining and performances to New York.
Name: David Rockwell
Age: 66
Neighborhood: Chelsea
Occupation: Architect
What's hanging above your couch?
Two sets of bookshelves that hold a collection of many things: photographs of my kids and loved ones, a quarter-inch model of the set we designed for She Loves Me, one of the sake vases we made for Nobu downtown, a model of the set piece the Dynamites came out of in Hairspray, a miniature bicycle that I got when I was in high school in Guadalajara, and a great paper collage that my son Sam, who is 22, made when he was 5 or 6. I have several pieces of art around the house that my kids made when they weren't self-conscious about what they were making — and they made such beautiful art.
What's the first job you had in New York?
I worked for William Ginsberg Associates, an engineering firm that was the go-to newspaper plant designer in 1975. I knew nothing about newspaper plants, but I had been interested in how things moved and connected since I was a kid. Back then, I was always making Rube Goldberg contraptions out of boxes for my friends.
What color are you always drawn to? 
I've returned to blue over and over again. At the moment, my favorite blue is Urban Blue, named after Joseph Urban, who was an architect and set designer. It's a deep, purplish blue that I recently used for the Blue Room cocktail bar in the Civilian Hotel. That's my go-to, but I'm drawn to all variations of blue.
What work of art or artifact are you most surprised you own?
I have a scale model of the original production of Company, by Boris Aronson. His work, for me, has been tremendously influential. (Fiddler on the Roof, which he designed, is the first Broadway show I saw.) His wife, Lisa Aronson, who was his design assistant, gifted it to me before she died. Set models are rare: They're fragile, incredibly impractical to store, and invented to be a private communication between the director and the designer.
Which New Yorker would you want to hang out with?
I would love to have dinner with Frederick Law Olmsted. Central Park is my favorite place in New York, and when I think about what makes it special, it's because Olmsted was able to take a relatively flat plane and turn it into a series of portals and transitions that reorient you and create new experiences. But since I am a pluralist, it would be a small dinner party with the director Michael Bennett, who could create an entire emotional experience out of a simple scene shift, and Leonard Bernstein, whose movement from one tempo to another is so seductive. They're all masters of transitions, so there wouldn't be any awkward, clunky moments.
What's the last thing you made with your hands?
I helped build a set model of Into the Woods, cutting and folding paper, and directing and moving where things should be. It gave me a chance to get down to the perspective of the audience and really get my hands into the design.
Is there one thing you own multiple versions of?
I own about 75 kaleidoscopes. I started collecting them when I was 9. The non-digital inspiration of kaleidoscopes continues to fascinate me. They take recognizable things — pieces of metal, opals, oil — and move them around in a way that's surprising and beautiful. I just got a new kaleidoscope that uses feathers. It has a translucent chamber that you puff air into with a pump that's like a perfume bottle.
What New York City museum do you always go back to? 
Lincoln Center for the Performing Arts has fantastic exhibitions, but its archive of recorded performances is why I return over and over again. I can study what other directors and designers have done.
What do you always have next to your computer? 
Peppermint Dentyne Ice gum and Spearmint Life Savers, which stop me from eating other things all day long. And a roll of drafting paper.
Where is the best view of the city?
Bargemusic in Dumbo. The wall behind the stage is a window that faces lower Manhattan, and seeing it through this floating wood barge gives you the feeling of discovering the city. The view changes based on the time of day and also how riveted you are by the music.
What building or object do you want to redesign every time you see it?
Most of my I-want-to-change-this energy is consumed by the work we're doing. But Port Authority is a clear example of a failure and could be much better. Opening up the ground floor could energize the neighborhood and make the entrance to the city feel less depressing.
What's one thing you would change about your field? 
If more buildings were designed from the perspective of human experience, we'd live in a much more empathetic and innovative city. I would put more emphasis on designing from the inside out so that you're thinking about the program — the sequence of spaces — as well as what it's going to look like outside. Think of Radio City Music Hall. You enter beneath a low-hanging marquee and move into the soaring stair space. That change in scale elevates you before heading into a space that hypnotically focuses you on the stage.
If you could live anywhere in New York City, where would it be?
I've always loved those impossibly tall windows at Gainsborough Studios on Central Park South. I've never been inside, but the location and the windows make it seem like the ultimate artist's studio.
What would you hoard, if it stopped being produced?
I'm not a hoarder, but I do treasure sheet music. I'm working with Seymour Bernstein, an incredible 95-year-old piano teacher, and I save all the notations we make in the music.
What do you do to get out of a creative rut? 
I play piano. I'm learning "Rhapsody in Blue" right now. There's a printing room in the office that I turned into a music room, and I'll go down there and play for half an hour when I need a break.
Where was your first NYC apartment, and how much was the rent? 
It was an unfinished space on 14th Street between Seventh and Eighth. I don't remember the rent. I built a wood loft with soundproof walls inside, and I had a baby grand piano that had been in my family. The apartment was above a Mexican restaurant that had several small fires while I lived there.
Where in the city do you go to be alone?
I like to walk around Bethesda Fountain in Central Park. There's a sense of time standing still, with a magnificent skyline of New York in the distance.
What's the worst piece of career advice you've ever gotten? 
When the South Park guys invited me to design the sets for Team America: World Police, some friends of mine who were theater people said, How can you do that? What do you know about movies? My response was: Who's an expert in marionette movies? Is there a go-to person? The project existed on the edges of two things, and I thought it was worth jumping into, similar to our research on playgrounds or theater. The common understanding is expertise should be sought out; I think newness and things that you're passionate about should be pursued.
What have you given away to someone that you wish you could get back? 
Sushi Zen was the first restaurant I designed in New York — in '84 I think — and it had a long silk mural that I designed and Dona Granata, a costume designer at the Santa Fe Opera Festival, made. I don't know what happened to it after new owners took over and moved, but it would be great to have that back.
What's your favorite NYC restaurant and regular order?
To the chagrin of my doctor, I do like the New York strip steak at Striphouse. Andrew Carmellini serves a fire-roasted garlic chicken at the Greenwich Hotel that has been one of my go-tos for a while. The yellowtail jalapeño shishito peppers at Nobu are maybe what I eat the most if I'm dining out. And I love the fried chicken at Melba's.
What descriptive phrase do you want on your obit headline?
I'd like the phrase "true New Yorker" to be in there somewhere.