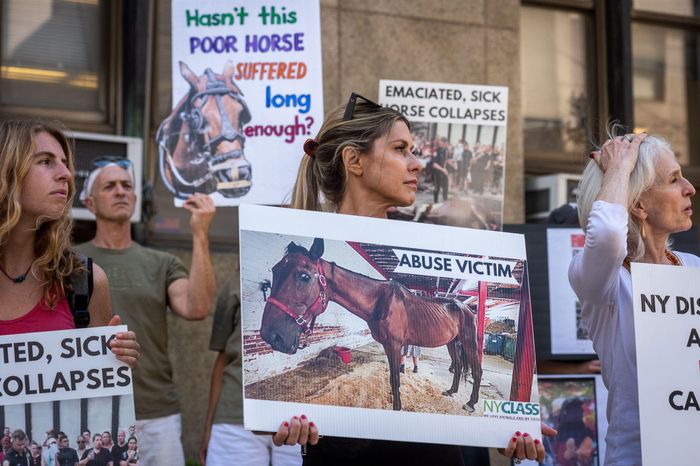 Photo: Gabriele Holtermann/Sipa USA/Alamy Stock Photo
Horse-girl hive, unite! Supermodel Bella Hadid has taken up the cause of Ryder, New York's carriage horse of the moment. Outraged, like many, by the treatment of the horse, Hadid shared on Instagram that she "would like to rescue him and take him home to safety."
The lifelong horsewoman (who apparently wanted to be an Olympic equestrian) also pushed for legislation introduced by Council member Robert Holden. If passed, the new regulations would reduce the number of licenses for horse-drawn carriages, cut the hours a horse-drawn carriage may operate, establish a stable in Central Park (the horses are currently held in Hell's Kitchen), and restrict carriage rides to Central Park. Our girl instead advocates for "a humane and electric alternative" to carriages but doesn't name any. Animal-rights activist group NYCLASS proposes a fleet of solar-powered e-carriages, which can be manufactured locally in one of the five boroughs. Local industry, electric vehicles, and a reduction in animal cruelty? Hadid has found quite the intersectional cause!
But back to the most pressing matter, which is Hadid locating Ryder. As she asks in her post, "Can anyone comment below if they know where he is?" A source told the New York Post that Ryder's owner, Ian McKeever, said the sick animal is at a farm upstate for retired animals. But NYCLASS's director said that was not true and that Ryder is being held hostage by his abusers. So far, no one has given a definitive location, although a spokesperson for the TWU union representing carriage-horse drivers said they couldn't disclose one because horse activists were essentially terrorists.
For a brief moment, I thought Hadid's follow-up Instagram post (an uncaptioned photo dump led by a picture of her petting a horse in a sunlit pasture that is surely not in New York City) was an update that she had united with Ryder, but, alas, the search continues. Let's hope NYC's horse girls — or maybe one of Bella Hadid's 54.3 million followers — have a tip on his location and can deliver.