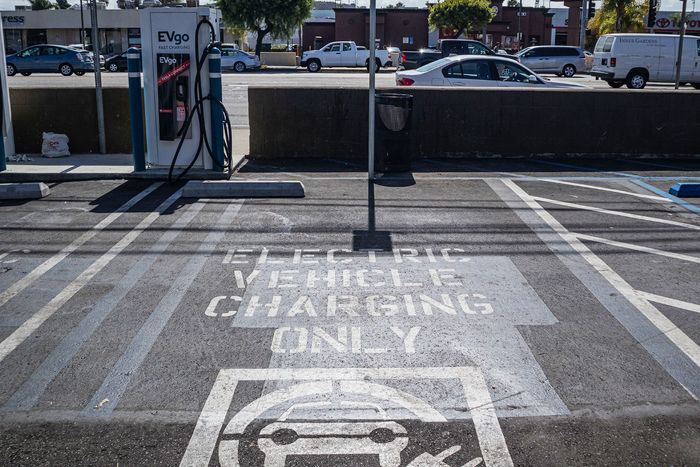 By 2035, all new vehicles sold in California will be electric.
Photo: Education Images/Citizen of the Planet/Universal Images Group via Getty Images
The days of buying gas-powered vehicles in California are officially numbered. A rule approved by the state's climate regulators on Thursday will require that 100 percent of new passenger cars and trucks sold in the state meet zero-emission standards by 2035. In 13 years' time, the only new vehicles available for purchase in California will be electric vehicles. This is a first, and a notable one: California is the largest car market in the country, and a long-standing clean-air agreement means that 16 other states may soon follow its lead in the move toward going fully electric.
All of this is a start, but 2035 is also five years past what the science calls for when it comes to decarbonizing the transportation sector. The full effects from this policy won't start to be felt for a decade or more, says Yonah Freemark, senior research associate in the Metropolitan Housing and Communities Policy Center at the Urban Institute. "Regulating reduced carbon emissions from new cars and trucks will be a major step forward in diminishing the state's contributions to greenhouse gas emissions — but it's not nearly enough," he says. "Responding to climate change requires diminishing that car dependence."
Which is why a gas-car ban like this can't exist in a vacuum. California needs a similarly historic and binding commitment to funding other transportation modes. When offering gas-price relief to California households earlier this year, Governor Gavin Newsom pledged to make additional allocations to public transit and active transportation, but it was a fraction of the money intended for drivers. Passing AB 2438 — a bill to force transportation dollars to more closely align with the state's own climate goals — would be huge, shifting money away from planned highway expansions and into zero-emission investments like electric-bus routes. E-bikes, which have outsold electric cars since 2020, could use a similar Newsom nudge.
While the Manchin-ization of the Inflation Reduction Act lost its federal e-bike tax credit, states and cities have successfully implemented their own versions of these incentives. Denver has given out thousands of e-bike credits, offering rebates from $400 to $1,200 depending on income, through a climate program that has become so wildly popular it's had to be restructured to accommodate demand. California could easily do the same as a way to enhance the potential impact of today's rule change. It's important to move toward retiring gas-guzzling, emissions-spewing cars. Now we just need more ways to get out of them entirely.