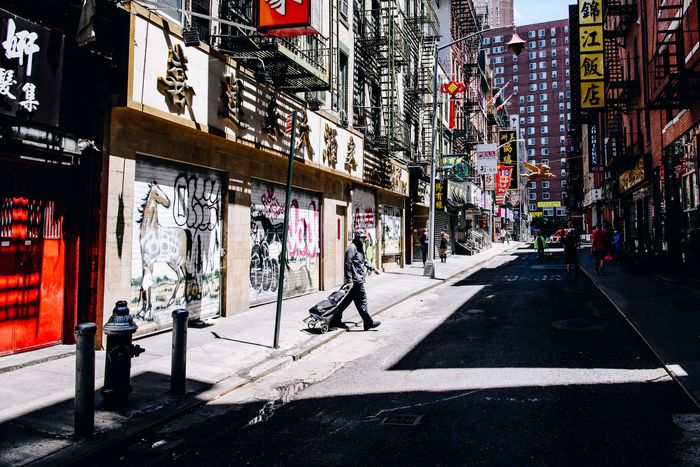 Photo: Nina Westervelt/Bloomberg via Getty Images
Manhattan's Chinatown has been struggling for years. But the pandemic shuttered banquet-hall mainstays like Jing Fong and 88 Palace along with a number of beloved small shops and restaurants, including 88 Lan Zhou of hand-pulled-noodle and dumpling fame. Even now, many of the empty storefronts have not reopened. A new study on the state of the neighborhood released on Tuesday highlights the dire situation with hard data.
After commissioning research by the consultancy HR&A, canvassing 152 small businesses, and conducting bilingual focus groups, local nonprofit Welcome to Chinatown concluded that Chinatown's immigrant-run industries are "extremely at risk" of disappearing. The study also reveals that Chinatown's workforce has been hit far harder by the pandemic than the rest of New York City.
As a neighborhood that relies heavily on outside visitors — 80 percent of its pre-pandemic customers were tourists, downtown-Manhattan workers, and other city residents — the drop in numbers was staggering. According to the study, visits to Chinatown fell by half between 2019 and 2021, during which the neighborhood shed 57 percent of its food-service jobs, or 5,400 positions — including hundreds of workers from Jing Fong and 88 Palace. During those years, Chinatown ended up losing 26 percent of its jobs, compared to just 14 percent citywide and an even lower 13 percent in Flushing, where many businesses cater to a thriving immigrant resident base.
The problem has been exacerbated by anti-Asian bias, especially the rise in anti-Asian hate attacks. According to the report, visitors to Chinatown restaurants began plummeting soon after the discovery of COVID in China, at least a month before neighboring areas like the East Village saw similar declines. Since then, the nonprofit found, many stores have cut back on their operations over fears of hate crimes. "A lot of businesses are opening late and closing early just so they can get home safely," Jacqueline Wang, the organization's communications director, said. She added that the cutbacks have made it harder for residents to shop for daily essentials.
But despite COVID's disproportionate impact on the area, Chinatown has received significantly less aid than other areas. The study found that Chinatown received just one PPP loan for every 20 jobs, compared to citywide figures, which saw a rate of one loan given for every ten jobs. This was partly due to language barriers, digital-literacy barriers, and — in a neighborhood where many businesses are cash only — documentation barriers. "By the time some businesses got their paperwork in order, funding had run out," said Victoria Lee, the group's founding director. "The constant rejection was extremely disheartening for business owners. It takes a mental toll."
For Chinatown's small businesses, the report showed that their top concern was high real-estate costs. Lee said rates of small-property ownership are greater in Chinatown compared to other areas of Manhattan. "But what we heard in the focus group is it's becoming difficult to stay a small-property owner," she said. "They're more inclined to sell. And when they sell, they're selling out to larger developers that might want to turn it over to a higher-paying tenant, which means we're at risk of losing existing commercial tenants."
Chinatown's survival depends in large part on whether legacy business owners can hand the reins to the next generation. But most Chinatown businesses lack succession plans, said Lee. Creating them needs to become an urgent priority. "As the business owners continue to age in the next three to five years, without a game plan we'll start to see more and more vacant storefronts, and we'll start to lose the community," she said.
Some of the younger generation are already facing challenges. "We heard from a business owner who had taken over his business after his late father passed away," said Lee. "He tried to implement a digital [point-of-sale] system because he knew it would make it easier to get reporting, especially having gone through the PPP-loan process. But what he found is that his staff, who were older and had been working for the restaurant for decades, couldn't figure out the system. That led him to stay cash only, because he's not going to get rid of his legacy staff."
But there are signs that some are trying to bridge that divide. At Welcome to Chinatown's focus groups, one younger entrepreneur started teaching an older owner how to make marketing videos on TikTok. "There was a lot of multigenerational bonding happening," said Lee. "They were just riffing off of each other's different ideas."
To protect what remains of the neighborhood's small-business community, the report recommended initiatives such as digital-literacy trainings and converting legacy businesses into worker co-ops. Longer-term goals included improving access to aid and advocating for more affordable commercial space.
"The problems can be very multifaceted and nuanced, and it takes time to implement a lot of these solutions," said Lee. "But right now, time is not a luxury for these small businesses."