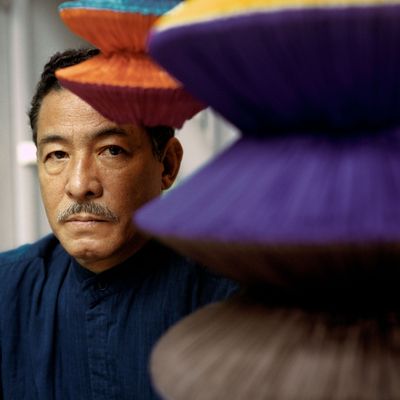 Photo: Denis Dailleux/Agence VU/Redux
There's a stereotype that the design world's uniform is anything black. But more aspirationally, it's anything Issey Miyake. Steve Jobs's iconic black turtleneck was a Miyake design. Zaha Hadid made Miyake a wardrobe staple in the 1980s, starting with his crinkle fabrics. But it's the Pleats Please collection of pleated garments, which Miyake began developing in 1988, that seem to be the uniform of gallery openings, design fairs, and art-world parties. The line originated from his belief in "style that would not be restricted to a particular age or profession, and which would be inspired by current aesthetics." The pieces are comfortable enough to wear all day and hold their shape no matter how long they've been stuffed in a suitcase. The interior designer Rafael de Cardenas recently told Town & Country that wearing garments from Miyake's Homme Plissé line is "a good way to look smart when you're actually wearing sweatpants." The designer conceived of garments the way an architect might: in terms of structure and volume, experimenting with material and manufacturing processes to help him reach his ultimate goal of making clothes that represented contemporary life, or as he said in 1999, "to try to bring answers to those who are asking themselves questions about our age and how we should live in it." On August 5, Miyake died in Tokyo at the age of 84 due to liver cancer.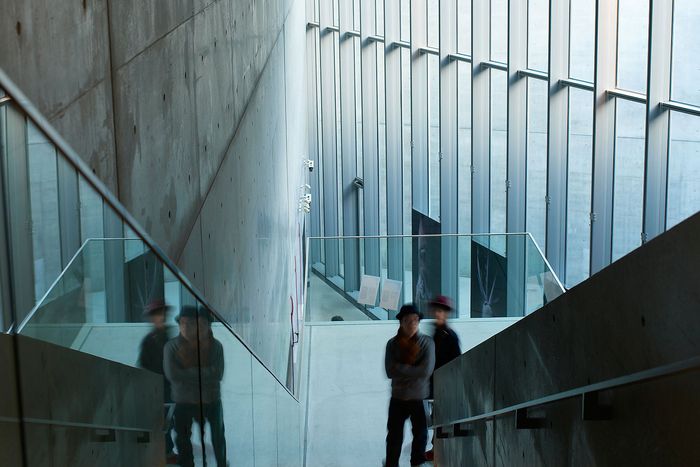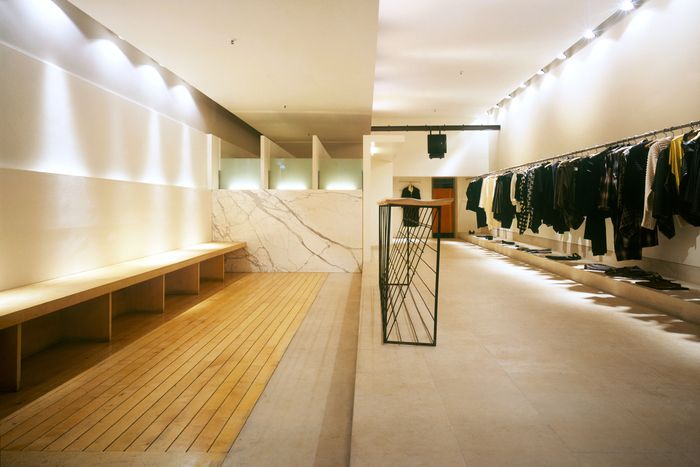 Miyake, who was born in Hiroshima in 1938, became interested in design after encountering two bridges that the sculptor Isamu Noguchi made in the city center, which he called "the spiritual support of the people." He studied graphic design at Tama Art University in Tokyo since fashion wasn't part of the curriculum before moving eventually to Paris in 1965 to study dressmaking. In 1970, he founded the Miyake Design Studio.
Throughout his career, Miyake maintained a close relationship with the design world through the architecture of his boutiques, and often took a chance on young practices. In the early 1970s, he worked with Shiro Kuramata, then an emerging furniture and interiors designer, on a retail space in Tokyo. In 1985, he commissioned a young David Chipperfield for his London boutique. "Designing his shop on Sloane Street marked the beginning of my career," Chipperfield wrote on Instagram in a remembrance of Miyake. "For three years afterwards, I traveled around Japan designing a series of little shops for him. It was a fundamental, formative part of my design experience." When he hired French designers Ronan and Erwan Bouroullec to create a storefront in Paris, they had never designed a space. "Just some objects," Ronan described. "But he was confident. Among so many exceptional aspects of Issey, the help he gave to so many young creative people was extraordinary and may be not so well known." The architect Toshiko Mori, who designed three Miyake boutiques in New York between 1989 (his first U.S. location) and 2005, was just 38 when he initially hired her. Other architects who created stores for Miyake include Frank Gehry, Oki Sato of the Japanese firm Nendo, and Emmanuel Moreaux. Tadao Ando collaborated with Miyake on the design of the 21_21 Design Sight museum in Tokyo, which was inspired by the "A Piece of Cloth" concept. One of the brand's most recent projects was the conversion of a 200-year-old machiya, or townhouse, in Kyoto by Tokujin Yoshioka, who also spearheaded Miyake's Milan flagship. Designers loved Miyake, and in return, he loved them back.