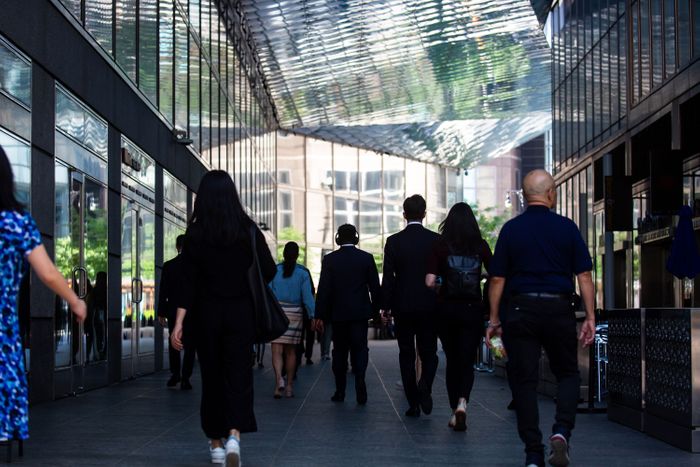 Workers arrive at the Goldman Sachs headquarters in New York.
Photo: Michael Nagle/Bloomberg via Getty Images
The junior bankers who might have once thought that bank is life are now finding out that bank is maybe not life. Entry-level workers with firms from Goldman Sachs to JPMorgan Chase spent much of 2022 revolting against return-to-the-office mandates. After what appeared to be a brief victory in April — Jamie Dimon conceded that hybrid work may be here to stay — they are now, once again and perhaps for the last time, being called back to the office.
According to a new memo obtained by the New York Post, Goldman is doing away with COVID restrictions altogether as it requires everyone to return to work full time after Labor Day. "With many tools including vaccination, improved treatments, and testing now available, there is significantly less risk of severe illness," the recent memo read. Vaccines, testing, and masks will no longer be required as workers come into the office, but those in New York will still have to abide by the city's vaccine mandate. And behind the scenes at JPMorgan, Dimon has been pushing for a five-days-a-week office culture.
The latest twist in this saga about returning to the physical office (hello, mall neighbors) follows a Post report from last week about six first-year Goldman bankers who quit en masse after claiming they were being overworked and "treated terribly" and finding out that second-year bonuses were lower than expected. (Because they are our country's elites in training, they all had jobs lined up.) The firm, which is financing the end of the world and generally in the business of ruining people's lives, had reached an "all-time toxic high," according to an anonymous Post source. The vibes are off.
Between the negative atmosphere and the more ambiently viral one, the beleaguered young kings of finance are at a crossroads: One Goldman insider told the Post, "It's a game of chicken. Many junior bankers will continue to work from home and the office around their own schedules and see what the repercussions are." It's your move, little bankers.