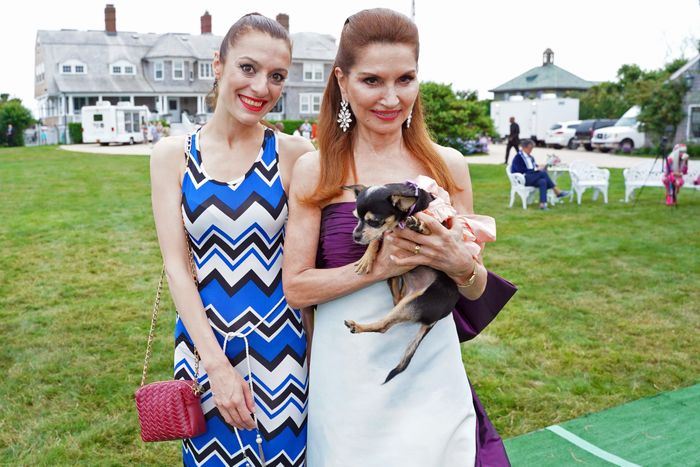 Nana Danielov and Jean Shafiroff — who gives away at least a cool million a year — at the Southampton Animal Shelter Foundation benefit on a still somewhat green lawn in July.
Photo: Patrick McMullan via Getty Image
The crisping of summer lawns is humiliating the wealthy this year as chunks of the East Coast from New Jersey to Maine suffer from moderate to severe drought.
Now a water-emergency alert has gone out for Southampton, Southold, East Hampton, and Shelter Island, banning overnight watering and "nonessential water usage" and asking people to take shorter showers.
But there isn't a water shortage. It's mostly just that every sprawling mansion has its sprinklers set to turn on at dawn. This enormous daily simultaneous drain stresses the county's well pumps, risking the actual availability of water. If everyone could simply manage to stop watering at the same time, it will work out.
If they do keep obliviously stressing the water system and these water pumps lose pressure, that means not just no water at, say, the hospital but also no water in the fire hydrants. Two sisters in a rented vacation home died in a house fire in the Town of Southampton yesterday, near Sag Harbor; house fires like this require a large amount of water.
There's not only a potential cost in human life to stressing the water system but a potential financial cost as well. That part is good news since rich people hate to spend money.
Water supply and the condition of local fire departments are the two fundamental elements of how a community receives its ISO fire rating, which determines how much your home insurance costs.
One way fire departments help keep ISO ratings low to keep your insurance cheap is with tanker apparatus — the cute fire trucks that hold lots of water. The Southampton Fire Department (which so far looks to be having its busiest response year in a decade) has two tankers, and its neighboring fire companies — North Sea, Hampton Bays, and Bridgehampton — also have tankers to take water to fires. They can even come over and suck up your pool and pond water, though that rarely happens in Southampton.
So that's some good news if there's a water hiccup in this long, hot summer. But fire departments have to fill those tankers somewhere — and they can't do it if you're keeping your dreadful lawn alive.