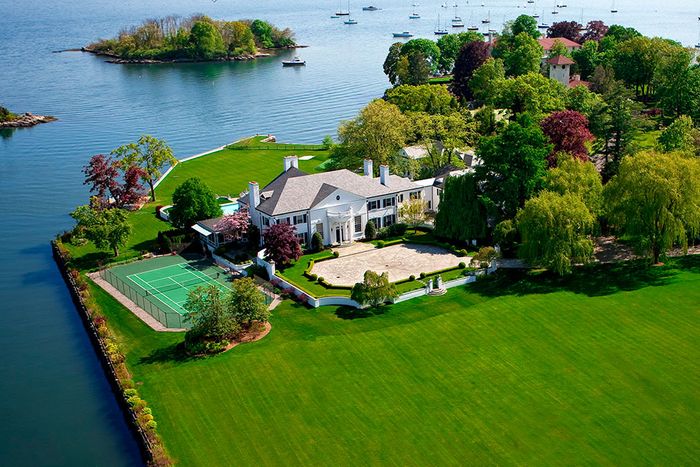 Just over a month after Ivana Trump's death, the owners of her and Donald's old Greenwich estate have relisted the property — which has been on and off the market since 2009 — for $29.9 million, according to The Wall Street Journal. It's a price that the mansion may actually have a chance of selling for. It's also timed to take advantage of the current, likely short-lived, wave of Ivana nostalgia (Ivana, a fan of hawking items ending in 99 cents on the Home Shopping Network, would likely have admired the salesmanship).
The Trumps bought the house for $4 million in the early 1980s — a grand, though not over-the-top, 1939 Georgian mansion of some 20,000 square feet that sits on six acres on the Long Island Sound. It is, notably, not unlike the White House in appearance, and it's no surprise that the Trumps, known for their love of staircase and escalator photo ops, would have been drawn to the home's dramatic, curved twin staircases. Naturally, they also zhuzhed the place up a bit. "When Donald and Ivana had it, they had it decorated very lavishly," one of the brokers who tried to sell the home over the years told the Journal.
Ivana got the mansion in the divorce and sold the property to the current owners, financier Robert Steinberg and his wife, Suzanne, for $15 million in 1998. The Steinbergs took out the Trumps' gold-leaf décor and added their own touches, like a guest house with an indoor lap pool, a tennis court, and a putting green. There's also an outdoor pool, an enormous blindingly white kitchen, and eight bedrooms.
The Steinbergs first listed the mansion for $50 million in 2009, then, after it didn't sell, tried for even more — $54 million — in 2014. "I had priced it at a very high price initially with the concept that if someone really wants it, I guess I'll sell it," Steinberg told the Journal. "But I mispriced it." The practice of listing a trophy property with an outrageous price tag "just to see" is a common, though widely despised practice in the real-estate industry, but it seems that now, after 13 years, the Steinbergs may actually want to sell for real. The mansion was listed for $45 million in 2018 and then, more recently, for $32 million, before the latest price cut.
The couple's current broker told the Journal that the couple was "very pragmatic" about selling this time around and had even done some decluttering, painting, and staging to polish the place up. The Greenwich market, which had been soft for years before the pandemic, is also doing quite well these days; another waterfront estate recently sold for $50 million.